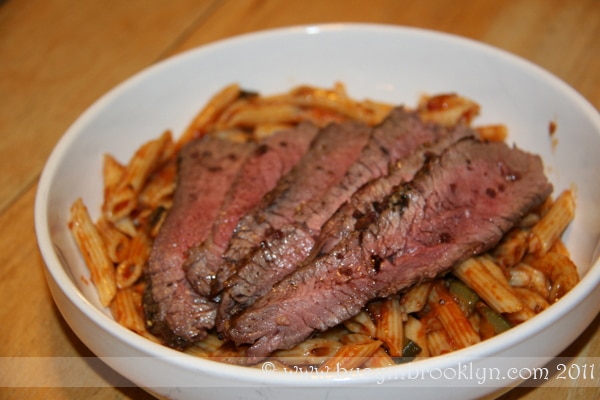 London Broil is regularly served in my house, mostly on the side of cholent on Shabbos day. Since it is relatively inexpensive, I have started serving it more often during the week. Now lets get things straight. The name London Broil is NOT a cut of meat, but rather a method of preparation. The method? broiling or grilling marinated flank steak, then cutting it across the grain into thin strips. Because the muscle fibers run the entire length of this cut of meat, it can be tough. However, if prepared correctly, the outcome is delicious. To tenderize the meat, I massage it with olive oil and a mix of seasonings. Then, I let it marinate for a few hours. Finally, I broil it until medium (anything more will cause the meat to be tough). It is very important not to score, cut, or penetrate, the meat before (or during) broiling because all the juices will run out of it. It is best served with mashed potatoes, but being as I had an entire container of leftover rattatouille, I wanted to make use of it. I mixed it in with some Mezze Penne for a delicious pasta on the side.
London Broil
(measurements are approximately, I sort of just sprinkle):
(Approx. 2-2.5 lbs.) London Broil
Good Quality Extra Virgin Olive Oil
1 tbsp Minced Onion Flakes
1 tbsp Minced Garlic Flakes
1 tsp Kosher Salt
1 tsp Freshly Ground Pepper
Method:
Generously drizzle the london broil with olive oil on both sides. Sprinkle onion flakes, garlic flakes, salt and pepper. Massage the oil and spices into the London Broil, until well absorbed. Let the meat marinate for a few hours (as long as you have, I've broiled it within the hour and it's still delicious). Set your broiler on high and your oven rack to be 3-4 inches from heat source. Broil for 8 minutes on each side (total 16 minutes) until medium. You can increase to 9 minutes (per side) if you want it medium-well. Do not broil more than 10 minutes (20 minutes total) or the meat will be tough. Let the meat rest for 5-10 minutes. Slice thinly, against the grain.
Red Wine Reduction (optional):
Now I wouldn't want to lose all those yummy drippings from the bottom of the pan. To make a delicious and easy pan gravy, remove the london broil from the pan and pour some good quality red wine into it (about 1 cup). Scrape the bits that are stuck to the bottom of the pan and pour into a small pot (or put your pan directly over the fire). Simmer, uncovered, until reduced by half. You can strain out the little onion and garlic bits (some may be burnt from broiling) but personally, I like them!