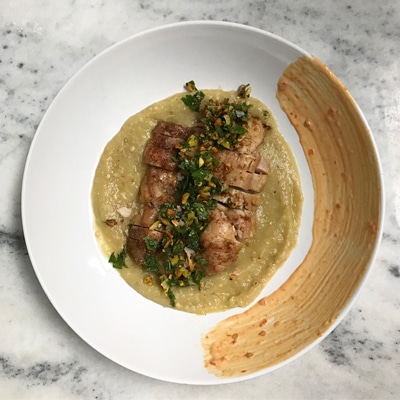 Oven-Grilled Pargiot
4 pargiot (dark meat chicken cutlets)
Jerusalem or shawarma spice
kosher salt
olive oil
harissa tahini
Place the chicken on a sheet pan and season both sides with spice mix and salt. Drizzle with olive oil and broil on high for 10 minutes on one side and 6-8 minutes on the other side. Slice or chop and serve over rice, hummus or eggplant puree.
Eggplant Puree
1 eggplant, cut in half lengthwise
kosher salt
olive oil
1 clove garlic
freshly squeezed lemon juice
Place the eggplant, flesh side down on a greased baking sheet. Drizzle with olive oil and sprinkle with kosher salt. Broil on high heat for 25 minutes. Scoop out the flesh and place in the bowl of a food processor or blender. Add garlic, lemon and salt and puree until smooth.
Preserved Lemon & Pistacho Gremolata
1 handful parsley, chopped
1 handful roasted pistachios, chopped
about 1 tbsp diced preserved lemon or 1 heaping tsp lemon zest
olive oil
kosher salt
Add the parsley, pistachios and lemon to a bowl and add just enough oil to lightly coat. Season, to taste, with salt.
To assemble, divide eggplant cream between four plates. Top with sliced pargiot and gremolata. Finish with harissa tahini.