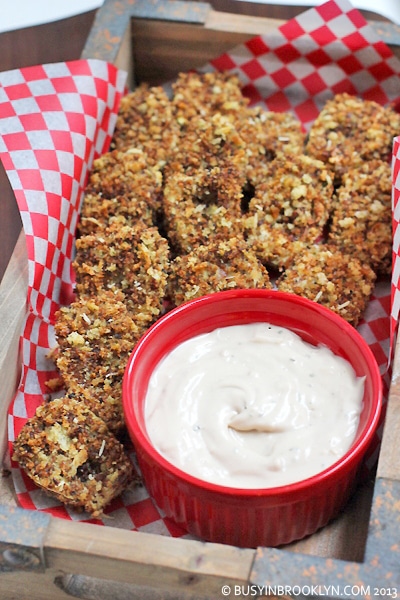 I've had a lot of foodie firsts in the past couple of months. Trying new foods like Pad Thai and Dhal, and cooking things I've always dreamed of making from scratch like duck confit and handmade pasta. Having the opportunity to explore and expand my culinary horizons has made me throw all my inhibitions out the kitchen window. Now, instead of walking away from ingredients I'm not familiar with, I embrace them. Which is exactly how THIS amazing recipe happened.
Believe it or not, I'd never even heard of an artichoke before I married my husband. My mother in law is sephardic, so she prepares lots of stuffed vegetable dishes like mehshie, and stuffed artichokes. I decided I didn't like them before I even tried, and that was it. Me and Mr. Artichoke were estranged. Until now.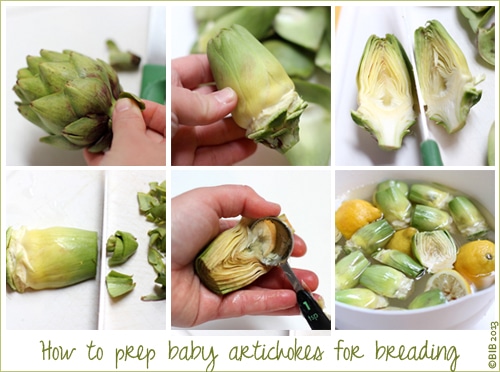 It was a Wednesday. April 10th to be exact, and I picked up the New York Times so I could read the Dining section over coffee. And right there in front of me was an article about "Making Big Plans for Small Artichokes". I'd never even known there was such as a thing as baby artichokes. So I figured, If the big ones scare me away, why not tackle the little guys. Turns out, the little ones are not that little after all, but I was warming up. The recipes looked deliciously inviting, and so, I couldn't help but pick up a package of baby artichokes when I saw them in the produce aisle. I also love cooking seasonally, so I was up for the challenge.
Anything breaded and crispy with a dipping sauce is right up my alley, so I decided to go that route. It was also my daughters birthday, and I figured these little guys would make for a perfect appetizer at our small little family party. It was great to serve them up to some criticism ("They're a little tender, cook them longer next time" or "The bread crumbs are a little too dark, toast 'em less next time" and "What's in this dipping sauce, it's amazing!") so I could learn to perfect them for you guys.
I hope my step by step tutorial helps you all embrace this humble vegetable, as I have. There's a little prep work involved, but trust me, it's worth the effort!
Breaded Artichokes
1 package baby artichokes
bowl of acidulated water
2 cups panko breadcrumbs
2 cloves garlic, minced
Zest of 1 lemon
salt and pepper, to taste
1 tbsp olive oil
1 cup flour, seasoned with salt and pepper
2 eggs, whisked and seasoned with salt and pepper
1 cup parmesan cheese
Balsamic Aioli
1 cup mayo
1 tbsp water
1 tbsp lemon juice
1 clove garlic, minced
1 tbsp balsamic vinegar
2 tsp dried tarragon, crushed between your fingers
salt and pepper, to taste
Method:
Prepare a bowl of acidulated water by squeezing 2 lemons into a bowl of water and adding the lemons to it. Set aside.
To prepare artichokes, trim the stems & tips and remove all dark, touch exterior leaves until you reach the tender, paler ones. Trim the base of the leaves close to the artichoke, using a paring knife. Cut the artichokes in half lengthwise. Baby artichokes usually do not have a center hairy choke, but if you notice one, scoop with out with a spoon. Add artichokes to acidulated water as they brown very quickly.
Combine the panko crumbs, garlic, lemon zest, salt and pepper and lightly toast in a pan with olive oil (make sure they don't get too dark, like mine did, because they will brown more in the oven). Set up a dredging station with seasoned flour, seasoned egg, and bread crumb mixture. Working one at a time, remove artichokes from water and pat dry. Dredge in flour, then egg, then bread crumbs. Place breaded artichokes on a greased baking sheet and sprinkle with parmesan. Bake at 400 degrees for 30-35 minutes until artichokes are tender.
To prepare dipping sauce, add all ingredients to a bowl and mix to incorporate. Serve with breaded artichokes.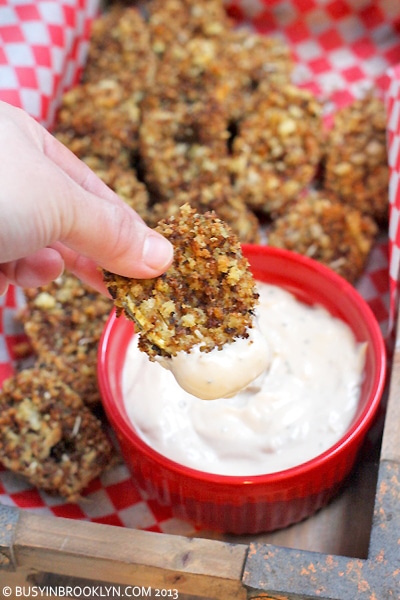 1 year ago: spinach, walnut & cheddar pesto
2 years ago: banana, dates, milk & honey smoothie