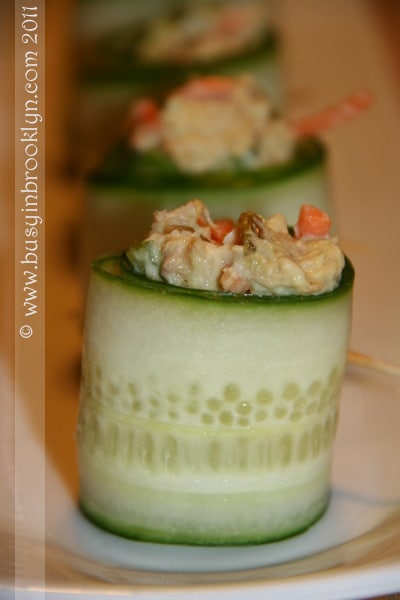 I'm definitely a tuna person. Cream cheese? not so much. Lox, not a chance! So tuna is bound to show up on my lunch menu quite often. I like my tuna 2 ways: albacore, and in water. I like to mix up my recipes so it doesn't get too boring.
To prepare tuna, I start with an empty sink and a pair of gloves! I drain the can of water and empty the tuna into a bowl. Then, using my hands (remember, I'm wearing gloves), I break the tuna apart, so that I end up with perfect flakes that are not too ground, nor too chunky.
Classic tuna with mayo always works, but adding additional ingredients turns it into a salad for a complete meal when served with crackers, rice cakes, or cucumber slices. Sometimes I add a bit of harrisa and lemon for a quick and easy spicy tuna. Other times I'll mix it into some pasta for a heartier dish, or into salad nicoise – an all time favorite. In this recipe, I use a surprise ingredient which really ups the ante from traditional tuna salad, to something out of this world! What is it? Golden raisins! It may sound weird at first, but I urge you to give it a try. You'll be pleasantly surprised!
To make these fun cucumber rolls, just slice english cucumbers or zucchini lengthwise, very thin (preferably using a mandoline, but it can be done by hand or with a peeler). Put a spoonful of tuna salad about an inch away from either end. Roll the end over the tuna, and continue to roll up. Fasten with a toothpick. NOTE: If you slice the cucumbers paper thin, you won't need a toothpick, they will stay closed on their own.
Tuna Salad with a Twist
2 cans albacore tuna in water
1 handful shredded carrots
1 celery stick, diced small
1 handful golden raisins
1/3 cup mayo (more, if needed)
1 tbsp mustard
juice of 1/2 lemon
salt, to taste
pepper, to taste
Method:
Drain tuna well and flake with a fork, or using your hands (I suggest gloves!). Add remaining ingredients and mix well. If it is too dry, you can add more mayo, one teaspoon at a time. Serve in cucumber rolls, or with bread, crackers, or rice cakes.
NOTE: The EPA and FDA cautions pregnant women, women of childbearing age, nursing mothers and young children against eating more than 6 ounces of albacore tuna per week due to high levels of mercury. If you wish to eat more tuna, go for the lower mercury light tuna (commonly skipjack or yellowfin).