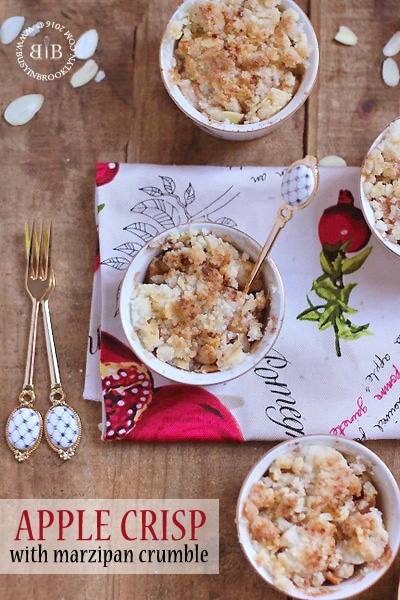 This right here has been on my mind since forever. An apple crisp with marzipan just seems like the perfect combo, so I finally decided to make it gluten free!
The smell of marzipan transports me to the kosher-for-Passover bakery aisle, with rainbow cake, leaf cookies and all sorts of gluten-free treats that smell of almond extract. The truth is, I used to hate the stuff, but like many foods, it's grown on me over the years and now I actually like it! My husband is a huge fan (hence this birthday cake!) and my kids have hopped on the marzipan train too (which is why I came up with these).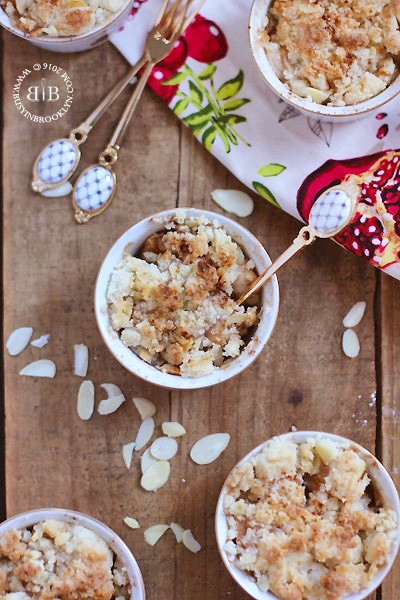 I've got a huge stash of marzipan inspired recipes on my to-do list, but I have to admit, it's not one of those ingredients that everyone loves, which is why I don't like to blog about it too much. It's really one of those love it or hate it ingredients (like halva!), and I kinda like my recipes to appeal to everyone. But since marzipan, for me, is so reminiscent of Passover, I figured I'd just bite the bullet, or, er, the marzipan.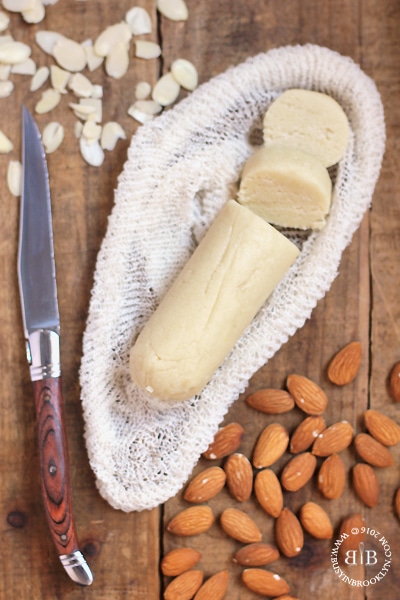 Making your own marzipan is a breeze, by the way, and since all the ingredients are kosher for Passover, you can whip up a double batch and use it in so many ways! My only caveat here is that I used pure almond extract to test the recipe and I'm not 100% sure that it's available kosher for Passover. I know the imitation stuff is, so you can use that. Just take caution since it might have a stronger flavor.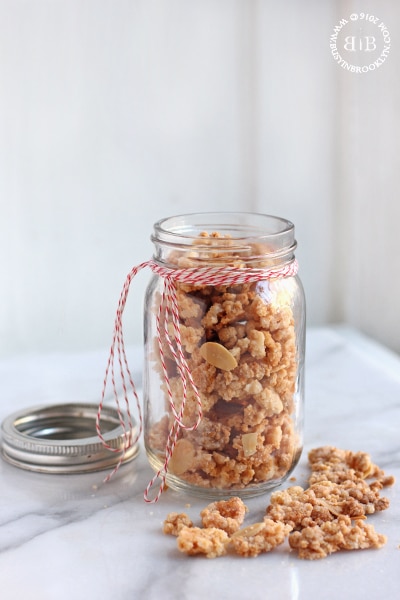 The absolute best part about this recipe, is that the crumble can be made on it's own, and it makes the most fantastic Kosher-for-Passover non-gebroks topping for ice cream, yogurt and fruit. It's even great on it's own as a brittle-style snack!
Apple Crisp with Gluten Free Marzipan Crumble
6 apples (2 1/4 lbs.), peeled, cored and cut into chunks
1/3 cup sugar
1/2 tsp cinnamon
For Marzipan:
3/4 cup almond meal (see note)
1/2 cup + 2 tbsp powdered sugar
1 tbsp water
1 tsp almond extract
pinch of sea salt
For crumble:
prepared marzipan (makes about 3/4 cup)
1 cup potato starch
1/3 cup sugar
1 tsp almond extract
1/4 cup oil
1/3 cup sliced almonds
kosher salt, to taste
cinnamon, to taste
Method:
Preheat oven to 35o degrees.
To prepare the marzipan, place the almond meal, powdered sugar and sea salt in a food processor with the S blade attached and blend until incorporated. Add the water and almond extract and continue to blend until a dough forms and pulls away from the side of the bowl. Add the potato starch, sugar, almond extract, oil and salt and pulse until ingredients are incorporated, but still lumpy (you don't want to lose the texture of the marzipan). Add the sliced almonds.
Mix chopped apples with cinnamon and sugar and pack into individual ramekins or a baking dish.
Spread the crumble over the apples, sprinkle with cinnamon and bake for 30-35 minutes for individual ramekins or 45 minutes – 1 hour for a larger crisp.
YIELD: one large crisp or approximately 10 individual ramekins.
NOTE: to make your own almond meal, pulse blanched almonds (slivered or sliced work well) in the food processor until it reaches a mealy consistency. Be careful not to overprocess or it will turn to butter.
VARIATION: feel free to mix in berries or other fruits and adjust sweetness as desired.
MARZIPAN CRISP TOPPING OPTION: to make the marzipan crisp on it's own (great for topping ice cream, yogurt or any dessert), prepare the topping as above, sprinkle with cinnamon, if desired, and spread on a parchment-lined baking sheet. Bake at 350 degrees until crisp and golden, about 25 minutes. Cool completely and break apart into pieces. Store in an airtight container.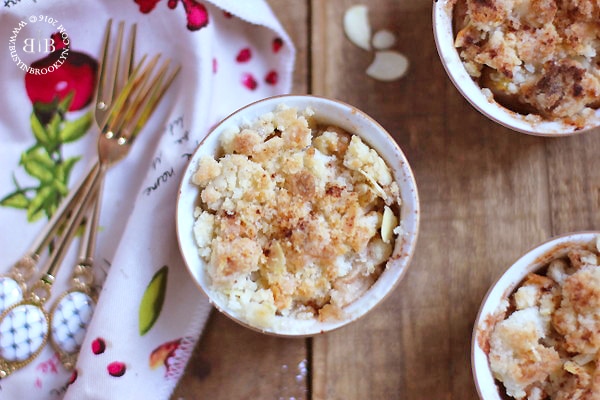 Related Recipes:
3-layer rainbow cookie cake
gluten-free date and almond hamantaschen
Passover sugared almonds