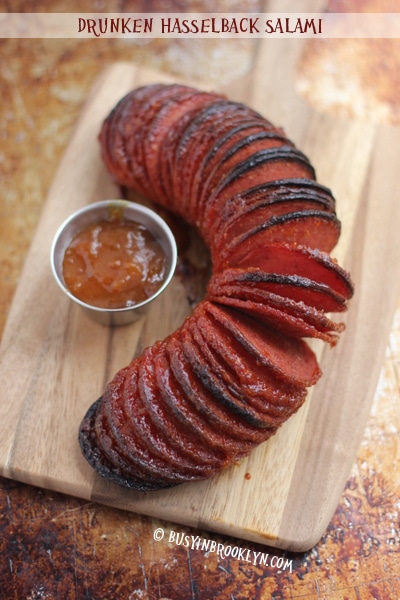 I bet you've never heard of anything like drunken hasselback salami. Hasselback potatoes, maybe. What are they? Well back in the 1940's, a dish of whole potatoes cut to resemble an accordion was first served at the Hasselbacken restaurant in Stockholm. Cutting the potatoes this way results in a soft and creamy interior with crisped and browned edges.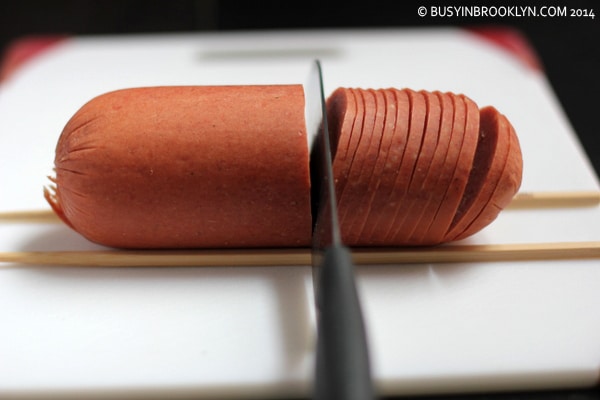 Hasselback potatoes have been popular ever since, most commonly served in a simple preparation of butter and salt. I put my own twist on these a while back, using sweet potatoes & apples for a sweet variation.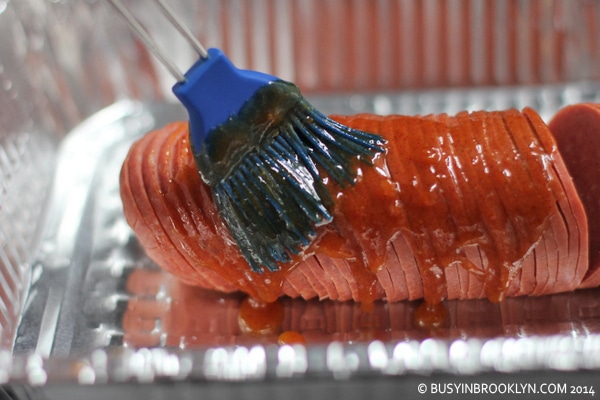 For Purim, I decided to really bring some hassel back with a sweet & savory combo of salami in an apricot-brand glaze. Since salami is a food that is traditionally hung to dry, many have a custom to eat it on Purim to commemorate the hanging of Haman.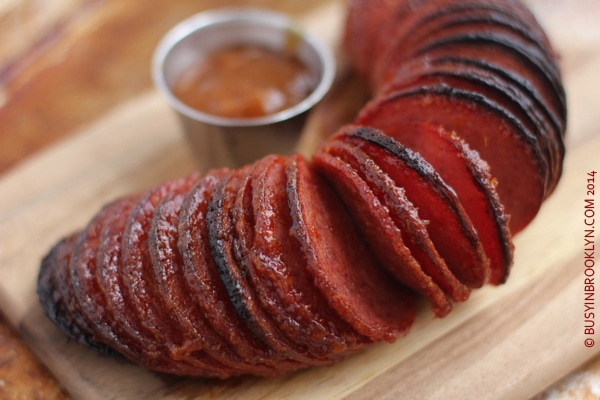 There's no question that this drunken hasselback salami will be the star of your Purim meal! I couldn't resist adding some booze to the sauce to really take it over the top. Coming from a former salami-averter, trust me when I tell you that this stuff will please even the pickiest palate. Salami is NOT my thing, or I should say, WAS not my thing – until I ate this. My husband and kids gobbled it up, sopping up the extra sauce with the pulled salami chips.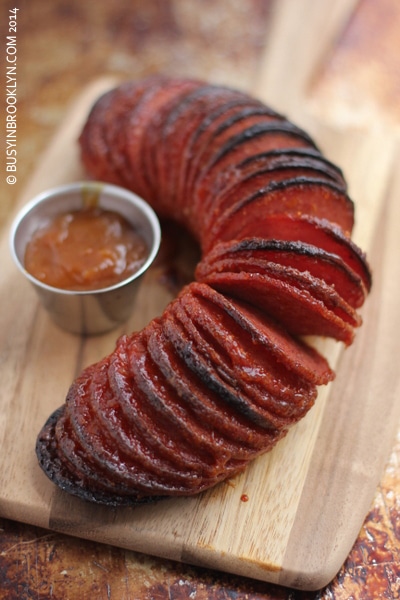 The first time I tried to make hasselback potatoes, I inadvertently sliced all the way through so many times that my accordion potato morphed into a gratin. But after stumbling upon the coolest hasselback trick, I haven't screwed up a single potato since! Simply place a chopstick on either side of the potato (or salami) and slice. The knife will stop cutting when it hits the chopstick for perfect accordions every time! How cool is that?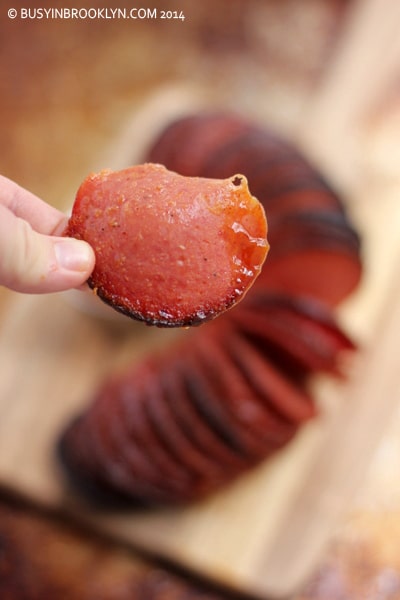 This finger-licking hasselback experiment has got my wheels turning. I'm already dreaming up lots of other accordion-style treats – stay tuned!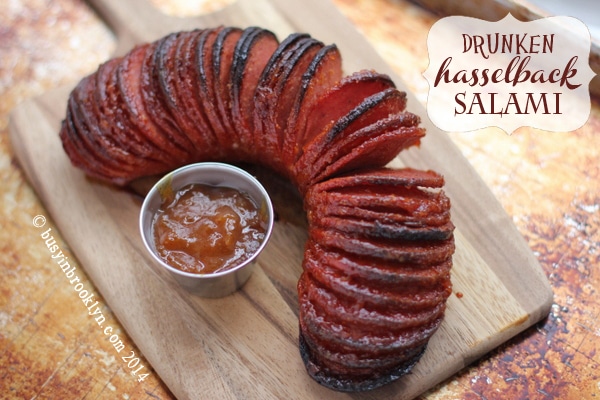 Drunken Hasselback Salami
16oz. salami
1/2 cup apricot jam
1/4 cup spicy brown mustard
3 tbsp brandy*
2 tbsp ketchup
1 tbsp brown sugar
Method:
Preheat oven to 400 degrees.
Add all ingredients besides for salami to a pot and whisk over medium heat until jam is melted and mixture begins to boil and thicken. Remove the wrapper from the salami and place on a cutting board with chopsticks on either side. Holding the salami down with one hand, slice into thin, even slices (don't worry, the chopsticks will ensure that you don't slice all the way through).
Generously brush the salami with the sauce, making sure to get in between all the slices. Bake for approximately 45 minutes, basting every 10-15 minutes, until the salami is browned and crispy around the edges. Serve warm with leftover sauce for dipping.
NOTE: You will notice that the salami will begin to turn and split open in a certain spot. When basting, split the salami open in different areas so it can brown evenly all over instead of just one spot.
*If you do not have brandy, you may use bourbon instead.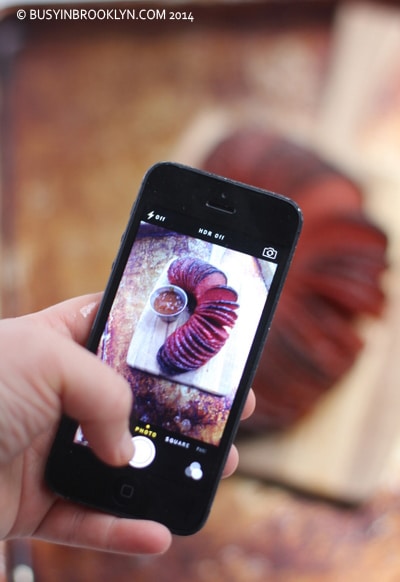 Related recipes:
hasselback sweet potatoes with apples
salami chips with dijon dipping sauce