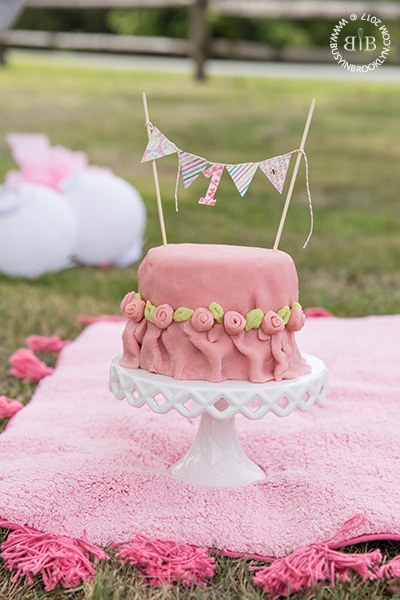 I can't believe it's been a year since my baby girl was born, it went by so fast, how do we stop the clock?! It's baby #5 for us, so it hasn't been the easiest transition, but I was surprised and excited to still have those "first baby" feelings, even though I've been through this stage so many times. Maybe it's because she came after two boys, but I couldn't wait to put all the headbands and frilly things on her, and I still relish dressing her up each and every morning.
I've been dreaming about her cake smash for months, pinning for inspiration and changing my mind a million times about the style and theme of the shoot. I knew I wanted to do it all on my own, especially the cake – even though I dread making layered cakes 'cuz I suck at it! Most of the cake smash shoots I found had a clear color scheme and were done indoors, but I wanted something unique and whimsical, so I went outdoors.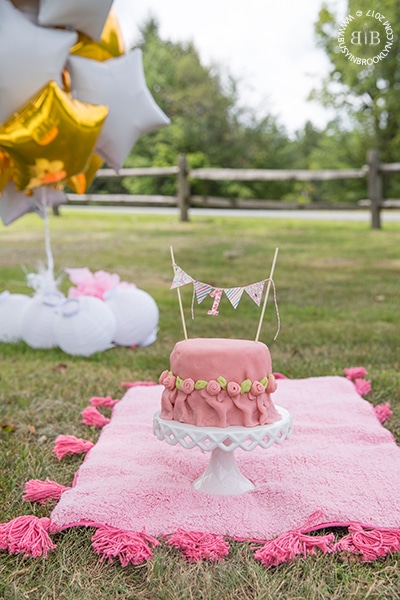 It's funny how the cake really brought the whimsy I was looking for – because it kinda happened by mistake. I mean, I basically screwed up the whole first layer of marzipan, and I needed to cover it up with something, so I decided to make a skirt. I had originally wanted to do a smooth layer of marzipan and spread the roses around the cake, but I'm so in love with this accidental design because it's everything I never knew I even wanted!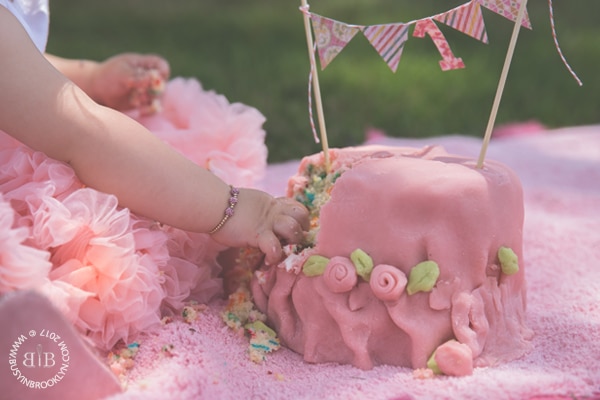 I knew I wanted funfetti inside, 'cuz baby cake just needs sprinkles, so I went with my easy no-fail, no-mixture recipe, 'cuz that how I do cake. Or should I say, how I don't do cake? Layered cakes literally give me nightmares – and for good reason. I won't even try to explain the mess of me trimming the layers down, but let me just say – THANK GOD FOR MARZIPAN. And thank you Molly Yeh for teaching me that you can use the most delicious paste instead of bland fondant to decorate cake. It's basically like working with playdough, and it can do miracles to destroyed crumbly layers. Especially when those crumbly layers are doomed to be smashed by little hands.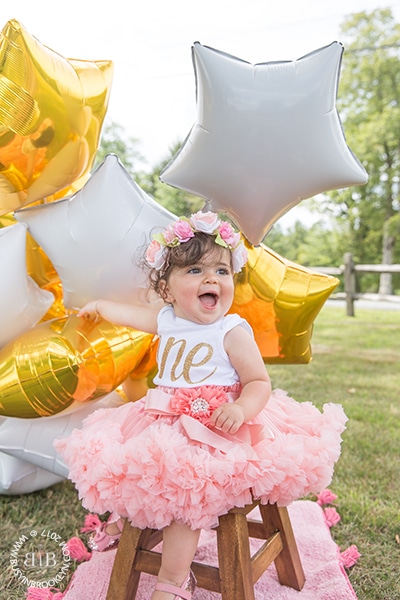 Let me just say that I know these photos make it look easy, but here's the thing – photographers can't photograph their own kids. It's just too stressful. Thank G-d I brought my 11 year old with me to the shoot  – her help was indispensible, especially when she jumped up and down, making funny faces so my daughter would stop crying and actually smile. There were a lot more tears than smiles at that shoot (and I'm not talking about the baby…just kidding…I didn't actually CRY!).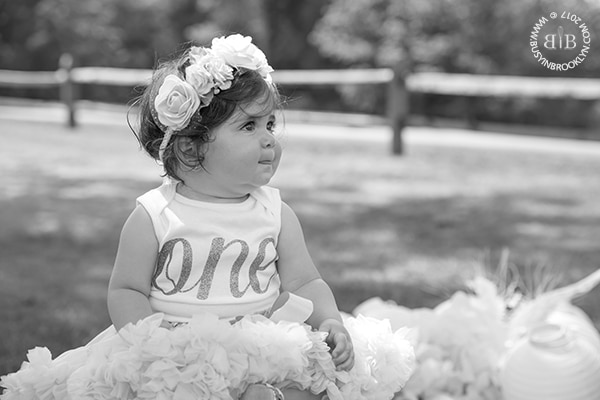 I don't know who invented cake smashes, or how long they've been around, but I don't remember it being a thing with my older kids. I love that I have these beautiful momentos of my daughter's first birthday, and that I had an excuse to play around with marzipan. I'd never go back to boring fondant again, and I look forward to getting over my fear of layered cakes and making some more intentional designs!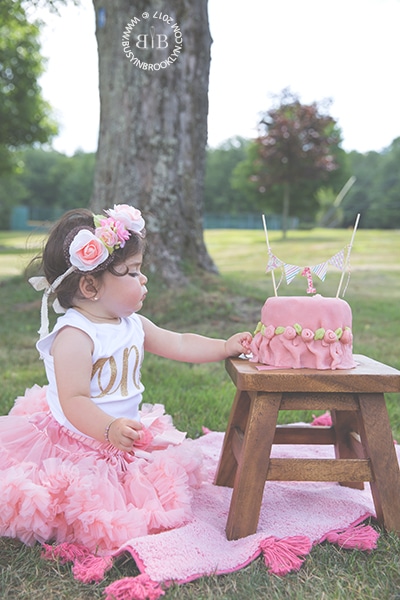 If you've got a baby birthday coming up, I hope my cake smash inspired you to think outside the box and create your own!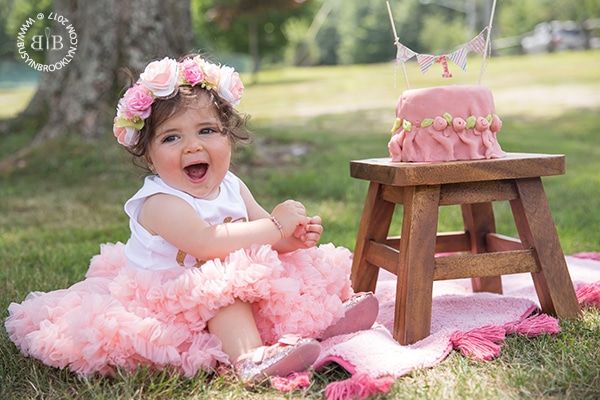 Cake Smash Deets:
Wreath: Amazon
Outfit: Etsy
Shoes: Century21
Carpet: Homegoods
Stool: Homegoods
Balloons: Family Dollar
Lanterns: Michael's
Cake Banner: Homemade (craft paper, bakery twine and skewers)
Location: Liberty Municipal Park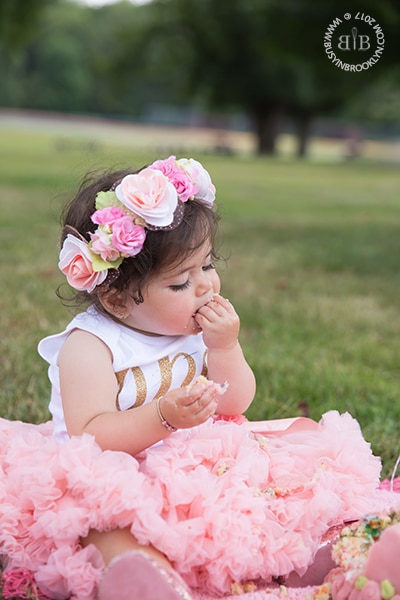 Funfetti Rose Cake Smash Cake
3 cups all purpose flour
2 cups sugar
3 tsp baking powder
4 eggs
1 cup oil
1 cup milk
2 tsp vanilla extract
1/2 cup colored sprinkles
1 recipe vanilla buttercream
2 8oz. packages of marzipan
gel food coloring in red and green
Method:
In a large bowl, mix the flour, sugar and baking powder. In a separate bowl, mix the eggs, oil, milk and vanilla. Pour the dry ingredients into the wet ingredients and stir until smooth. Fold in the sprinkles and pour the batter into 3 greased and floured 6.5″ round cake pans*. Bake at 350 degrees until toothpick inserted comes out clean. Cool completely and unmold onto a parchment lined work surface. Spread each layer with frosting (trim cakes to flatten, if necessary) and stack them on top of each other. Spread the frosting around the sides of the cake, scraping to remove excess.
Knead the marzipan until smooth on a clean, dry work surface dusted with powdered sugar to prevent it from sticking. Divide the marzipan in two, with most of it reserved for red food coloring, and a small portion for green. Work the food coloring into the marzipan until incorporated. Roll the pink marzipan into a large round, about a quarter of an inch thick. Carefully lay the marzipan over the cake and smooth the sides with your hands. Cut excess off the bottom of the cake. Roll out a strip of red marzipan and pinch it around the cake to create a skirt.
For the roses, cut small strips of marzipan and roll them up to create a flower. Press the roses around the seam of the "skirt". Create small leaves, pinching the center with a toothpick to create a line. Place the leaves around the roses. If needed, brush with a bit of water to help it stick.
* you will have a bit of leftover batter, you can use it to make cupcakes.
3 layer rainbow cookie cake

blogoversary funfetti cake
it's a girl!