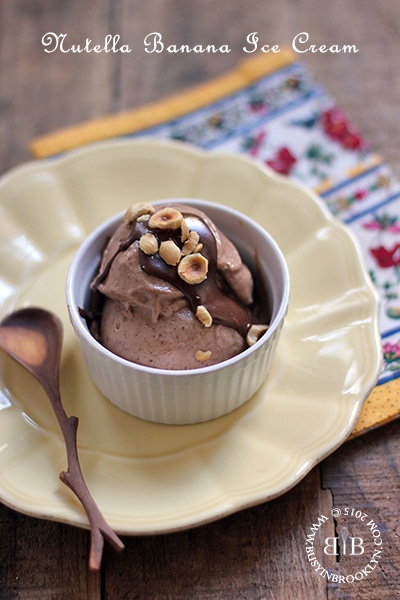 Now that I've made my homemade nutella, I've got to find uses for it, right? As if eating it off a spoon isn't good enough for me…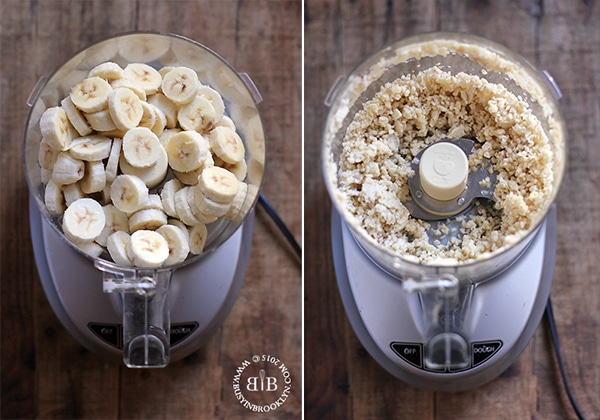 The truth is, I am in love with banana ice cream, and I really wanted to share it with you in time for Passover! I made it for the holidays last year, and I've been making variations ever since.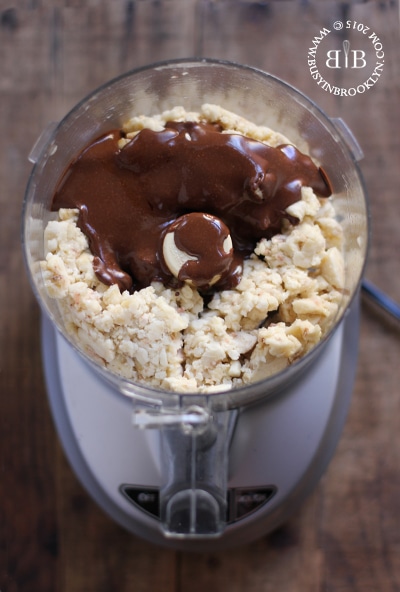 There's not too much to banana ice cream, and that's precisely why I love it so much. You can say goodbye to the dozen-egg-homemade-passover-ice-cream and say hello to this no-machine, easy, healthy and no-guilt variety that's tastes just like soft serve.
All you have to do is just slice up some ripe bananas and freeze them until a solid, just a couple of hours. Then, you pulse the bananas in the food processor until they're very finely chopped. Keep going until the bananas are creamy and add in your flavors of choice! I love adding nut butters – like my homemade nutella – for Passover. During the year, my favorite combo is banana, peanut butter, cinnamon and maple syrup. It's so so good.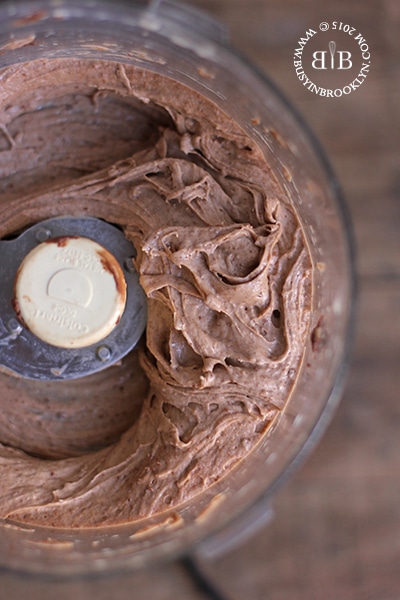 I mean would you just look at that creamy consistency? Don't you just want to grab a spoon and dive right in?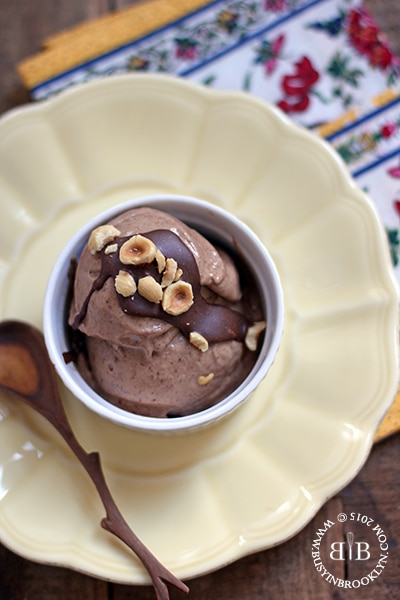 The best part about banana soft serve is the possibilities. Blend with strawberries, top with coconut whipped cream, stir in some chopped macaroons, or add in your favorite candied nuts!
Nutella Banana Ice Cream
4 ripe bananas
½ cup nutella (use my easy homemade 4-ingredient recipe)
¼ tsp vanilla extract
Method
Peel bananas and slice into pieces. Place on a baking sheet and freeze until solid, a few hours or overnight. Place the frozen banana slices in a food processor or powerful blender and blend until smooth and creamy, scraping down the sides of the bowl as needed. If the bananas are hard to blend, let them thaw for a few minutes to soften. Add the nutella and vanilla and blend until incorporated. Serve immediately for soft-serve ice cream consistency. If freezing for later, store in an airtight container and remove from the freezer to soften before serving.
NOTE: If you're making your own nutella from scratch, make sure it cools completely before adding it to the ice cream, or it will freeze on-contact and won't incorporate as well.
VARIATION: For a fun frozen banana treat, you can dip the banana slices into melted chocolate (before you freeze them) and top with shredded coconut, chopped nuts or sprinkles.