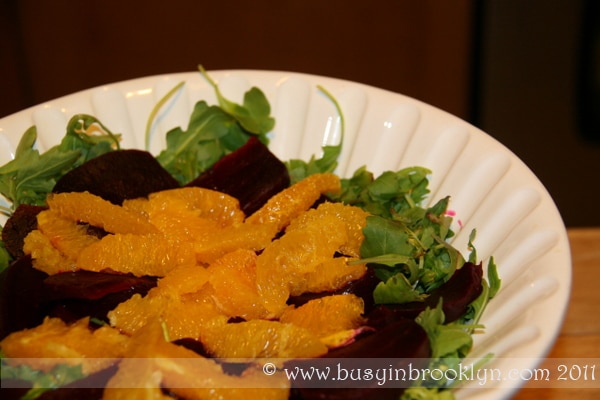 This salad is delicious and refreshing, and a nice change from the typical shredded beets or vinaigrette made on Pesach. It is usually made using mixed greens (bitter ones work best) but if you don't use them on Pesach, it can be made without as well.
Beets have a delicious robust flavor when roasted. Many people boil their beets in water, but that releases the flavor into the water. When you roast the beets, the flavor just intensifies (this is true for boiling vs roasting all vegetables).
For a nice presentation, you can use both red and golden beets (just roast and cut them separately because the red ones will bleed), and serve them sliced on a bed of greens. Top it off with regular and/or blood oranges.
Roasted Beet & Orange Salad
3 medium beets
3 medium oranges segmented (do this over a bowl to catch the juices, which you can add to the dressing)
1/2 cup thinly slice red onion
bitter greens such as arugula, mesclun or radicchio
3 tbsp walnut oil
2 tbsp orange juice
1 tbsp lemon juice (or vinegar, if you use during pesach)
pinch of sugar
1/2 tsp salt
pepper, to taste (if you use during pesach)
How to:
Wash beets well and dry. Wrap in foil. Roast at 400 degrees for 1-2 hours (depending on the size of the beets, check with a fork, if they are soft enough for you to pierce easily, they are done).  Leave the beets to cool. When they are done cooling, the peel can be easily removed using your hands. They just slide off. If you'd like, you can use a paring knife. I like to do this with gloves over an aluminum pan, because it can be quite messy (and your hands will definitely turn purple if you don't)! Slice beets. Segment oranges. Arrange on top of mixed greens, or alone. Garnish with red onion and drizzle over with dressing.
Alternatively, you can shred roasted beets in the food processor, or by hand, using a grater. Dress with oil, lemon juice and salt.
Another popular beet dish uses potatoes, carrots and beets, all cooked and cubed. Mix with oil, lemon juice, sugar and salt and some thinly sliced red onion.