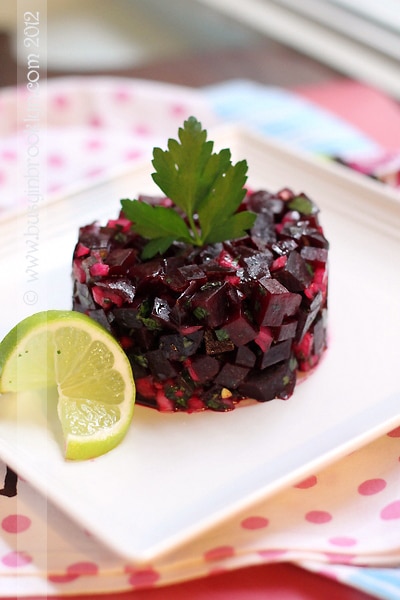 I'm back with another great farmer's market recipe! This one involves a vegetable that has become a staple in my house ever since I married my husband. I didn't grow up eating beets. The only time my mom would serve them was on Pesach, in her "vinaigrette salad" (a combination of beets, potatoes, carrots and onions). On the other hand, beets were a staple on my husband's Shabbos table each and every week. My mother in law serves them up cubed, shredded or sliced and it's always gobbled up to the very last drop. I have adopted my husband's love for beets and my kids are growing to love them too!
When I first started making beets, I would boil them like my mother does. But then I learned that the best way to really bring out their flavor is to roast them. My favorite part is that I don't have to use any pots! I wrap each beet in foil and roast them at 400 degrees until my whole house smells like the sweet purple vegetable.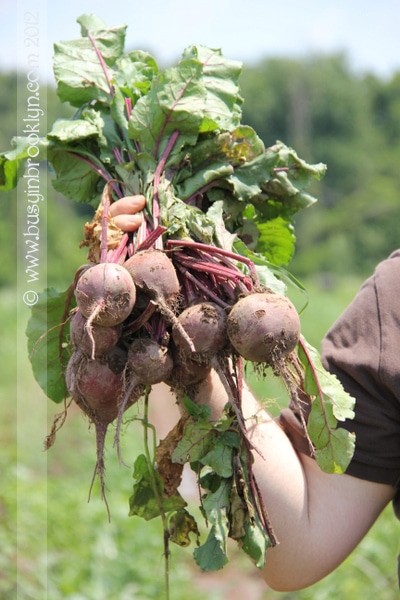 I serve beets in many different ways, but we always fall back on the most simple preparation – diced with some oil, lemon juice and salt. I also like to slice them into circles and lay them out as a bed for salmon. Sometimes, I alternate the slices with yellow (golden) beets and place them on a bed of arugula sprinkled with pomegranate seeds and orange segments.
I hope this post has inspired you not to leave beets just for Pesach cooking. They are a flavorful and healthy root vegetable that can be eaten raw, boiled or roasted and prepared in a variety of ways. You can even eat the greens that grow from the beets (although some stores remove them). Try them sauteed in olive oil with some fresh garlic!
Other beet recipes on BIB:
Israeli couscous with thyme & honey roasted carrots, parsnips and beets
Roasted beet & orange salad
Roasted Beet Salsa
2 medium beets
1/2 red onion, diced
1 jalapeno, seeded and diced
2 tbsp fresh parsley
1 1/2 tbsp olive oil
1 tbsp honey
juice of 1/2 lime
kosher salt, to taste
Method:
Wrap the beets in foil and roast at 400 degrees until fork tender. Let cool and using gloves, gently pull the skin off the beets. Cut the beets into a small dice and add to a bowl. Add onions, jalapeno, parsley, olive oil, honey, lime and salt. Serve over fish.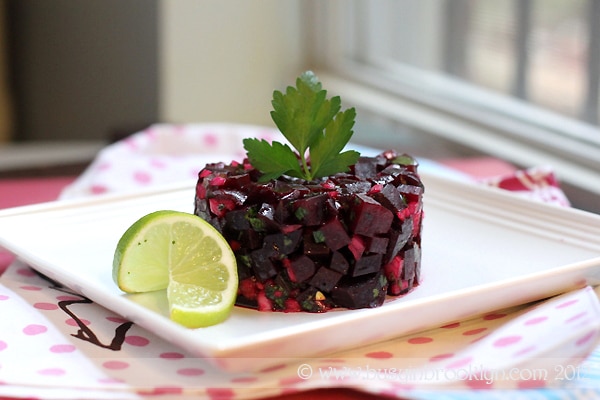 1 year ago: gefilte fish patties in tomato sauce