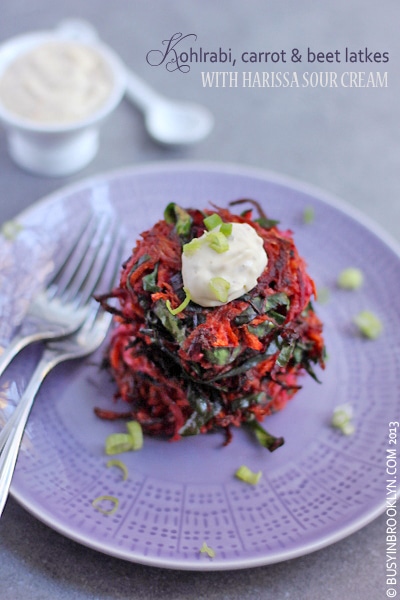 True story. I'm somewhere late into my 9th month of pregnancy and a little something called Braxton Hicks comes to pay me a visit. If you're not familiar, Braxton Hicks are false labor pains that feel almost like the real thing. They play with your head, make your think you're going into labor, and sometimes even have you rushing to the hospital. Which is exactly what happened.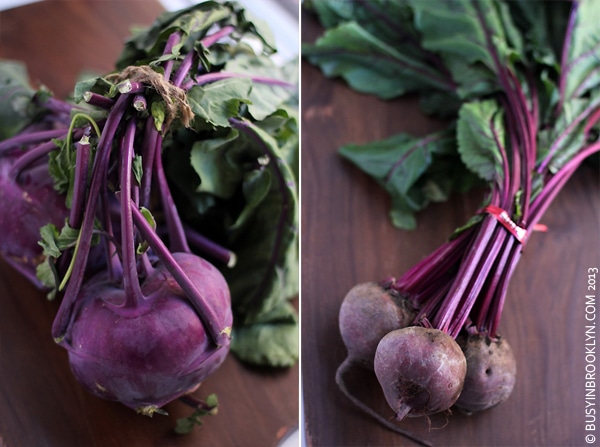 It's amazing how no matter how many kids you have, you completely forget how it all goes down at the end. I suppose that memory lapse is natures way of protecting procreation. I mean, what woman in their right mind would want to go through labor ever again?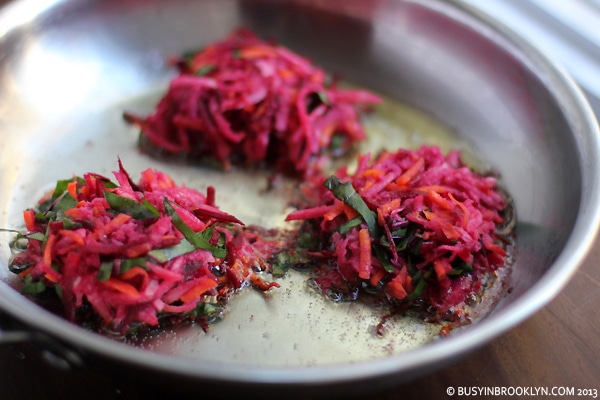 So there I was, pulling up to Mount Sinai Hospital when I caught site of a farmer's market at the corner. Now let me explain what it's like for a farm-fresh-veggie-loving-foodie like me to stumble upon a farmer's market. It's enough to stop me dead in my tracks and have me all but forget about my contractions. "I think they're going away," I muster to my husband as I eye the rainbow carrots in the corner crate. "Oh no you're not!" he counters. "I promise I'll take you to every farmer's market in town once you have this baby!"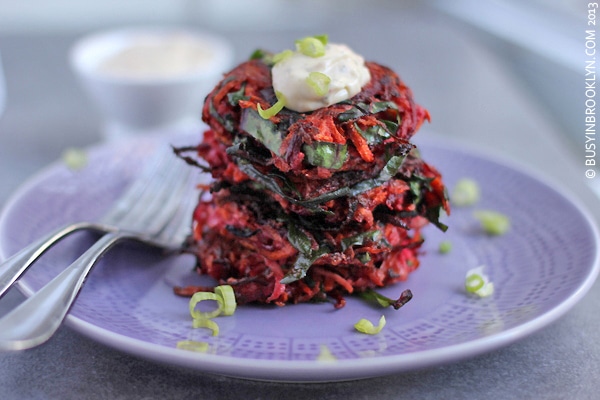 A couple of hours and plenty of false labor pains later, I'm back at the same corner picking farm-fresh produce.I score the most amazing purple kohlrabi, beets, carrots, baby turnips, breakfast radishes and little sugar pumpkins. The Braxton Hicks are behind me and I'm dreaming up all types of recipes as I head home on the FDR.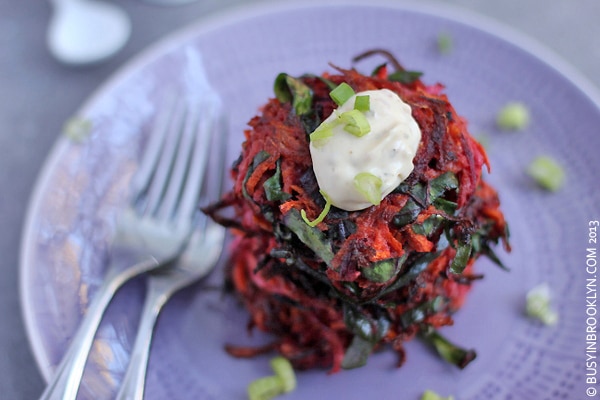 With farm fresh bounty in hand, this recipe practically wrote itself. I combined the kohlrabi (which is white inside, by the way), carrots and beets with some fresh beet greens to create beautiful jewel-toned latkes, that are even tastier than they are colorful. In fact, my husband brought a pan of the crispy-fried latkes to a business meeting and they were gone in seconds. He came home with rave reviews and a generous offer to take me back to the farmers market!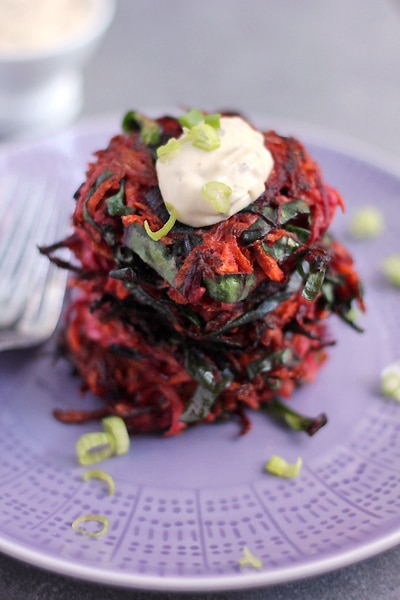 Confetti Latkes (Kohlrabi, carrot & beet)
1 large kohlrabi, peeled and grated (approximately 2 cups)
3 medium beets, peeled and grated (approximately 2 cups)
2 large carrots, peeled and grated (approximately 2 cups)
1 handful beet greens, shredded (approximately 2 cups)
1 medium onion, grated
4 eggs
1/2 c Panko breadcrumbs
salt and pepper, to taste
oil, for frying
Method:
Grate the kohlrabi, beets, carrots and onion in a food processor using the shredding disc. Wash the beet greens to remove dirt and finely shred with a knife. Place the grated veggies and beet greens into a large colander and press down to remove excess moisture. Add to a large bowl and mix in eggs, panko, salt and pepper. Heat oil in a frying pan and fry until golden and crispy on both sides.
NOTE: If the mixture starts to get soggy, form patties and squeeze out excess moisture before frying.
Harissa Sour Cream
1 c sour cream
1 tbsp Harissa
Juice of 1 lemon
1/2 tsp lemon zest
Method:
Add all ingredients to a bowl and mix to combine. Serve with confetti latkes.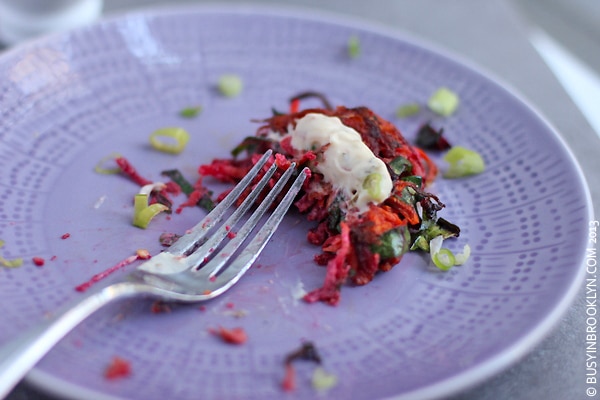 Other latke recipes:
pumpkin ricotta cheese latkes with cranberry maple syrup
gluten free butternut squash latkes
cheese latkes with raspberry sauce
gefilte fish latkes
snacker-crusted salmon cakes