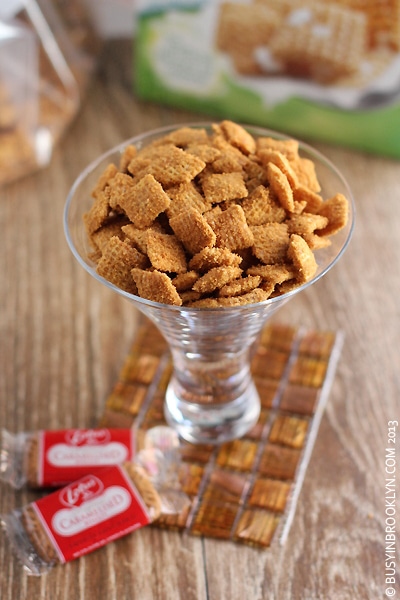 It's been a while since I've blogged about my (not so) little obsession with speculoos. I first made Lotus cookie cinnamon buns with speculoos cream cheese frosting and then I moved on to speculoos pancakes. As the speculoos obsession began to die down, I nearly forgot about the fantastic spiced cookies, until my brother brought me back a few samples that he got on the plane to Israel. One bite and I was transported back to speculoos heaven. So…I decided to transport you all as well, with this amazing speculoos Chex party mix that I made back during my Lotus-cookie-addiction-days.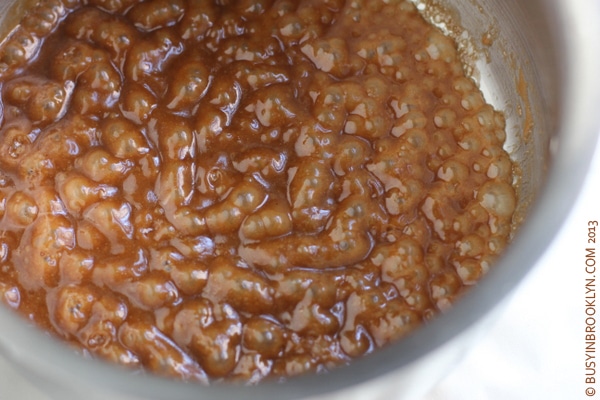 If you're not familiar with speculoos, it's a spiced shortcrust biscuit, or what Lotus (a popular manufacturer of speculoos cookies) calls, "The Original Caramelized Biscuit." Speculoos cookies have been a popular treat in Belgium for years, and are sometimes referred to as Lotus or Biscoff cookies. Their popularity reached new heights, when a few years ago, a woman won a television contest for inventing a sweet spread made from the cookies. Speculoos spread went viral, with many companies, like Trader Joes, selling their own versions.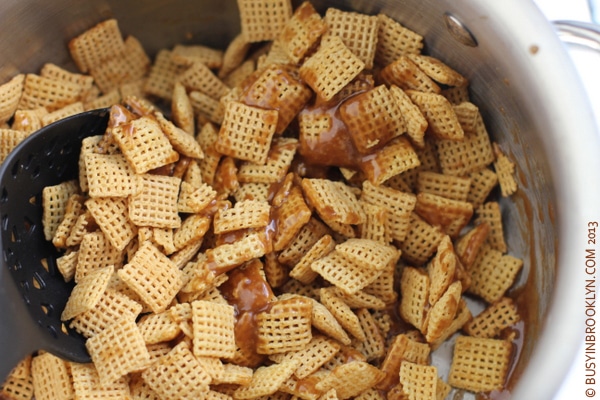 Have you ever had Chex Muddy Buddies (also known as puppy chow)? You know, that addictive cereal snack with chocolate and peanut butter that's covered in powdered sugar? Well, I decided to create a speculoos-flavored version, coating the cereal in toffee and dusting it in ground up Lotus cookie powder. I don't even have to tell you that it tastes even better than it sounds, because you can practically see for yourself.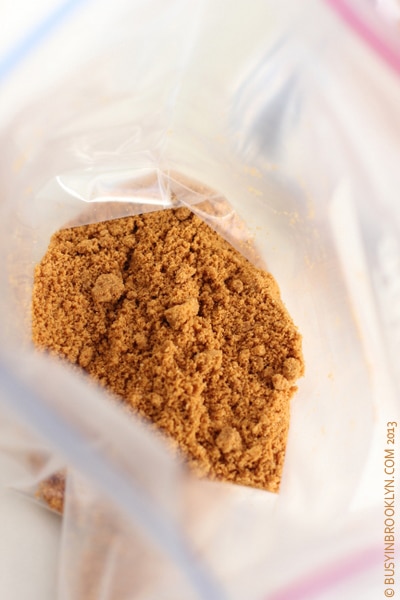 If you're drooling over the screen wondering, "How on earth does she expect me to make these if I can't get my hands on kosher Lotus cookies?" I'll tell you how. Because I feel for all you speculoos-deprived people, I asked my cousin in The Netherlands to send me over some kosher-certified speculoos goodies (thanks Chaya!) and I'm going to generously share them with you in my SPECULOOS GIVEAWAY!
You will win:
1 jar speculoos cookie butter
1 package Lotus cookies
1 jar speculoos spice mix
To enter:
1. Like Busy In Brooklyn on Facebook.
2. Leave a comment letting me know your favorite BIB recipe.
Giveaway is open to U.S. residents only. Winner will be chosen at random at 10:00 AM EST on October 18th, 2013.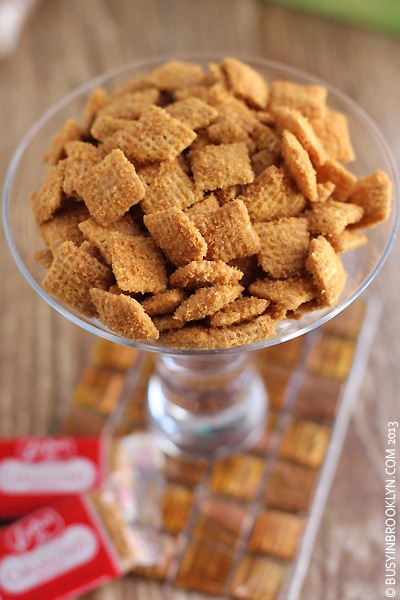 Speculoos Puppy Chow
3 cups corn Chex
4 tbsp butter
4 tbsp brown sugar
1/2 tsp vanilla
1/4 tsp cinnamon
pinch of salt
15 lotus cookies
Method:
In a large pot, melt the butter and brown sugar over low heat, whisking the mixture so that it combines into a caramel . Once it has begun boiling, let it bubble for approximately 3 minutes, until thickened. Remove from the heat and add the salt, cinnamon and vanilla. Pour the cereal into the pot and stir gently with a spatula to coat. Spread cereal out on a parchment-lined baking sheet to set.
In a food processor or blender, pulse the lotus cookies until crumby. Pour into a large Ziploc bag. Add caramel-coating Chex to Ziploc and shake to coat the cereal.
VARIATION: You may also use rice, wheat or multi-bran Chex varieties.
OPTIONAL ADD-INS: candied pecans, roasted almonds, pretzels, chocolate chips.