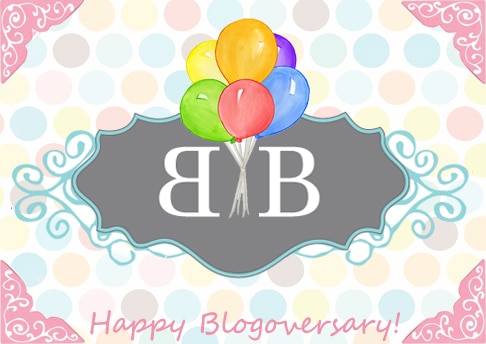 We've come a long way since my first post back on January 19th, 2011. Believe me, I never imagined I would make it this far. What started out as a hobby has blossomed into a full blown passion. I'm so thankful to all of my readers who are the reason for my continued success.
Over the past year, BIB has grown considerably, with recipes featured throughout the blogosphere as well as in Bitayavon and Binah Magazines. With bated breath, Busy in Brooklyn finished in 5th place in the Joy of Kosher "2011 Best of Kosher" competition with almost 850 votes.
It's been a whirlwind! Here are some stats from the past year that I thought you might enjoy:
Most popular category: dessert recipes
Most popular recipe: sushi salad
Most popular craft: shell stitch crochet hat
Most popular how to: caramelize apples
Most commented: black bean brownies
I can't wait to see what the next year has in store! In the meantime, keep reading, keep cooking, and most importantly, keep commenting! Your feedback really gives me the push I need to keep going!
Do you want to give BIB a Blogoversary present? Share our page on your facebook wall and ask friends to like us and visit our blog!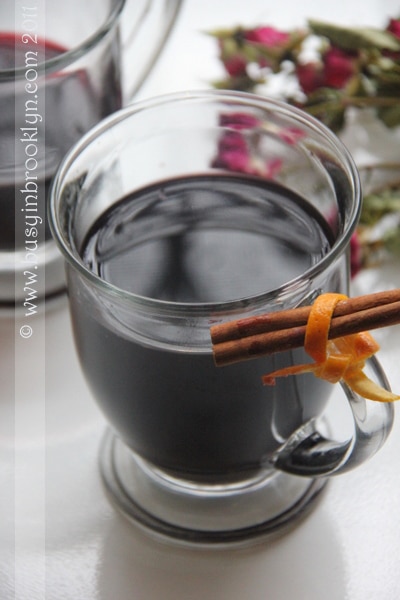 And now, to celebrate! I figured we should all make a L'chaim to toast to our one year Blogoversary. But a plain old glass of wine just wouldn't do. Instead, we're gonna click our glasses with a warm cup of mulled wine. Mulled wine is a spiced red wine that has been warmed with spices and citrus. It is perfect for a cold winter night in which you have cause to celebrate.
The best part about making mulled wine (also known as glogg) is that you don't need to use an expensive bottle. You can use a combination of whatever whole spices you have on hand, or simply use a few spoons of your bisamim.
Traditionally, mulled wine includes the following:
} dry red wine or a combination of dry and sweet (port is best)
} sweetener, such as, white sugar, brown sugar, maple syrup, honey or agave
} juice and zest of citrus, such as orange and/or lemon
} additional alcohol of choice, such as vodka or brandy, (optional)
} dried fruit, raisins, and/or almonds (optional)
} a combination of whole spices, such as:
cinnamon sticks
cardamom pods
cloves
allspice berries
peppercorns
star anise
bay leaves
nutmeg
vanilla pods
ginger root
I prefer to wrap up the spices in a cheesecloth but you can also add them straight to the pot and strain before serving.
BIB Blogoversary Mulled Wine
1 bottle dry red wine
1/3-1/2 cup agave
juice of 1 orange
2 cinnamon sticks
6 cloves
4-5 peppercorns
1 vanilla pod, split lengthwise
a few strips of orange zest
Method:
Add spices to a piece of double-lined cheesecloth and knot closed. Add wine, spices, agave and fresh squeezed orange juice to a pot. Cook on a low flame until heated through. DO NOT BOIL as it will cause the alcohol to evaporate.
1 year ago: chicken breast with port wine cherry sauce