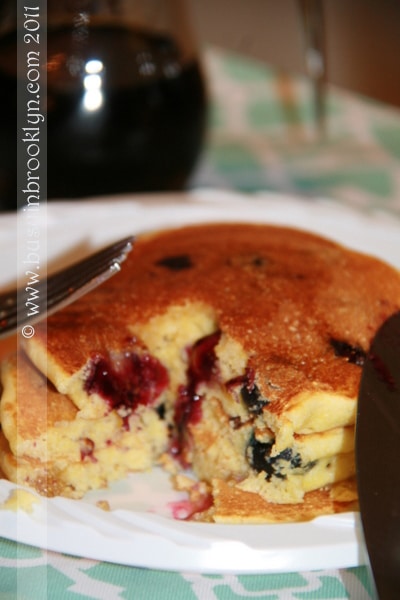 There's nothing better on a Sunday morning than good old pancakes. OK maybe just one thing: corn cakes. If you like corn bread, like I do, you'll love these. Blueberries add moisture, tartness and a burst of flavor.
If you want to make the most of summer's bounty, feel free to add fresh corn into the batter and use the blueberries to make fresh blueberry syrup (easy recipe included below).
Blueberry Corn Pancakes
1/2 c cornmeal
1/2 c flour
1 tbsp baking powder
2 tbsp sugar
1/4 tsp salt
1 c milk
1 egg
2 tbsp melted butter or oil
1 heaping cup fresh blueberries
oil or butter, for frying
maple syrup, for serving
Method:
Combine cornmeal, flour, baking powder, sugar and salt. In a separate bowl, mix milk, egg and butter. Stir wet mixture into dry, mixing until just incorporated. Add blueberries. Do not overmix, batter should be slightly lumpy. Grease griddle or skillet and heat up. Spoon heaping tablespoons of batter onto the griddle. When browned, flip and crisp on other side. Continue with the rest of the batter. Serve with syrup.
Easy Blueberry Syrup
1 cup blueberries
1/2 c sugar
1/3 c water
Method:
Combine blueberries, sugar and water in a pot and bring to a boil. Crush blueberries with the back of a spoon and simmer until thickened, about 15 minutes.