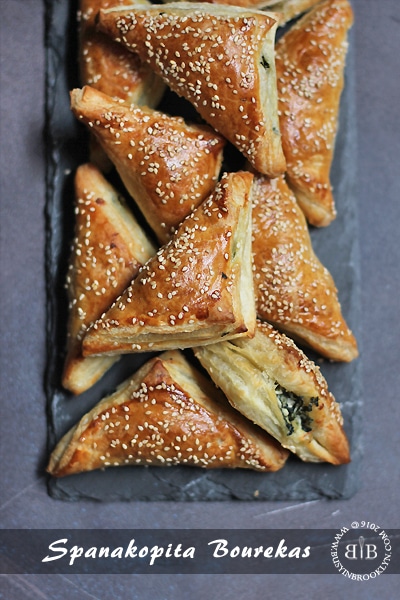 It's mashup time! I think my favorite part of being a food blogger is being able to play around with recipes and coming up with my own twists on things. I love mashing things up. What's a mashup? Well, it's when I take a traditional food and I fuse it with another cuisine or concept to create a hybrid sort of recipe. It would probably be easier if I showed you.
Take these pecan pie lace cookies that I made for Thanksgivukkah back in 2013 (gosh, was that really three whole years ago?!). Since Thanksgiving and Chanukah came out on the same night (which only happens in a gazillion years btw), I decided to fuse a Thanksgiving concept: pecan pie, with a traditional Jewish pastry: lace cookies, or, florentines. Florentines are traditionally made with almonds, but I used pecans, and to up the Chanukah ante, I drizzled the cookies with Chanukah symbols and filled them with raspberry jam. That, my friends, is a mashup.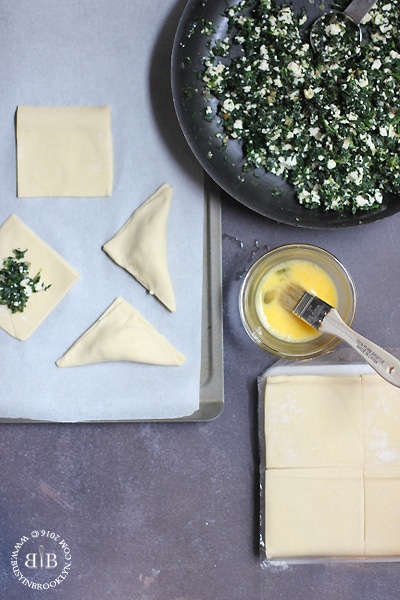 Of course I've got plenty of other Chanukah mashups on the blog, like these poutine latkes, a twist on the classic Canadian dish of gravy and cheese smothered french fries (yes, I went there). Then there was my falafel latkes, or falatkes, a fusion of the Israeli staple and the classic potato latke, which I took to another level with the sabich. And finally, the droolworthy donut milkshake and potato latke funnel cakes that have been blowing up feeds everywhere. Told you I loved mashups :)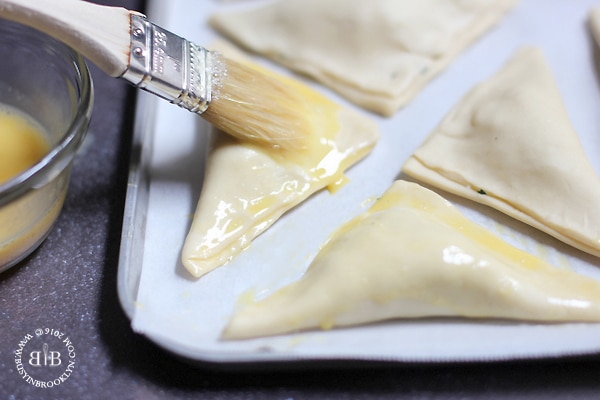 So Chanukah is upon us, and I really wanted to mashup a Greek staple with a typical Jewish food. Traditional spanakopita is a spinach feta pie made with a filo (or phyllo) crust. Filo is notoriously difficult to work with, since it is paper thin and tears easily, so I decided to turn the pie into the perfect hand-held appetizer: bourekas. With lots of Chanukah parties on our calendar, this makes a great finger food for the table!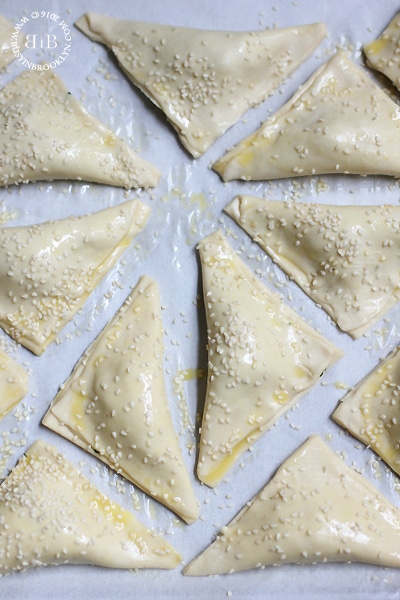 Bourekas are a family favorite and not just because they are uber delicious, with all the flaky layers of buttery dough. It's because they are so. freakin. easy. Truth be told, I was originally going to make spanakopita rugelach, but I've been feeling out of sorts this week and the idea of working on a savory cheese dough was just off the table. So I thought about what I could use to make these super easy and semi-homemade, and I went to that beloved ingredient that makes party planning so much easier – the puff pastry. Oh how I love thee.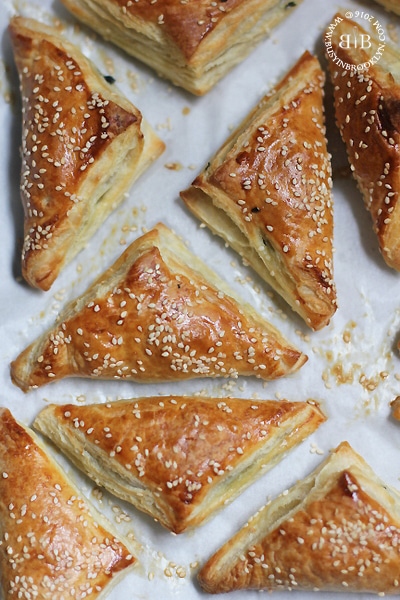 I always keep puff pastry in the freezer because it makes the most impressive danish pastry in no time, it's a must-have for my kids favorite deli roll, it makes an easy topping for pot pie, and the quickest impressive fruit tart. I also love it for cream horns, pinwheels, bite-size bundles, and even hamantaschen!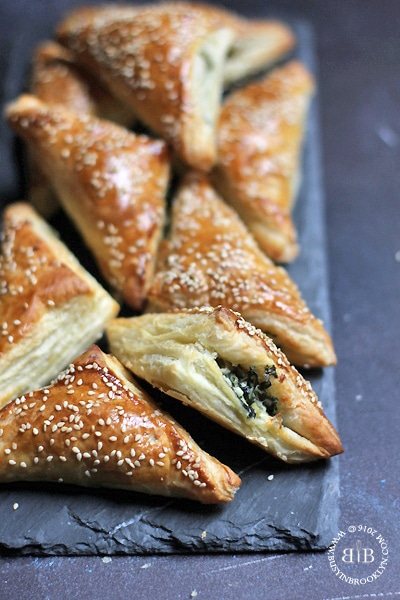 I'm all about finger food at my Chanukah party, so I hope this post gave you some "food for thought" for your Chanukah menu planning! For more great Chanukah recipes, check out the index!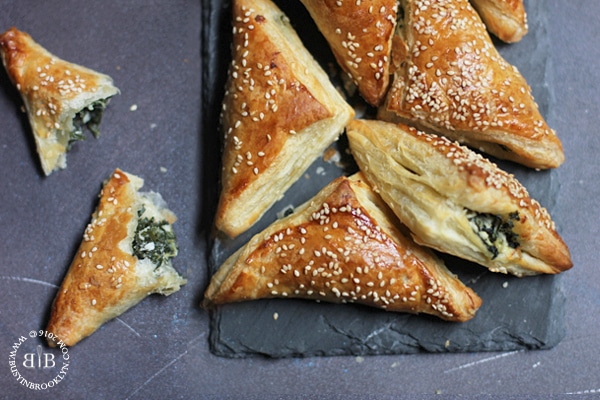 Happy Chanukah! Happy Chrismukkah! Happy Donut Day! And yes, Happy Birthday and Anniversary to me!! (I was born and got married on the 5th night!)
Spanakopita Bourekas
1 pkg mini puff pastry squares, thawed
10 oz. frozen spinach, thawed
7 oz. feta cheese
1 shallot, minced
1 large clove garlic, minced
1 tbsp olive oil
1/8 tsp nutmeg
salt and pepper, to taste
1 tsp fresh squeezed lemon juice
2 eggs, divided
sesame seeds, for garnish
Method:
Preheat oven to 375 degrees. Heat a skillet over medium heat and add the olive oil. Add the shallot and garlic and saute under fragrant. Squeeze out as much liquid as you can from the spinach and add it to the skillet. Season with nutmeg, salt and pepper and saute until heated through. Set aside to cool.
Once the mixture has cooled, add the feta, one egg and lemon juice. Place a tablespoon of filling onto each puff pastry square and fold closed, pressing the dough so that it sticks together without any openings.
Mix the remaining egg with a tablespoon of water and brush on the puff pastry. Sprinkle with sesame seeds and place on a parchment-lined baking sheet. Bake for 10 minutes. Rotate the pan and bake for an additional 10 minutes or until puffed and golden.
VARIATION: for a creamier filling, add some ricotta to the mixture. You can also add some fresh herbs, such as dill, parsley or mint, or a mixer.
FREEZER OPTION: These bourekas can be prepared in advance and frozen before baking. To bake, put the frozen bourekas on a parchment lined baking sheet and bake at 375 degrees until puffed and golden.
YIELD: Approximately 32 mini bourekas.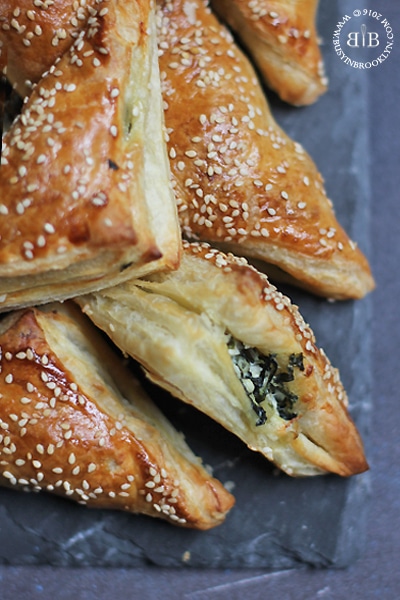 Related Recipes:
spinach papardelle with feta and fried poached egg
harissa whipped feta with zaatar eggplant chips
summer tomato feta salad
roasted eggplant parmesan with feta
spinach and spaghetti squash shakshuka