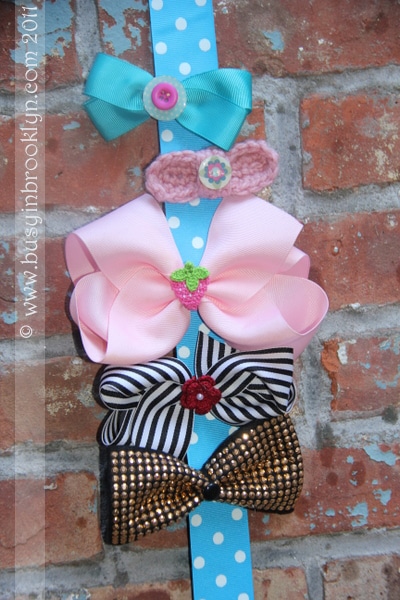 If you have little girls, you know what it's like when they come home from school with yet another broken headband (or better yet, without their headband…this I can't help you with). I've even started a little bin with all those bows that won't snap closed, the ribbons that have unraveled, and the headbands that have all but fallen apart. Every couple of months, I go through my stash and bring new life to the tangled mess.
To do this, you'll need your own assortment of ribbons, headbands and embellishments. I always keep my eyes open for these when I'm in a Family Dollar or a cheap variety store. You can stock up on plain headbands, cheap ribbons and buttons to keep for future projects. There are no instructions for these – just heat up your glue gun and get creative!
Every pretty bow starts off with a clip. Alligator clips are easy to use and don't break as easily as others. You can purchase them on
Etsy
. For a finished look, you'll want to cover it in ribbon. You can embellish them with buttons, crystals and beads. Here's how!
First, you'll need to measure your ribbon to see how long it should be. Place the ribbon inside the clip. Close the clip and wrap the ribbon around, leaving some room around the indent where the spring is. The ribbon should end at the back of the clip, right on top of the opening (see picture). Cut ribbon to size. To remove the frayed edges, hold the ribbon close to candle (don't put inside the fire, just very close to the heat), you'll see the thread start to shrivel up. Now, repeat the same steps you did to measure the ribbon, but this time use your hot glue gun to glue it down (see picture). Embellish your ribbon clip with buttons, embellishments or a bow.

1 year ago: shell stitch crochet hat