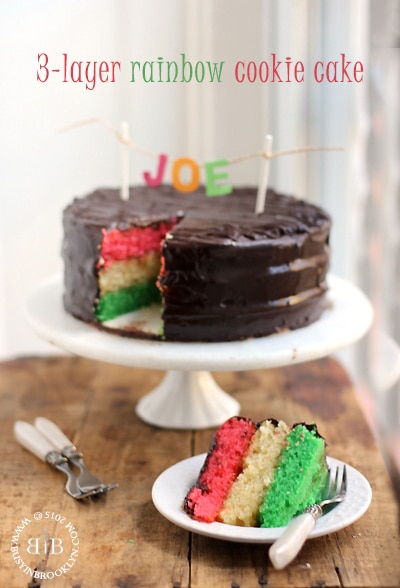 I came to the realization today that I've been posting quite a number of cakes for someone who calls themselves a non-baker. Am I right? As much as I don't like to bake, it seems YOU all like when I do. Remember when my funfetti bundt cake went viral? And judging by the amount of  parsnip honey cake pictures that flooded my inbox, I'd say it was a huge hit!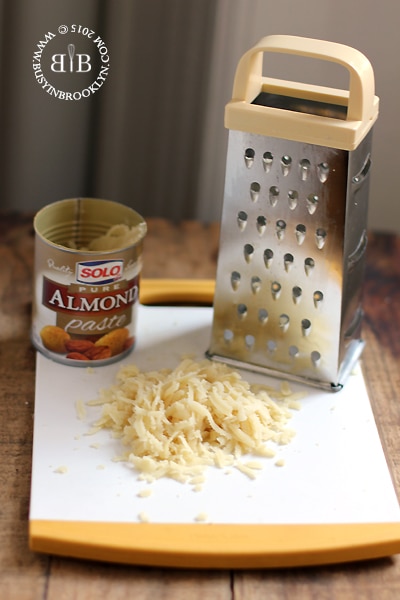 With Parshas Noach this week, I thought it was just the right time to finally post THIS cake. I made it last November for my husband's birthday, and I never quite found the right time to post it. I was thinking about what kind of rainbow recipe I could do in honor of the Torah portion in which a rainbow appeared as a symbol of G-d's promise never to destroy the world again with a flood. I started looking through some old photos and I remembered this amazing 3-layer marzipan birthday cake, and it was just the thing!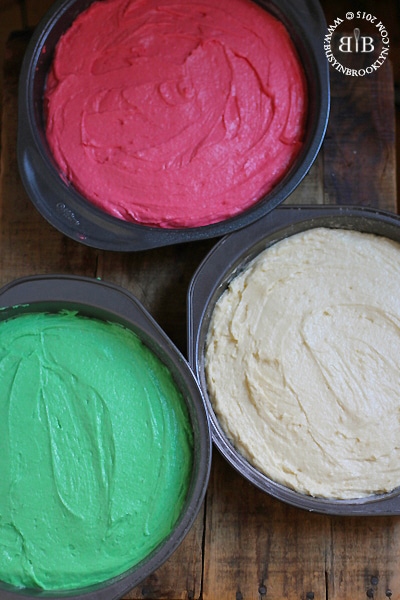 3-layer rainbow cookies are my husband's all time favorite, so I set out to make a birthday cake version for his surprise party. I'm not one for layered cakes, and each time I make them, I'm reminded just why I hate making them so much. But the end result is always worth it! Especially in this case.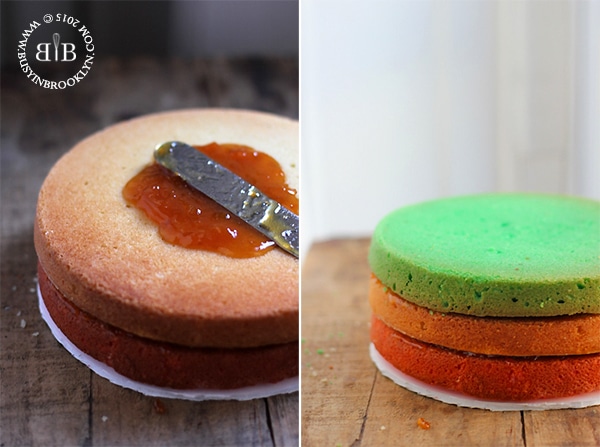 If you've ever tried 3-layer rainbow cookies, you know what they taste like – marzipan. They're cakey and chocolatey with a bit of jam in between the layers. But one thing they are not is FRESH. Once you make this stuff from scratch you can really taste the difference. Preservative-free cake is the way to go, and making it in a stacked layer cake is just SO. MUCH. FUN.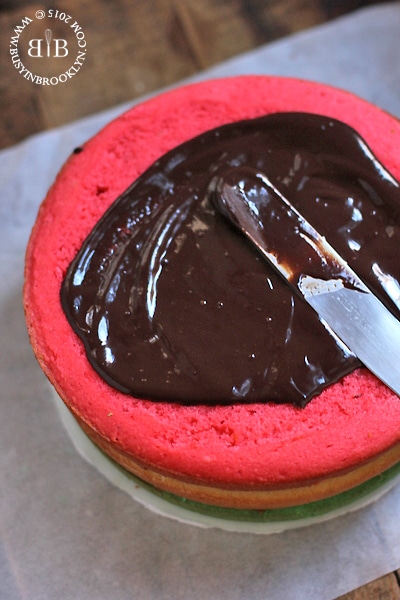 '
My husband is the founder and CEO the boutique marketing firm AjaxUnion.  I call him Yossi, but in the workforce, he's just "Joe". In fact, is his GrowTime YouTube series, he teaches entrepreneurs "How to go from average Joe, to CEO"! Can you tell I'm just a wee bit proud of my hubby?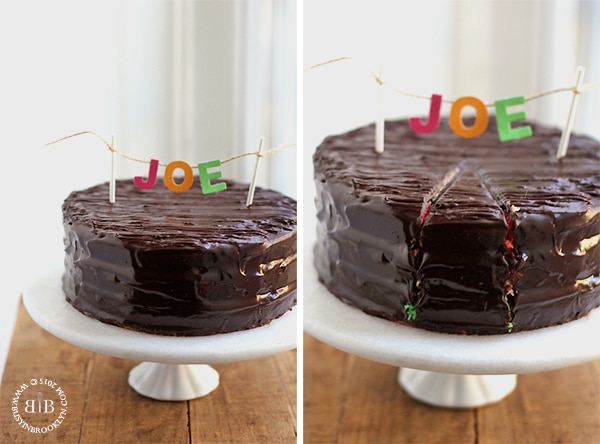 So back to the cake, I thought it would be fun to put a little Joe banner up in the same rainbow colors as the cake, and I just love how cutesy and Etsy-esque it is! What do y'all think?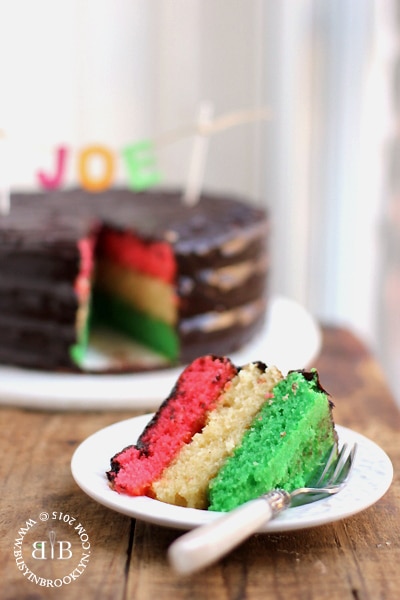 My husband was gaga over the cake, but so were my kids. They're big fans of 3-layer rainbow cookies, so it was a no-brainer. They keep asking me to make it again, so I'm thinking of going the old fashioned route and doing it sheet-style. It should be easier. Or maybe harder. Uh oh. I hate caking. I mean baking.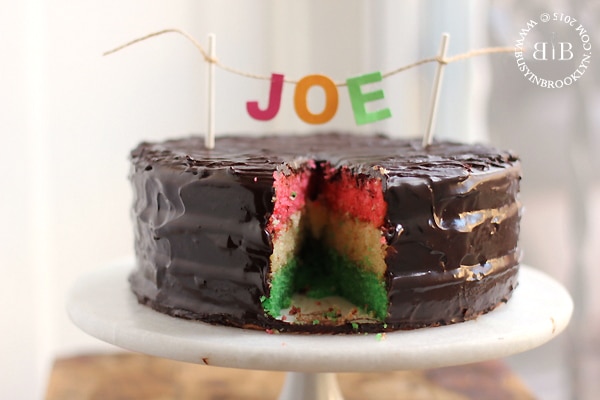 There's only one reason for my venturing into cake territory and it's all Molly Yeh's fault. She just inspires me so much with her whimsical creations and I want to be her. Her rainbow mini cakes were the inspiration for this rainbow cookie birthday cake, and her funfetti cake was what got me to make this viral recipe. She also loves tahini everything, I even sent her halva from the shuk for her wedding present! So Yeh (pun intended), thanks Molly for making me fat.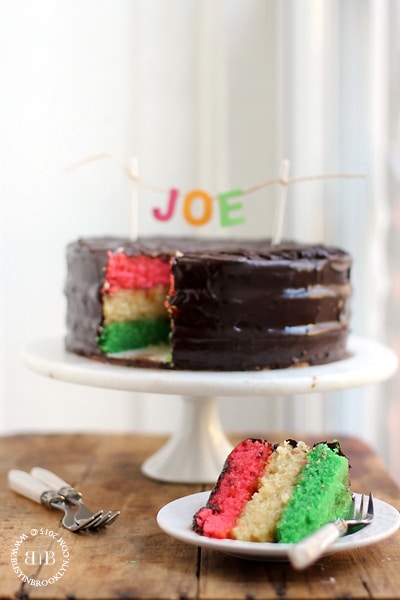 Next up on my baking list? I'm thinking a pecan pie for Thanksgiving featuring one of my favorite spice blends. Stay tuned. It's gonna be epic!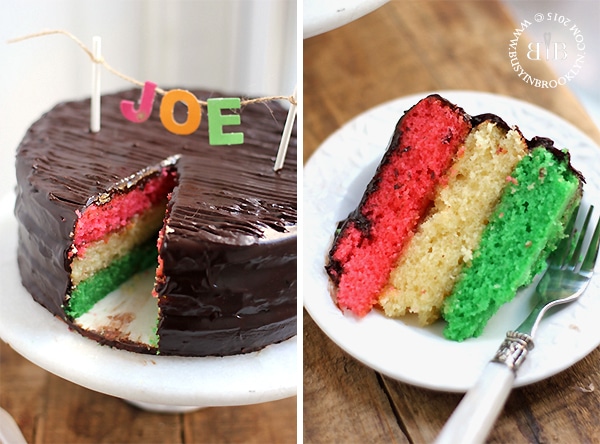 Happy Rainbowing!
3-Layer Rainbow Cookie Cake
adapted from Always Order Dessert
3 sticks no-trans-fat margarine, softened
1 1/2 cups sugar
5 extra large eggs
12 oz. almond paste, grated with a box grater
1 tbsp pure almond extract
1 cup coconut milk (I use Original Coconut Dream)
3 cups flour
3 tsp baking powder
1 tsp red food coloring
1 tsp green food coloring
1/2 cup apricot preserves or seedless raspberry jam (or 1/4 cup each)
For the ganache:
1 cup full fat canned coconut milk
12 oz. chocolate chips
Method:
Grease and flour three 9″ pans and set aside.
With a mixer, cream the butter and sugar until fluffy. Add the eggs and continue to beat until incorporated. Add the grated almond paste, almond extract, and coconut milk, and beat until well combined.
In a separate bowl, whisk the flour and baking powder and slowly add it to the batter, mixing until combined.
Separate the mixture evenly into three bowls. Add the red food coloring to one, the green food coloring to another and leave the third bowl without coloring.
Pour each batter into the round pans and bake at 350 degrees until a toothpick inserted into the center comes out clean (about 25 minutes). Remove from the oven and set aside to cool.
In a small pot, bring the coconut milk just to a simmer and pour it over the chocolate in a large bowl. Let it sit for a minute or two and stir until the chocolate is melted and smooth.
To assemble the cake, level the cake layers with a knife so they are completely flat. Place the green layer at the bottom and spread with jam. Top with the yellow cake and spread with more jam. Finish with the red layer and top with chocolate ganache, spreading it all over the cake evenly.
Let the chocolate harden at room temperature or refrigerate until set. Use a fork to create lines along the top.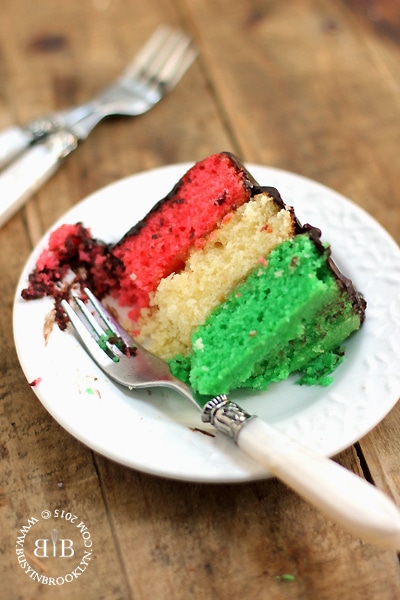 Other Rainbow Recipes:
rainbow slaw with poppyseed dressing
rainbow cobb salad
rainbow pommes anna
rainbow cupcakes