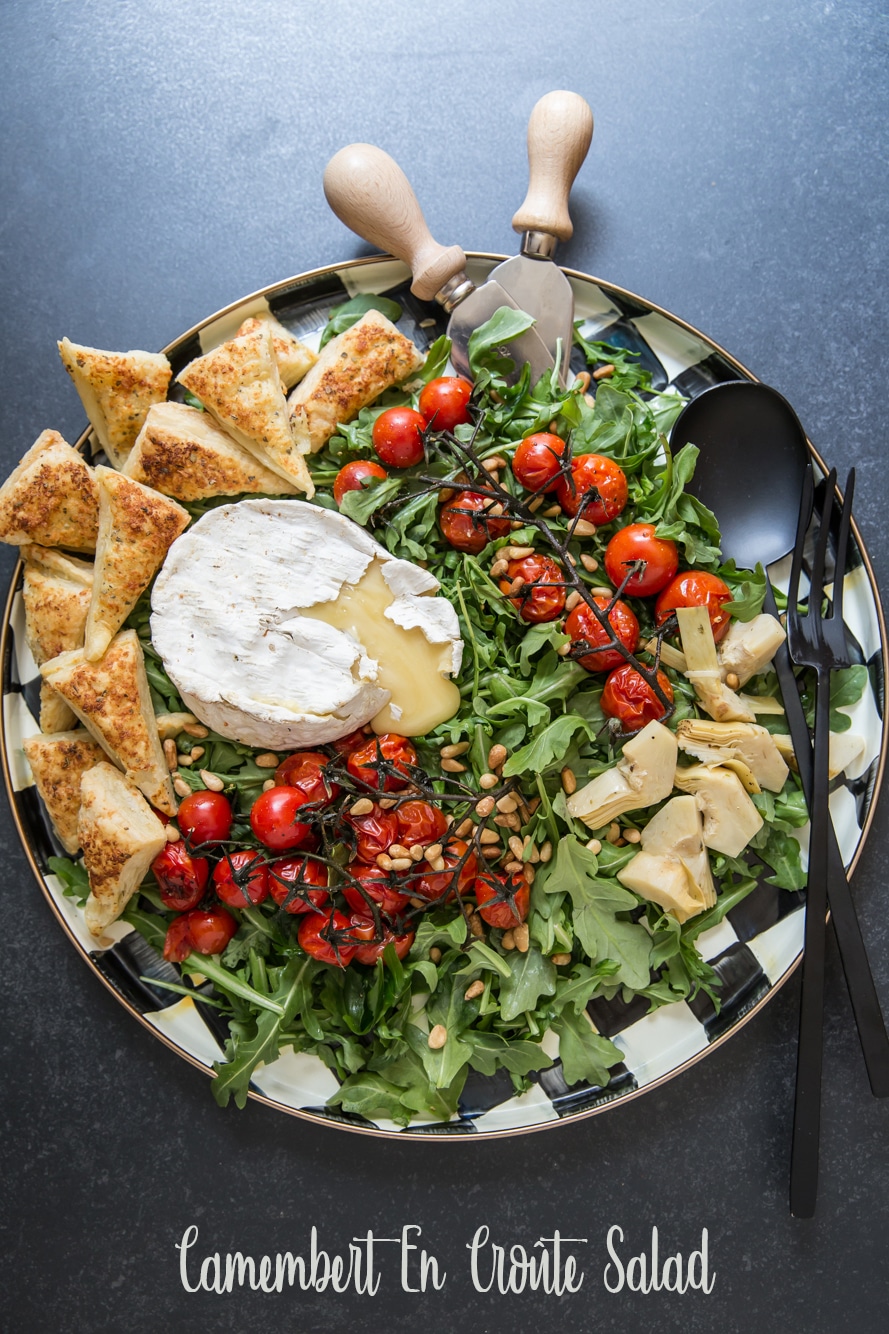 People often ask me if I feel deprived as a serious foodie who keeps kosher, and the answer is "no". As someone who's been kosher since birth, I don't crave "treif" simply because I've never tried it. And there is really so much available on the kosher market today, that I don't really feel like I'm missing out.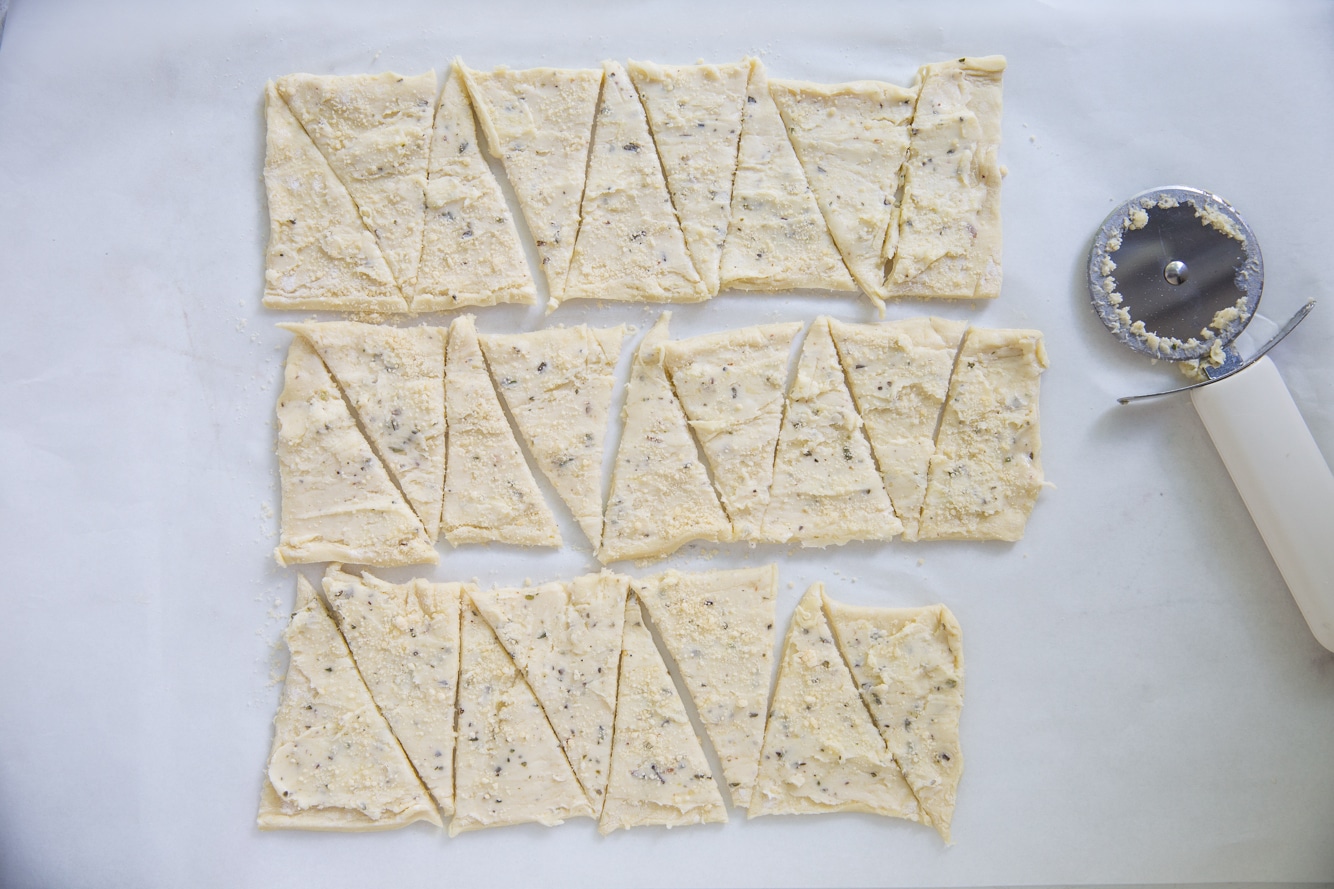 BUT… (there's always a but isn't there?!), traveling as a kosher keeper is hard stuff. Especially when you go places that don't have much kosher available, and you've got to stuff your bag with cans of tuna and crackers. I have to admit that part isn't easy, and for that reason, I usually choose to travel to places based on the kosher availability there.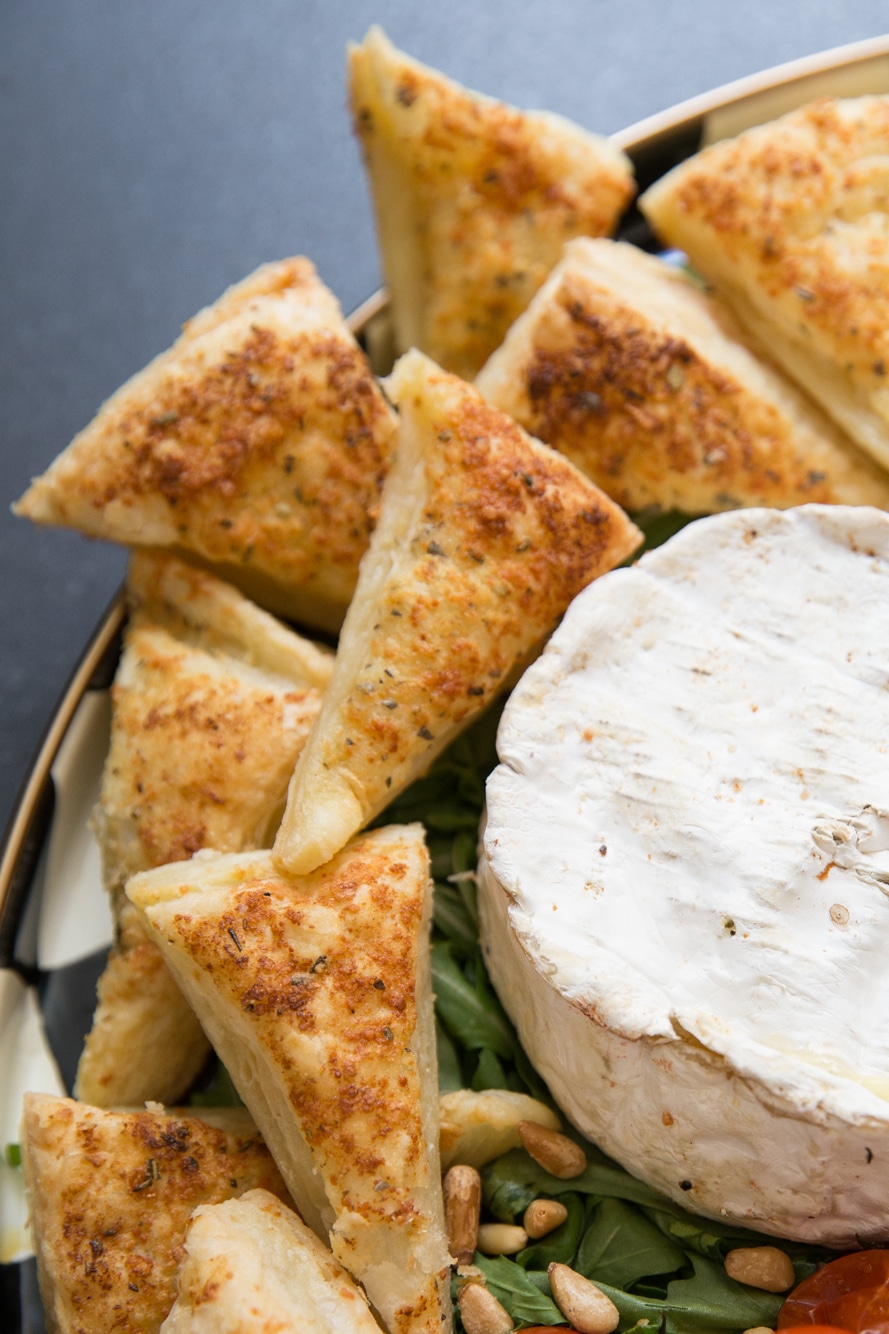 Which totally works for me because eating out, I feel, is part and parcel of a vacation. I'm not the sit-by-the-beach and suntan kinda gal, so I'd rather hit the town and see what it has to offer.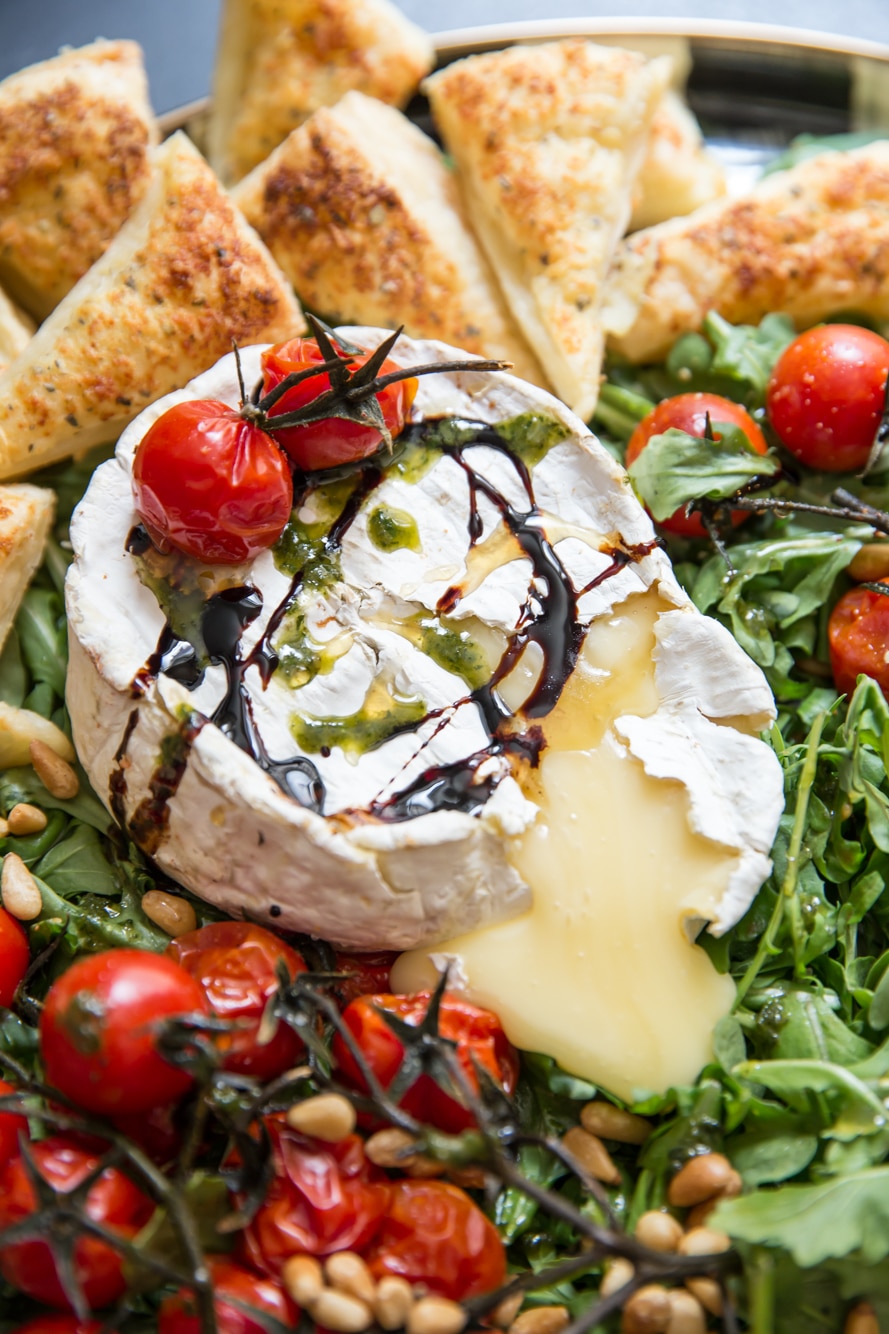 I love exploring different food cultures and traveling really opens your eyes to different ingredients and flavor combinations. On my recent trip to Paris, I ordered the camembert salad, which was served simply over a bed of iceberg lettuce, with a drizzle of balsamic and honey and a sprinkling of pine nuts. It really made me rethink the whole camembert thing (I always just wrap it in puff pastry), and I knew I was going to recreate it when I got home,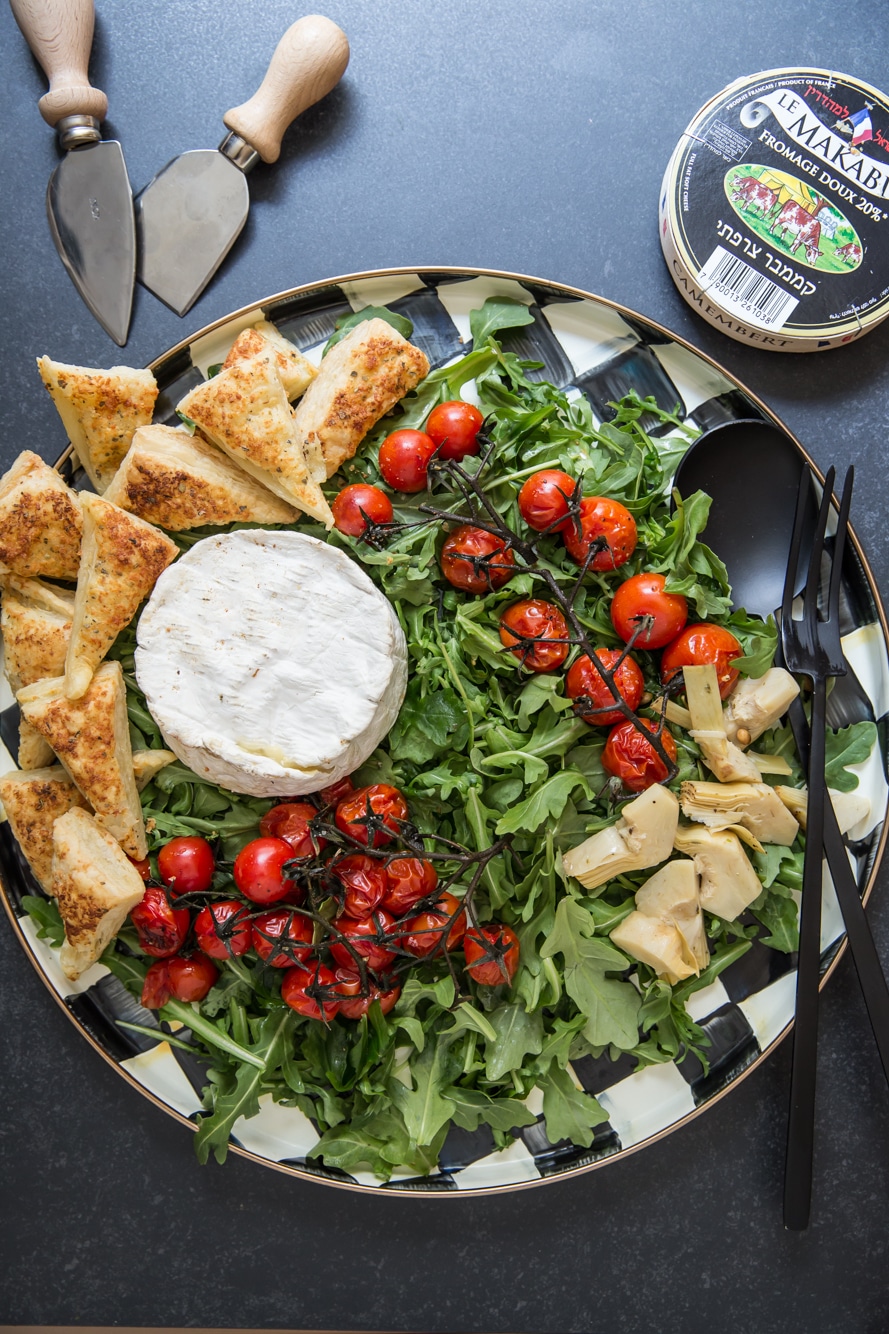 I took the best of the salad, and paired it with the "en croute" concept, for a deconstructed cheese salad of your dreams. There's not much else to say about this other than IT'S AS GOOD AS IT LOOKS.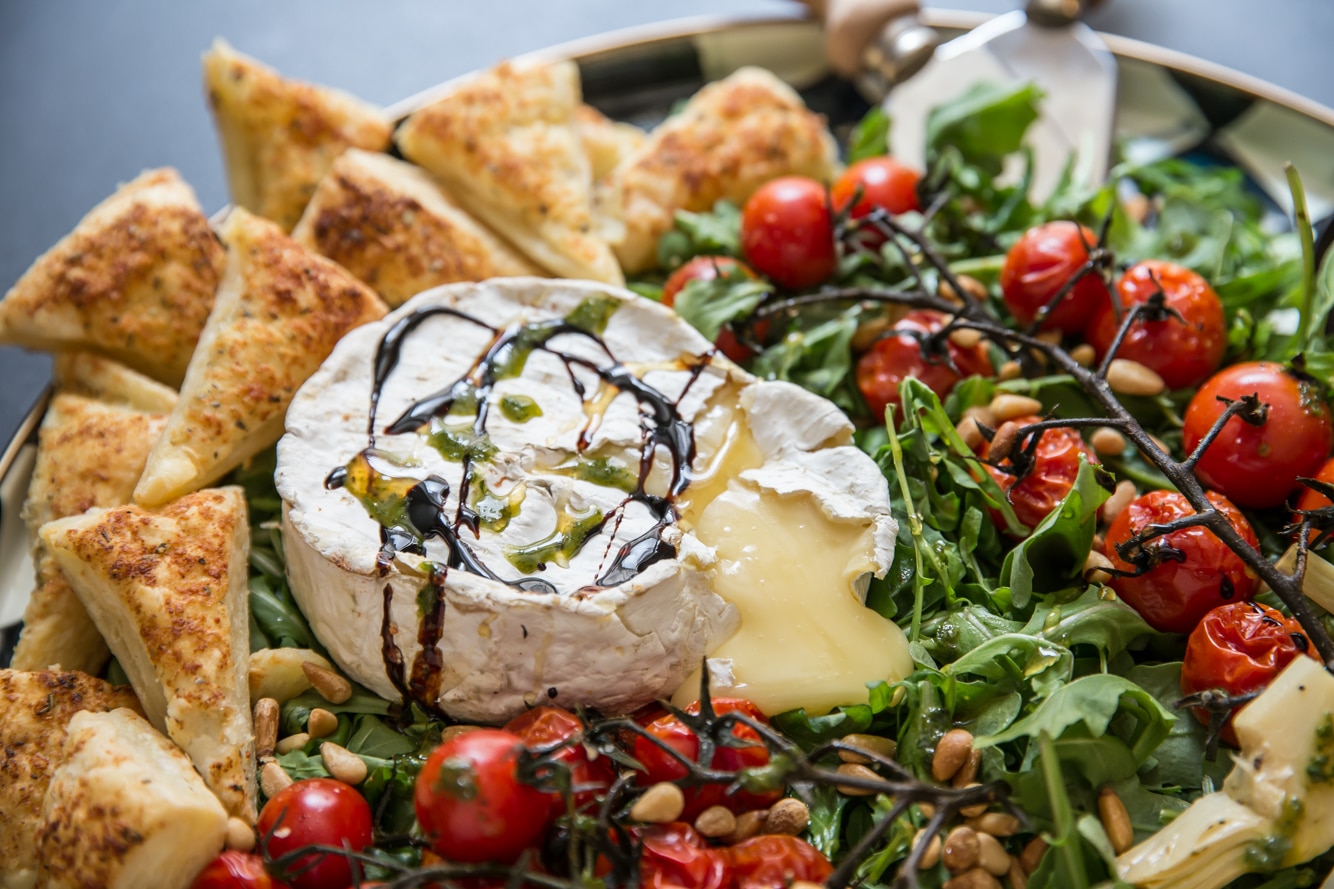 Camembert, if you're not familiar, is a soft and creamy, surface-ripened cow's milk cheese. The white bloomy rind is totally edible, with barely any moldy flavor. As someone who is not a fan of moldy cheese, I absolutely love Camembert (and brie!), so I wouldn't be scared off by it.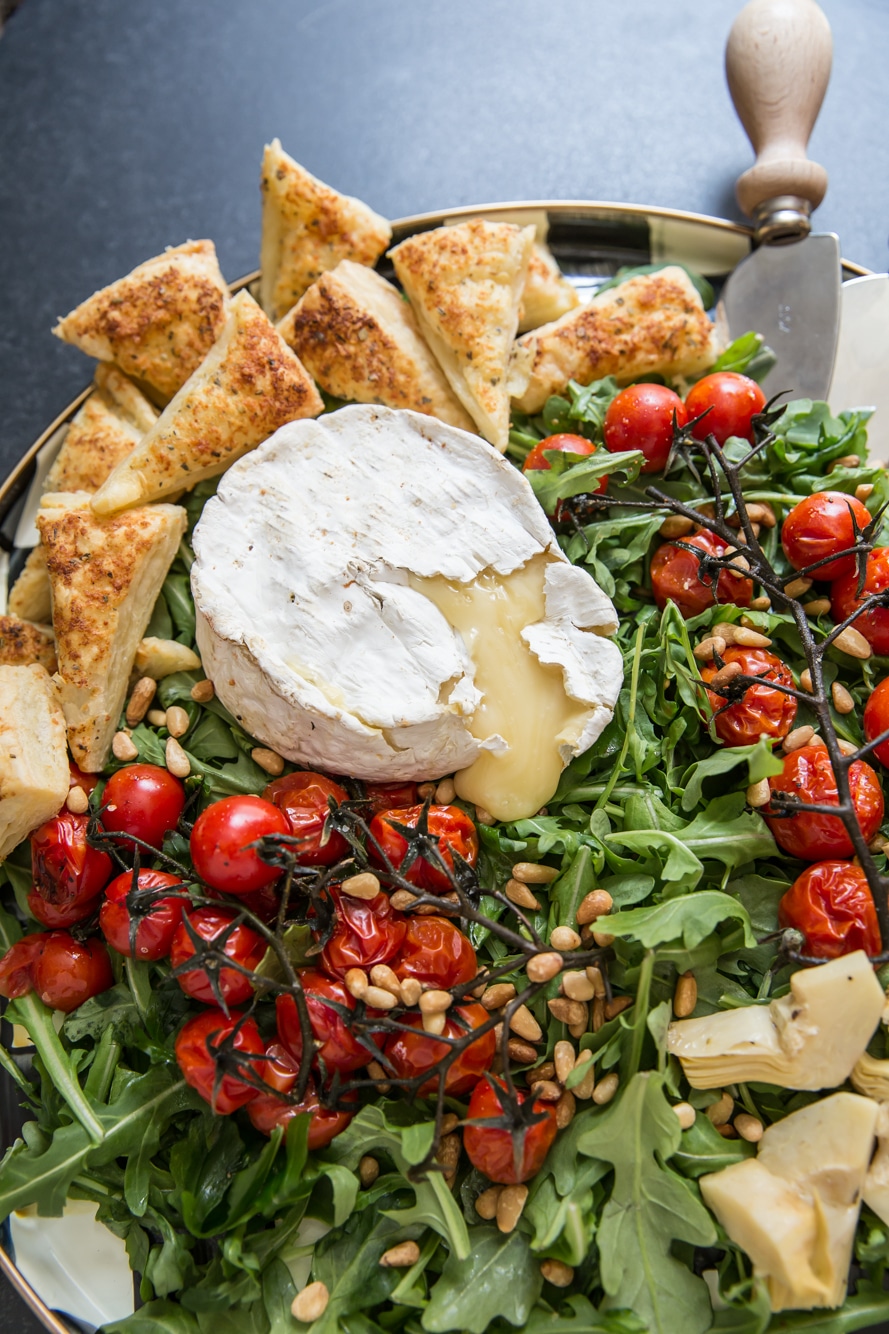 If you're not quite ready for Camembert on it's own, I recommend wrapping it in puff pastry with some fig jam and candied nuts and baking until puffed and golden. That's really what got me into this wheel of wonder to begin with and it's absolutely amazing!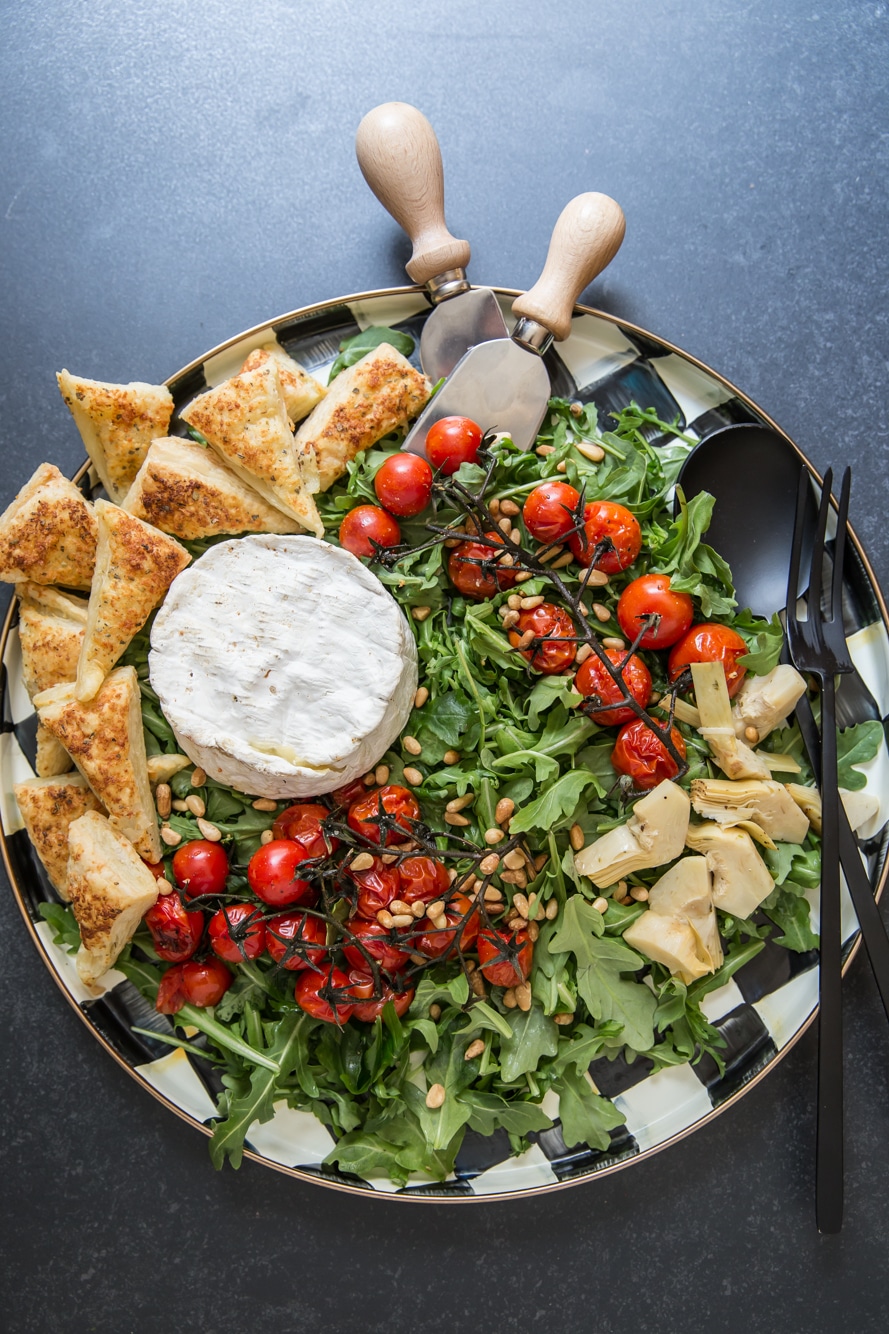 Camembert En Croûte Salad
2 sheets puff pastry, thawed in the fridge overnight
1 stick unsalted butter, softened
2 large cloves garlic, minced
1/2 tsp oregano
1/4 tsp garlic powder
1/4 tsp kosher salt
2 tbsp parmesan cheese
2 bunches cherry tomatoes on the vine
2 tbsp olive oil
salt and pepper, to taste
1 wheel Camembert or brie
1/4 cup pine nuts
1 4oz. pkg baby arugula
1 6oz. jar marinated artichoke hearts
raw honey, optional, for serving
For the basil oil:
1/4 cup packed basil leaves
1/2 cup extra virgin olive oil
salt and pepper, to taste
Add to a blender or food processor and process until smooth. Strain out the basil leaves if you wish.
Store in an airtight container in the fridge for up to one week (bring to room temp before using).
NOTE: for bright green oil, blanch the basil leaves first by placing them in boiling water for about 10 seconds and then removing to ice water.
For the balsamic syrup:
1/2 cup balsamic vinegar
1 tsp honey
Combine the balsamic vinegar and honey in a medium saucepan. Bring to a boil, reduce heat, and simmer, uncovered, until it is reduced by half and coats the back of a spoon. Cool completely (it will thicken as it cools), then transfer to a jar and store in the fridge for up to 1 month.
Method:
In a small bowl, combine the butter, garlic, oregano, garlic powder and salt.
Preheat oven to 375 degrees.
Remove the puff pastry sheets from the fridge and cut into thirds at the folds. Spread the butter over each piece and transfer to a parchment lined baking sheet. Sprinkle with parmesan cheese. Using a pizza cutter, cut into triangles. Return to the fridge while you prepare the other components.
Place the tomatoes on one side of a baking sheet, drizzle with olive oil and season with salt and pepper. Prepare a small foil packet and place the pine nuts in it. Place in the corner of the same baking sheet. Prepare a second foil packet and place the Camembert inside. Place on the baking sheet, opposite the pine nuts packet.
Place the baking sheet of puff pastry and tomatoes in the oven. After 8-10 minutes, remove the packet of pine nuts. After 15 minutes, remove the brie.  Continue baking the tomatoes and puff pastry for another 10 minutes, until the puff pastry is puffed and golden, and the tomatoes have softened.
To plate: arrange the arugula on a platter. Top with tomatoes, artichokes and pine nuts. Place the Camembert on top with the puff pastry alongside. Right before serving, drizzle basil oil, baslamic syrup and honey over the salad and serve.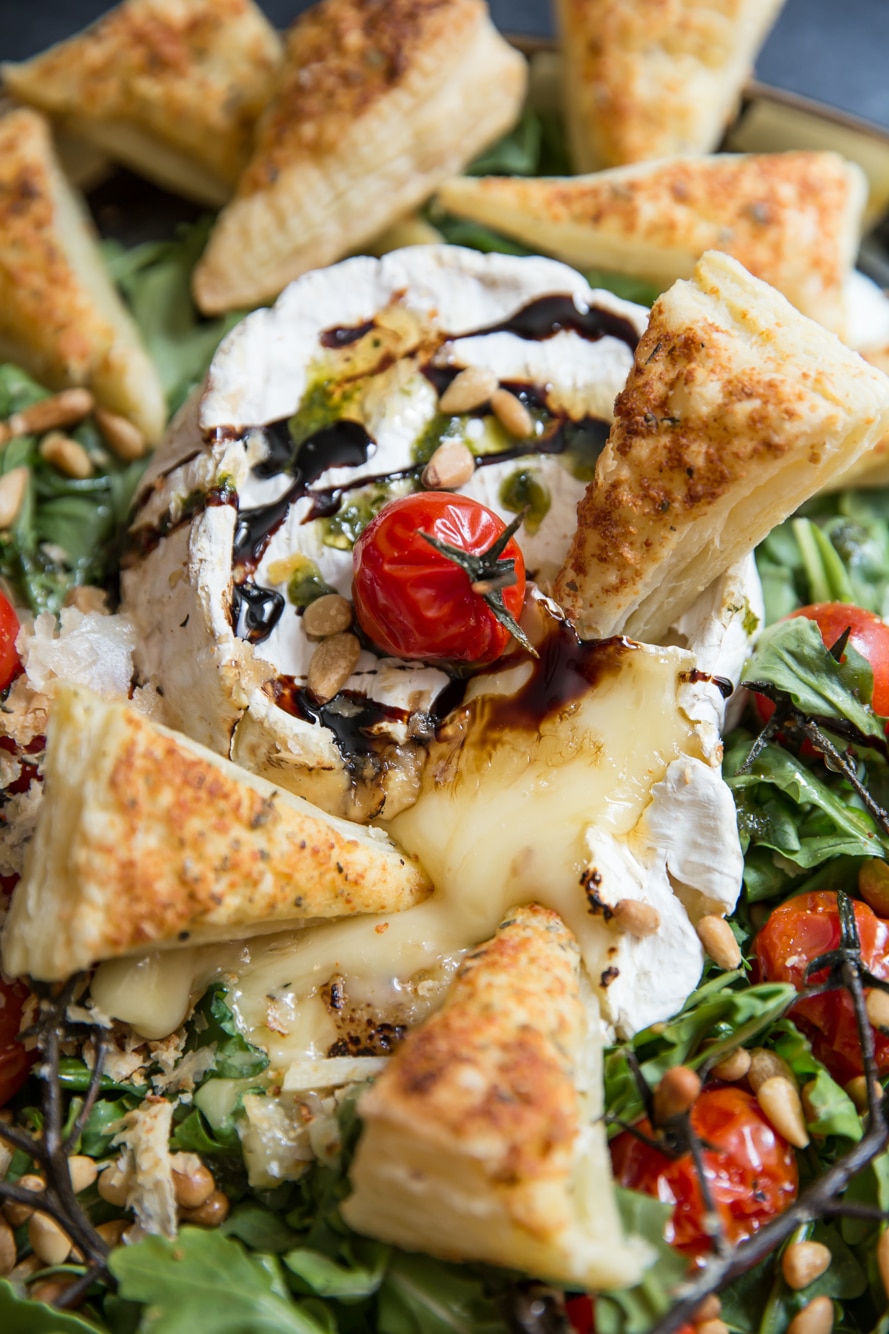 halloumi cheese waffles with tomato jam and balsamic syrup
brie marsala pizza
dried fruit brie bites