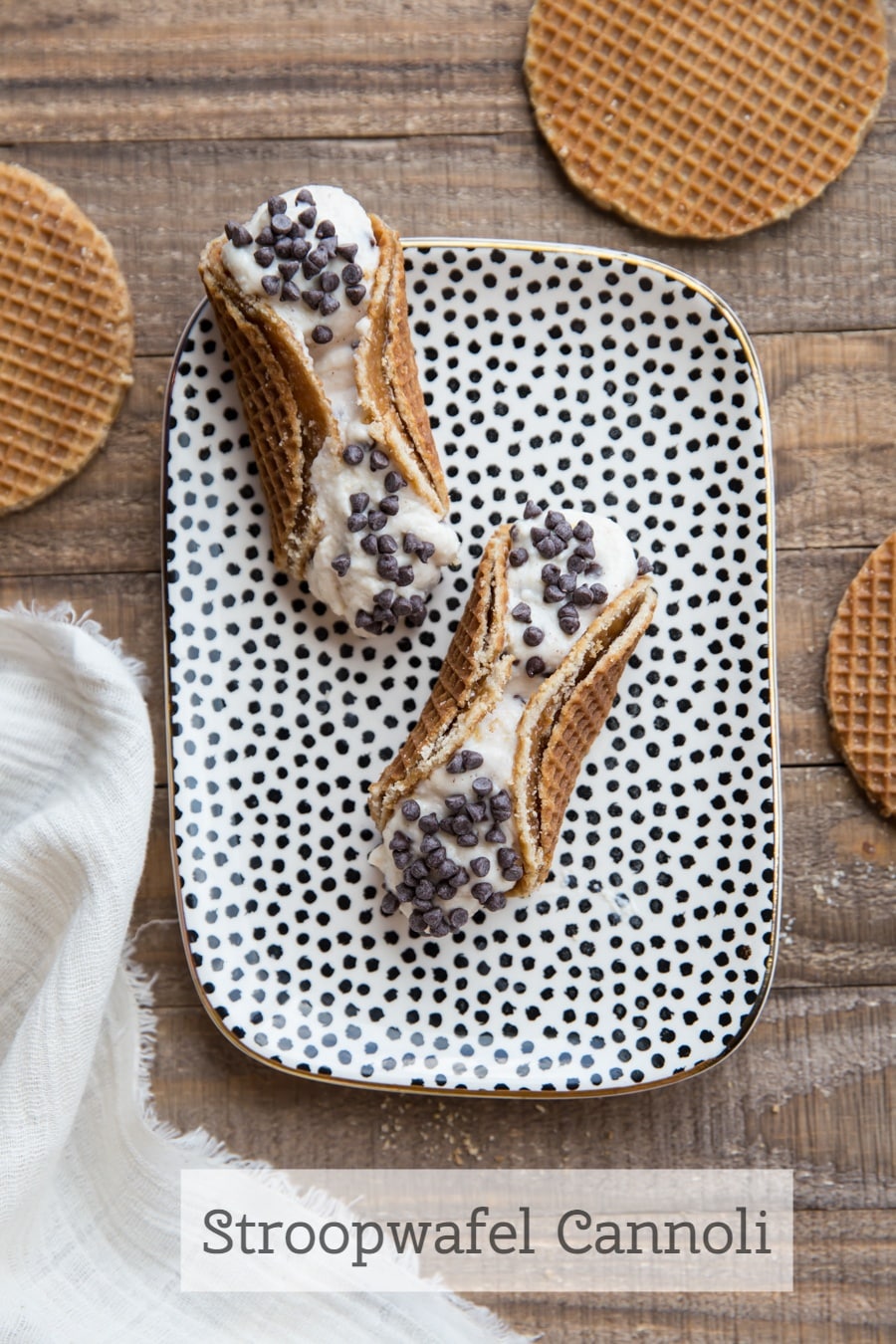 Cannoli!! I always manage to spell it wrong (that's 2 n's,  not l's, and the plural form is also cannoli!), even though I've made them before, in the form of these adorable Torah cannoli!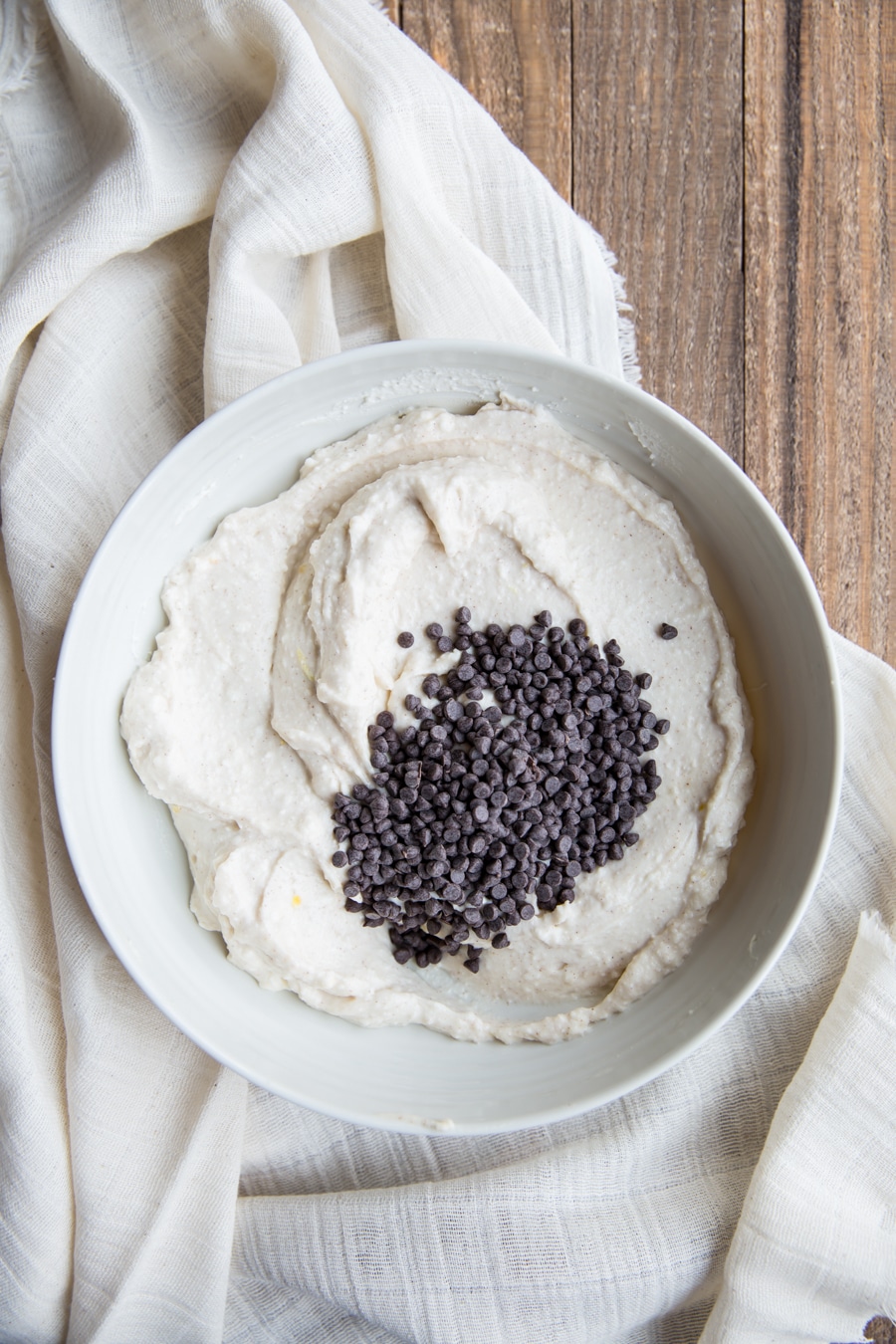 Of course my love for this fabulous dessert was reignited on my recent trip to Italy, where I saw cannoli in many forms in bakeries and pizza shops alike. Many were topped with crushed pistachios, or folded with Luxardo cherries, mmm mmmm….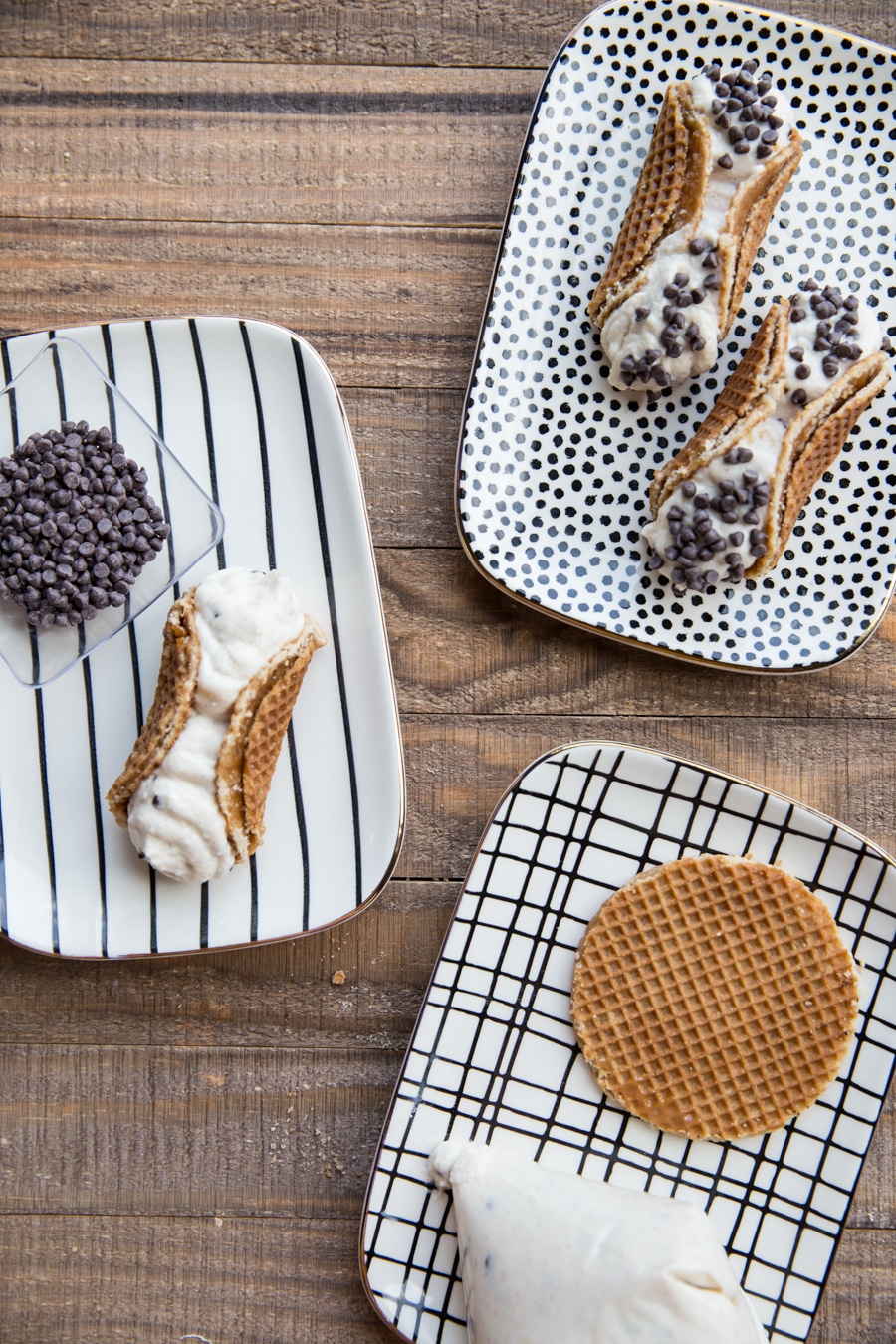 I was especially excited to try these with the latest snack to hit the kosher market, stroopwafels! Stroopwafels have nothing to do with cannoli, in fact they come from The Netherlands, where they place the caramel-stuffed wafers on their coffee to warm them up in the morning. A stroopwafel, literally "syrup waffle", is a wafer waffle made from two thin layers of baked dough joined by a caramel filling. First made in the Dutch city of Gouda, stroopwafels are popular throughout the Netherlands and is a well-known Dutch snack.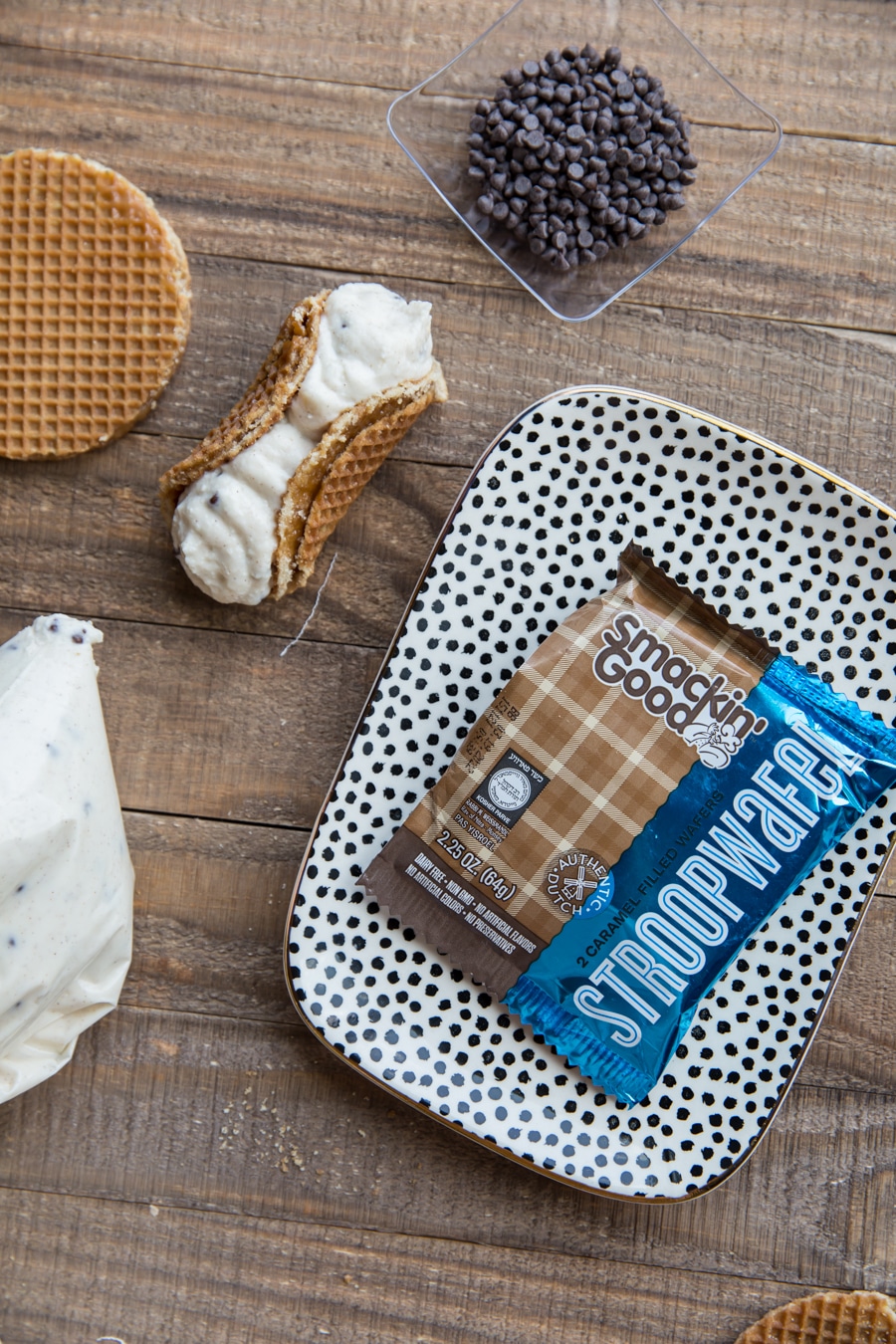 When I first tried stroopwafels, I realized that they would make the perfect cannoli wrapper if I soften them in the microwave to make them pliable, and boy was I right! So you get the best of cannoli, with a sweetened ricotta filling, and the best of stroopwafel, with a crispy wafer reminiscent of Lotus cookies, stuffed with a gooey caramel. I mean what's not to love?!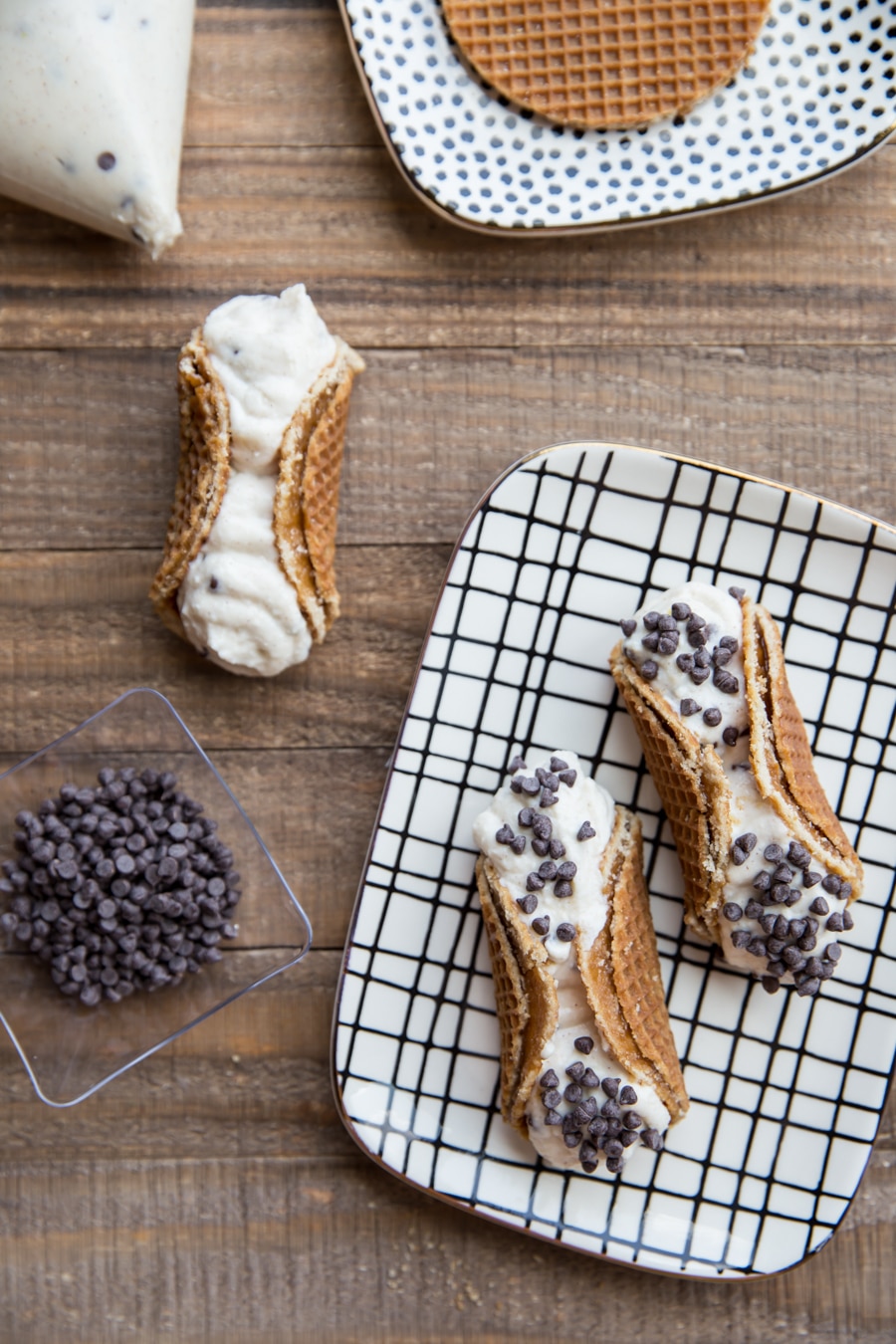 And to top it all off, as an homage to my Italy trip, I even made my own homemade ricotta! I've been dreaming about it ever since eating the herbed baked ricotta at the kosher winery in Tuscany, Cantina Giuliano, and I had so much extra milk so I just went for it. Making homemade ricotta is super easy! So enjoy the bonus recipe below.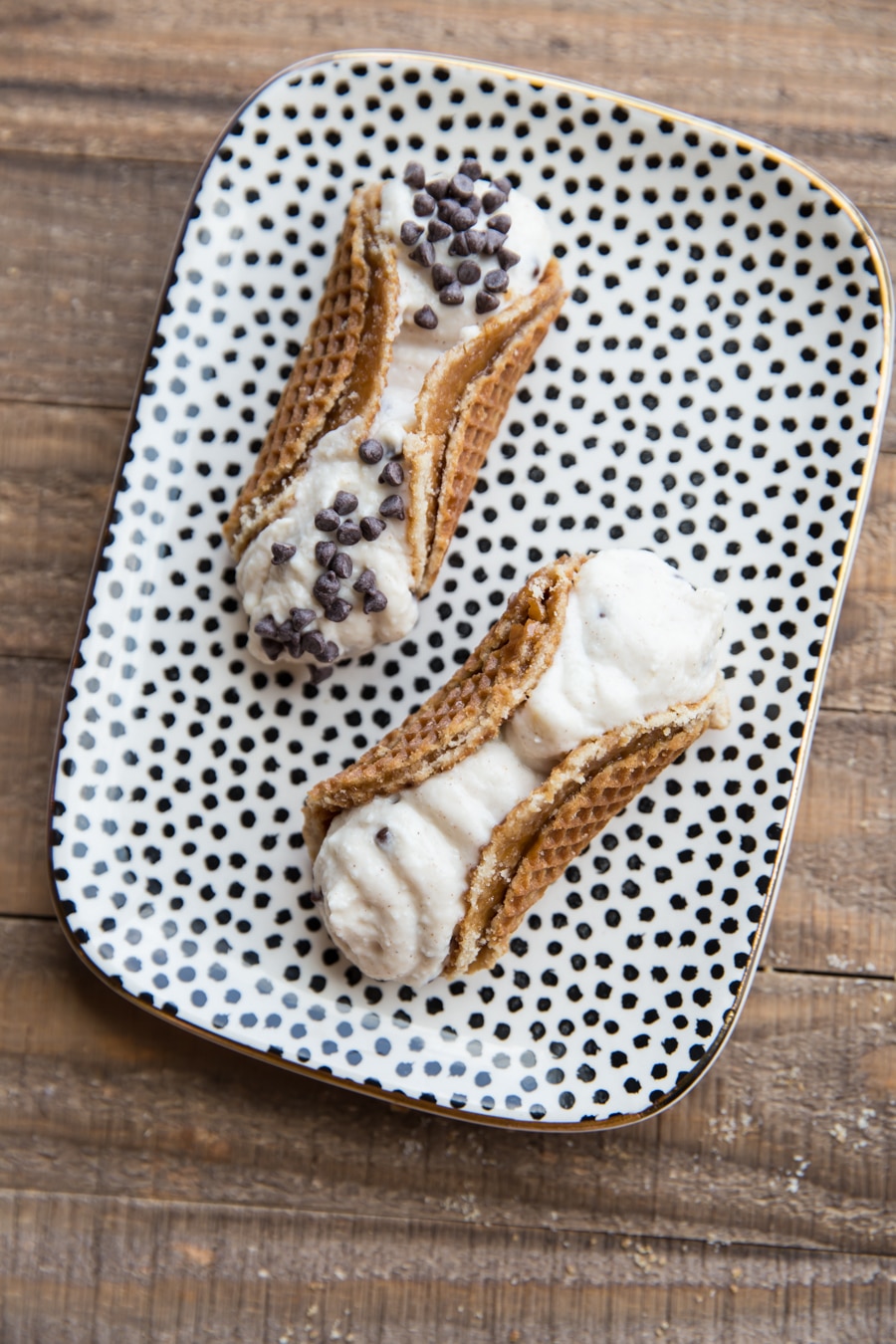 Some other fun things to do with stroopwafels while we're at it… make smores! or ice cream sandwiches (chipwiches, anyone?!). They come in single portion-control packages of two, or family packs of 8, so look for them in your local supermarket!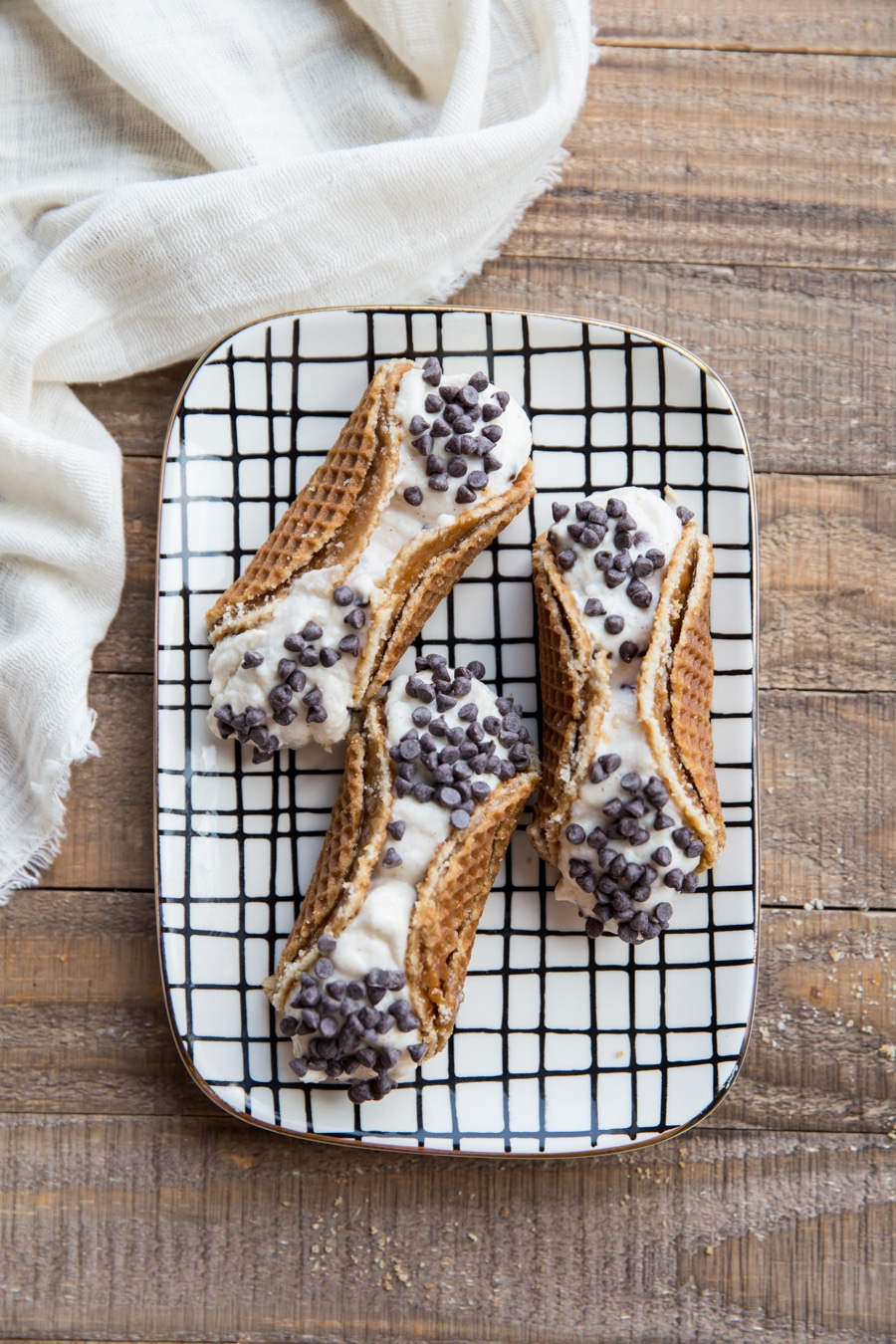 As for these adorable plates, it's Walmart for the win! I love when I find great prop finds at the most unexpected places and these are just everything. Freeform. Fun patterns. Black and white. Just. My. Jam.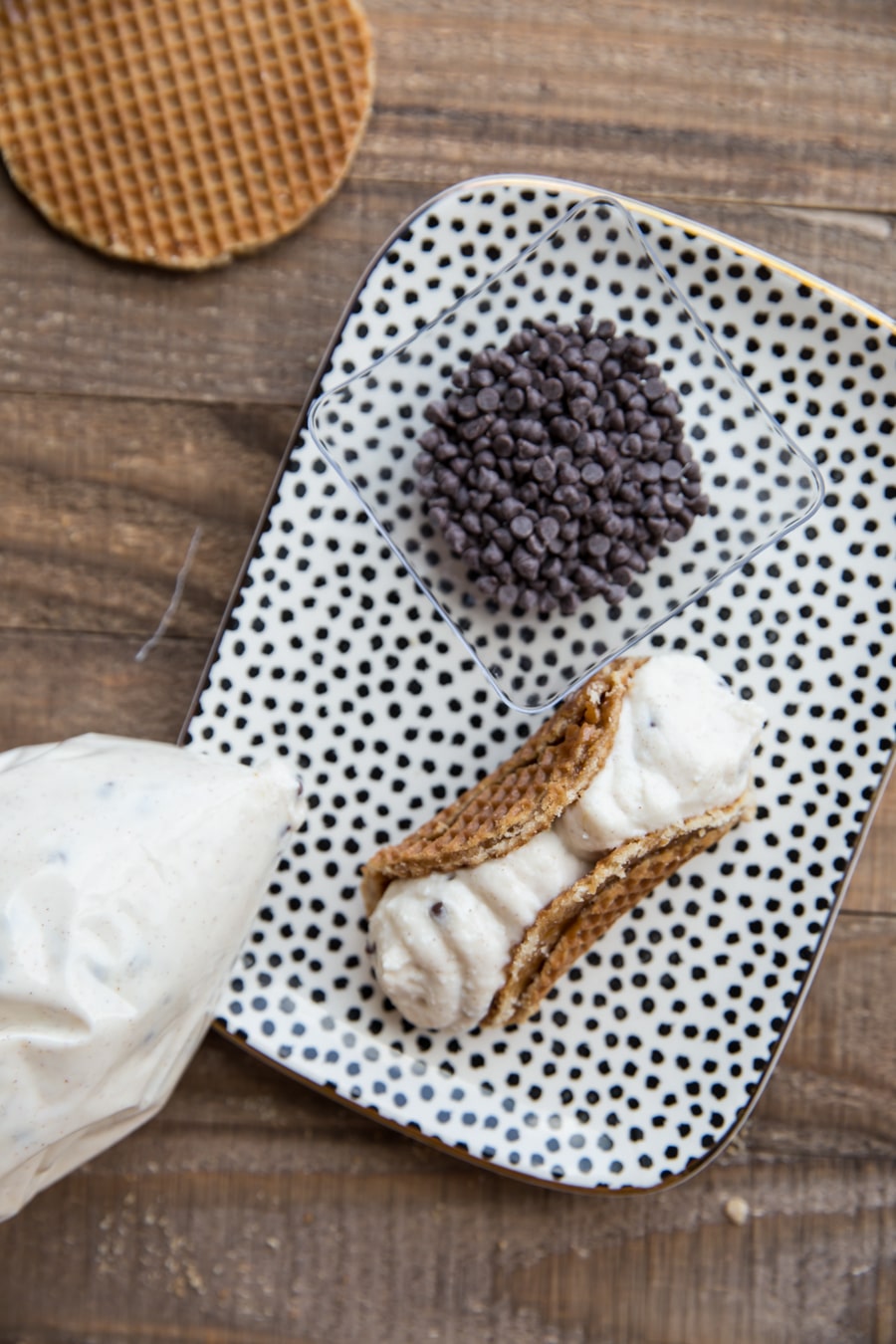 Speaking of jam, feel free to swirl in some good quality jam, or make some Stroopwafel PB&J's! Omg, how good would that be? Yes please!!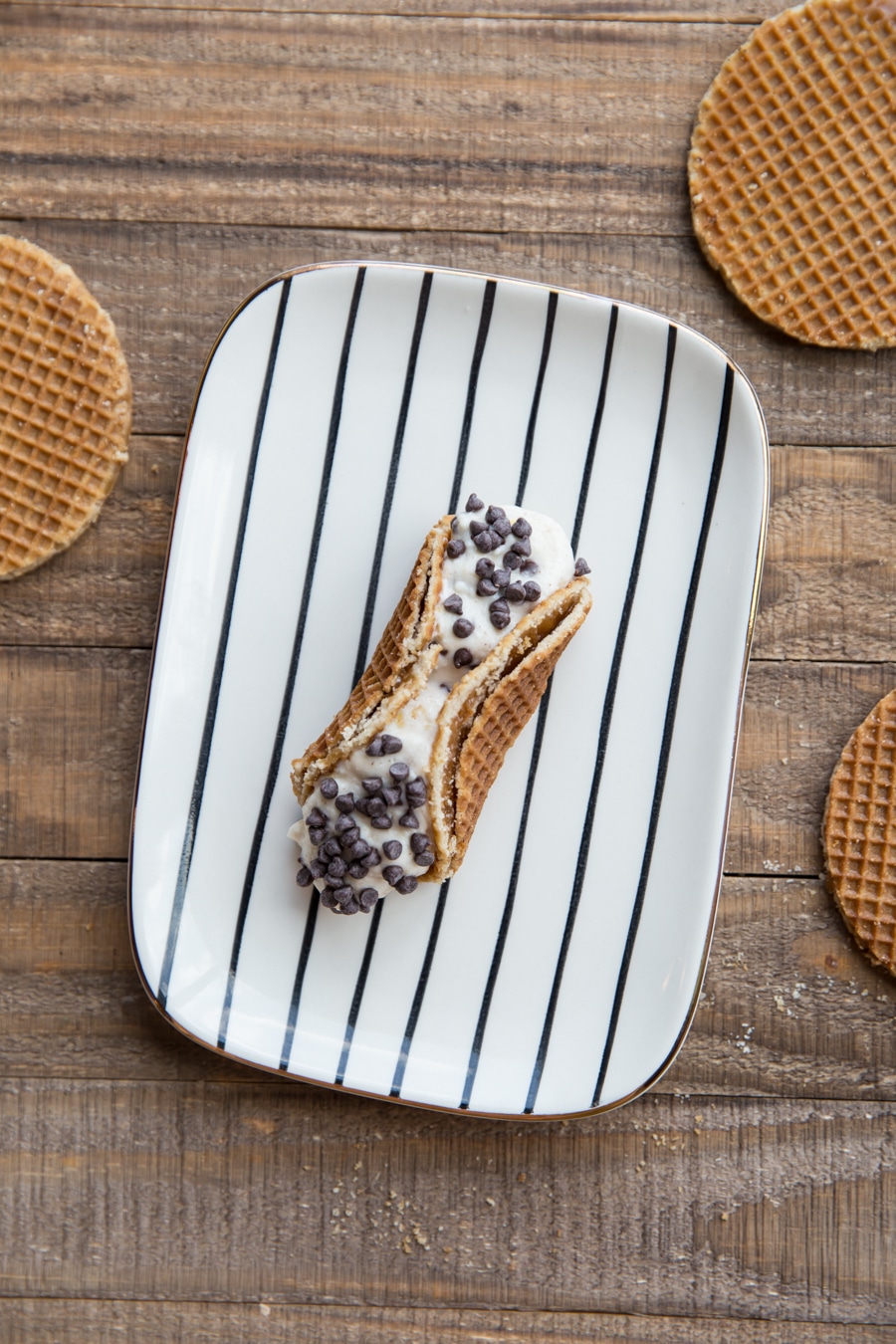 buon appetito!
Stroopwafel Cannoli
YIELD: 8 cannoli
8 Smackin' Good stroopwafels
15oz. ricotta cheese, whipped (see below for bonus homemade ricotta recipe!)
1/2 tsp pure vanilla extract
1/4 tsp cinammon
1/4 tsp orange or lemon zest
1/2 cup powdered sugar
3 tbsp mini chocolate chips, plus more for declorating
Method:
In a bowl, combine the ricotta cheese (if there is a lot of liquid, drain before using), vanilla, cinnamon, citrus zest, powdered sugar and mini chocolate chips. If the mixture is loose, add more powdered sugar until it reaches a stiffer consistency. Add the cheese mixture to a piping bag.
Heat the stroopwafel in the microwave until just warmed through and pliable (this took 7 seconds in my microwave). Do not make it to hot, just warm enough that it  bends without cracking. Once the stroopwafels are softened, bend them into a curved shape, pinching the edges together to hold. Place in the fridge or set aside till it holds it's shape.
Pipe the cannoli filling into each side of the stroopwafel. Decorate with mini chocolate chips.
VARIATION: for an easier version, create a sandwich cookie by placing the cannoli cream between two stroopwafels and roll in mini chocolate chips.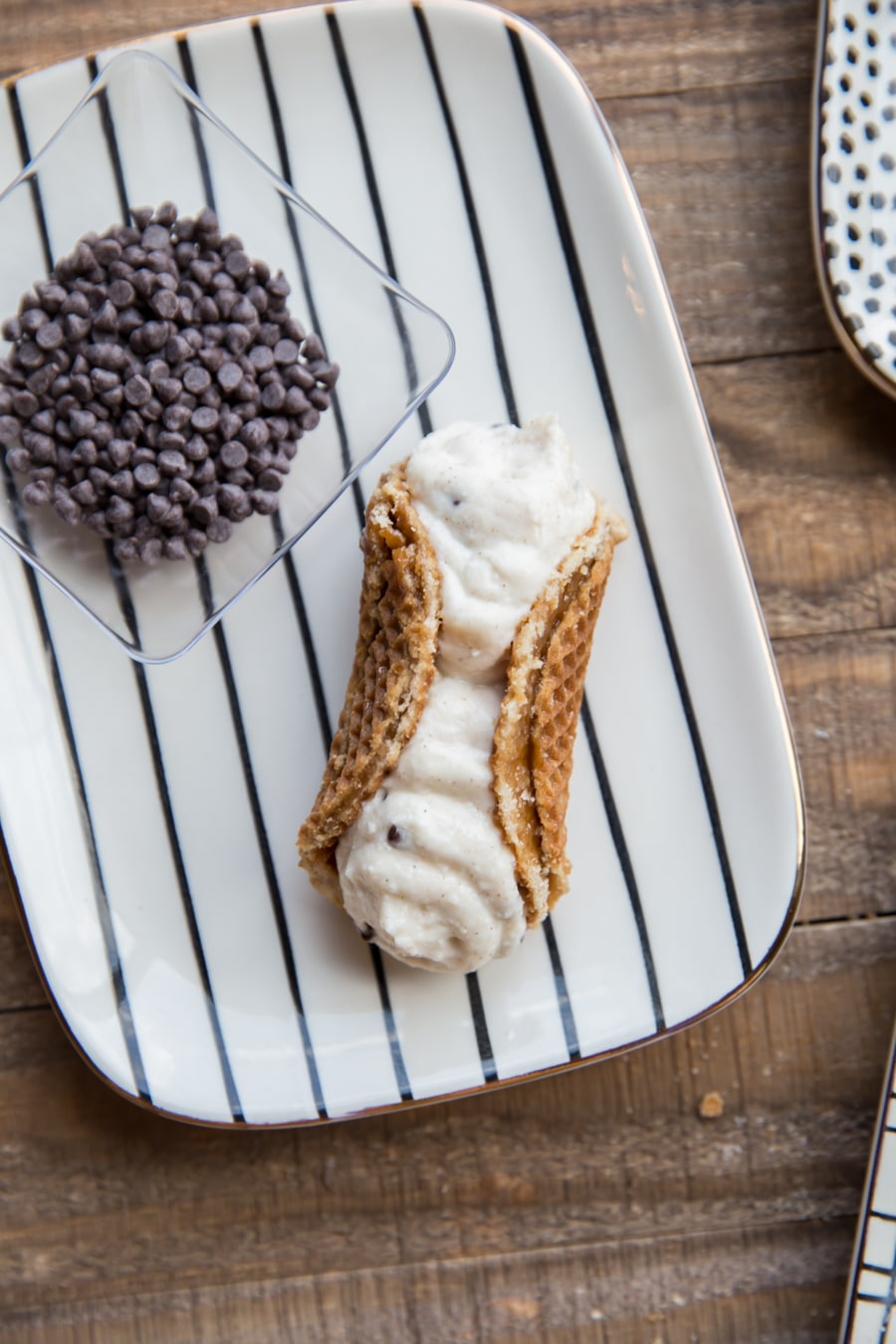 Homemade Ricotta
1/2 gallon whole milk
1/3 cup fresh-squeezed lemon juice or distilled white vinegar
1 tsp kosher salt
Method:
Add the milk to a stockpot and bring it to 200 degrees over medium heat, stirring occasionally so the milk doesn't bubble over or scorch the bottom of the pan. Remove from the heat. Add the lemon juice and salt and stir; rest 10 minutes. Place a strainer in the sink and line with cheesecloth. Gently remove the cheese curds from the pot using a ladle and place into the cheesecloth-lined strainer. Allow to sit for 5-10 minutes or until desired thickness is reached.
To whip the ricotta, add to a blender and blend until creamy. If the ricotta is too thick to blend, add a splash of milk or cream to reach desired consistency.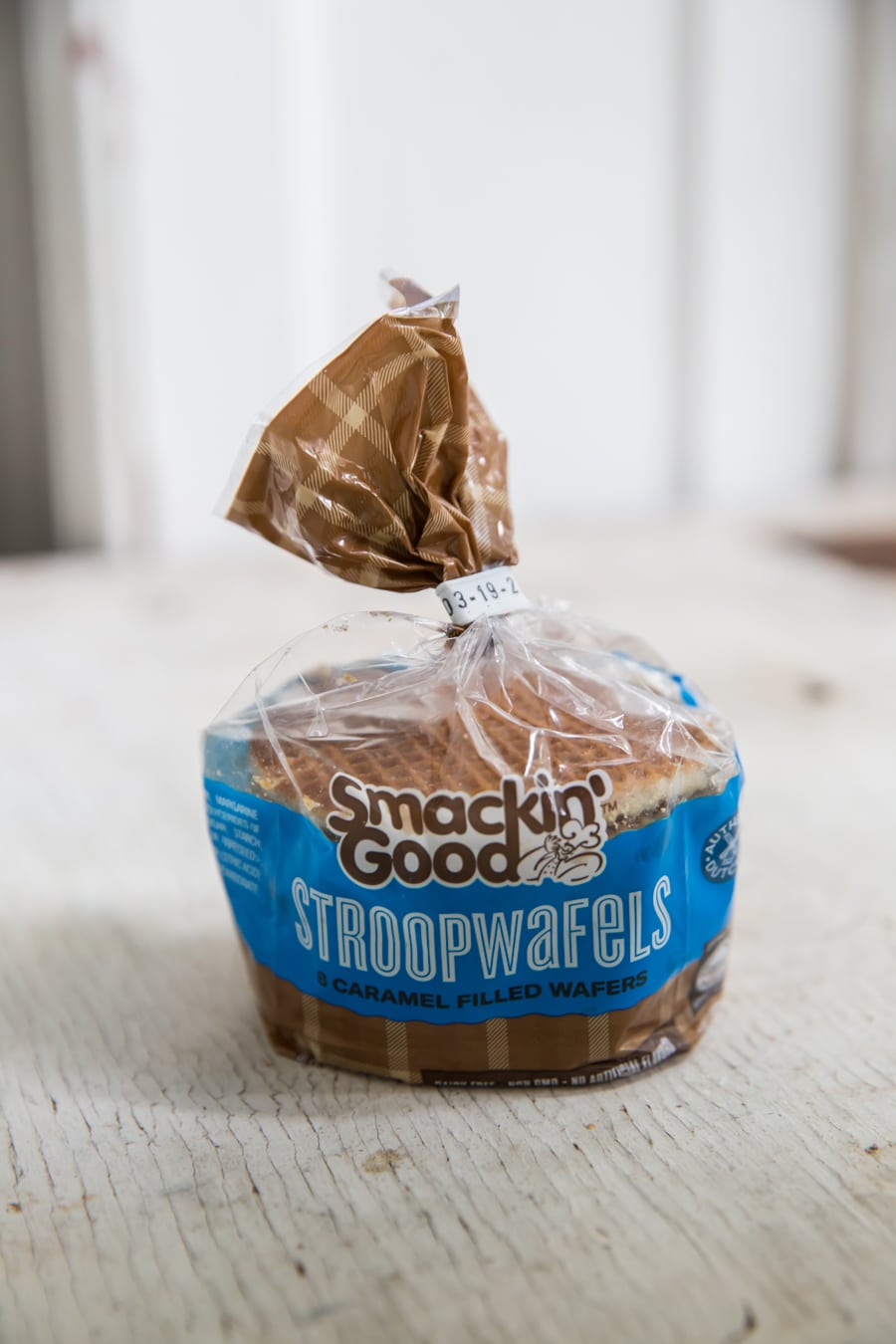 This post is sponsored by Smackin' Good. All opinions are my own.