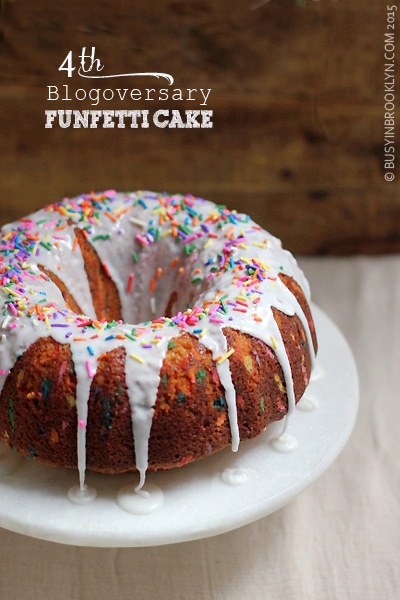 The past few months have been a whirlwind! Case in point: I actually made this funfetti cake for my son's first birthday back in November, but I didn't have a chance to blog about it until now. I'm sure he won't mind if I share it with you all in honor of my FOUR YEAR BLOGOVERSARY. Yippee!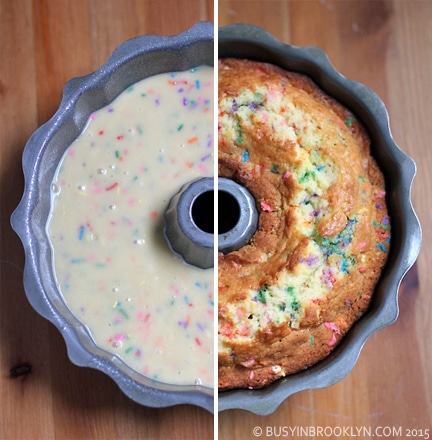 It almost makes me tear up a little to think about it, but I can't believe I've actually been blogging consistently for four. whole. years. That's one thousand, four hundred and sixty days of thinking, dreaming and writing about my food memories and adventures in the kitchen.

Four years in, I can honestly say, I have never been so proud of what I've accomplished. Just sticking with something, and not getting bored of it is a testament to having found my niche in life. And you guys – my awesome, amazing fans, who have constantly encouraged me with your emails, comments and feedback – you keep me on my toes, always pushing me to dream up something bigger and better!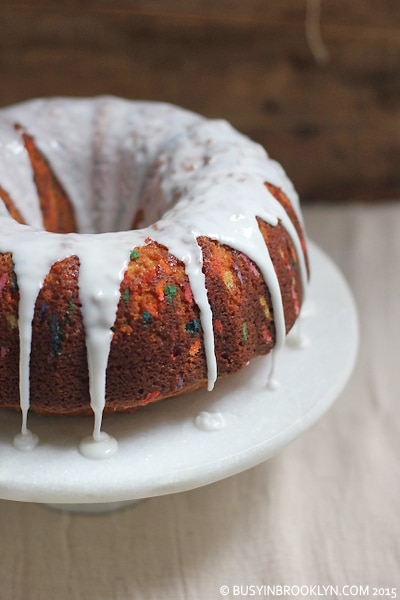 And I could never have dreamed up what this year would bring! Writing an ebook (and selling hundreds of copies!), a video series with TorahCafe, Joining the Blogher and Culinary Content Network, Features on The Huffington Post, Buzzfeed, Cosmo and The Daily Meal, friendships with food bloggers, The front page of The Wall Street Journal, a spot on The Meredith Vierra Show, my own magazine column (info coming soon), a social media campaign with a huge brand (info coming soon) and relationships with kosher food brands that I'm honored to represent.

It was such a thrill watching some of my recipes go viral this year. My drunken hasselback salami was by far the hit of the year, with poutine latkes and cauliflower nachos coming in at a close second.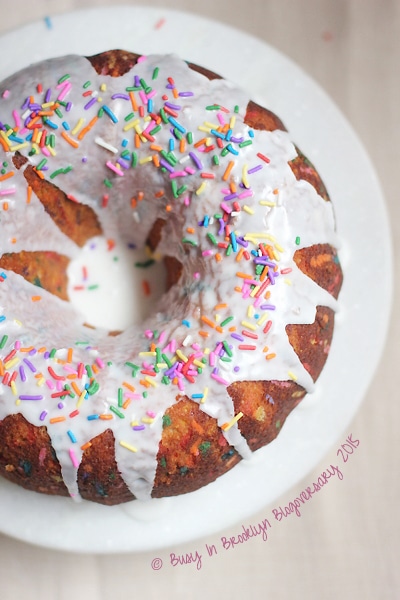 What shocks me more than anything is how much I have been recognized this year. I get stopped in restaurants and groceries in all different communities, by people from all walks of life. It's weird to be perceived as somewhat of a celebrity, but also so humbling. I love when people come up to me and tell me how much they love following my instagram, or how it's not Shabbos without my hasselback salami. It truly makes my day. And my week. And my year.

Over the last few months, I've been working hard on living a healthier lifestyle by adopting a mostly Paleo diet. I completed (almost) 3 rounds of the Whole30 cleanse and I'm about to embark on my first half-Marathon! I'm walking to support the work of The Friendship Circle, an amazing organization that does so much to help children with special needs. When I started training 2 months ago, I could barely walk a mile, and now I feel strong and ready to tackle a 13-mile walk/run. I would love if you could support my efforts by donating towards my run and the work of The Friendship Circle, here.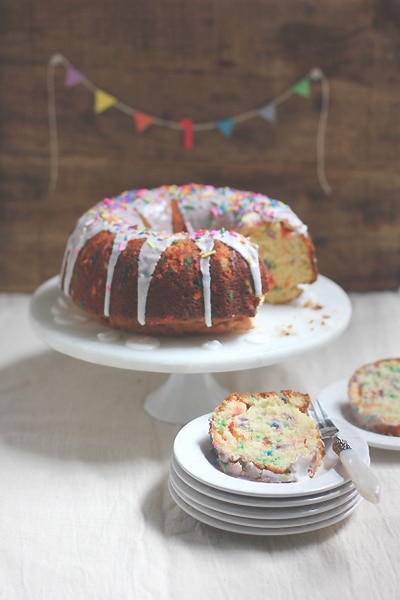 In the past year, I've also watched my youngest grow from a baby to an infant (who's 1st birthday cake we are celebrating here) and I learned to deal with difficult food allergies for the first time. I cut the adorable JewFro off my older son at his upshernish, and I watched my two beautiful daughters continue to grow into the young girls they are becoming.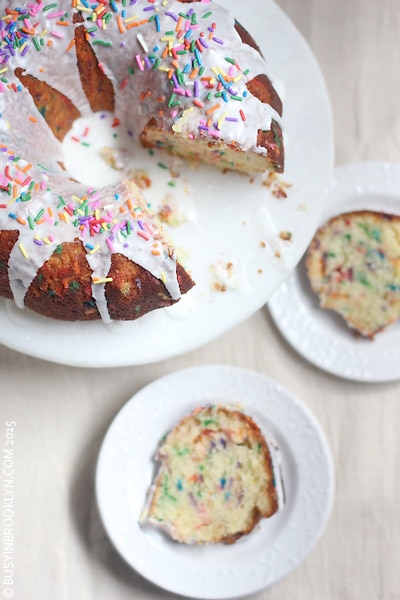 It's not easy juggling work and family, but one of the realizations I came to this year was that I CAN'T DO IT ALL. I am learning to let go and realize that it's ok if my house isn't always picture-perfect, and no-one will starve if I order take-out every once in a while, and most importantly, it's ok to ask for help.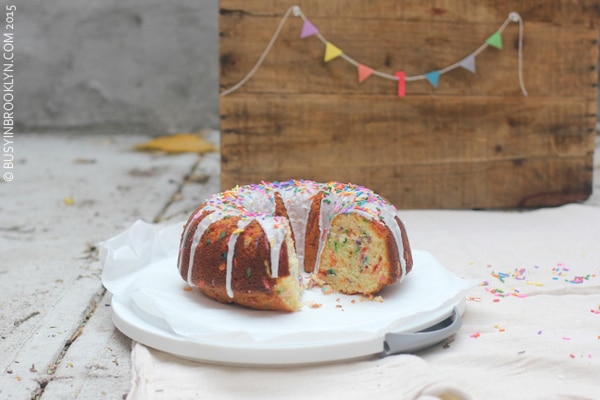 As I enter into my fifth year of blogging, I'm filled with excitement for the many new opportunities my blog has opened for me. I'm looking forward to continuing my journey of creative expression and Jewish pride with many more healthy, kosher and inspired recipes that will nourish my family, and especially, my fans.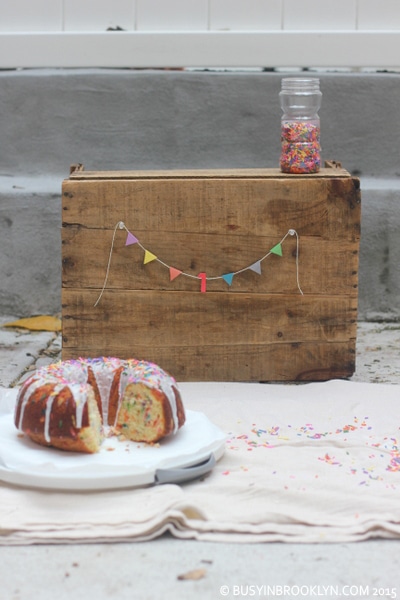 Now, a little bit about this cake! Y'all know I'm not much of a baker, so I love any easy recipe that looks adorable and comes together in no time. That's where this no-mixer, super-easy yellow cake comes into play. It's my go-to for quick party cupcakes, an iced sheet cake, or my favorite, a bundt cake, spruced up with sprinkles. Molly Yeh's sprinkle experiment is what inspired this funfetti version, and it makes the perfect quick party cake for a baby birthday, kids party or apparently, a 4 year blogoversary ;)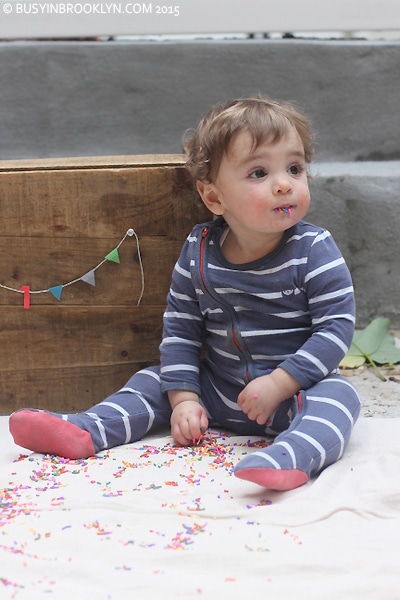 Funfetti Birthday Bundt Cake
3 cups all purpose flour
2 cups sugar
3 tsp baking powder
4 eggs
1 cup oil
1 cup orange juice
2 tsp vanilla extract
2/3 cup colored sprinkles, plus more for decorating
Icing:
1 1/2 cup powdered sugar
6 tsp milk or water
splash of vanilla
Method:
In a large bowl, mix all ingredients besides for the sprinkles. Fold in the sprinkles and pour the batter into a well-greased bundt pan. Bake at 350 degrees until toothpick inserted comes out clean (about 50 minutes – 1 hour). Cool completely and unmold onto a cake platter. Mix the icing ingredients and pour over the cake. Top with more sprinkles.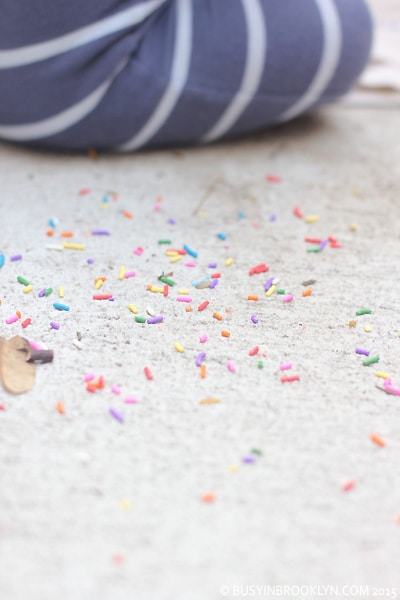 What were some of your favorite recipes on Busy In Brooklyn this year? Share them with me in the comments below!