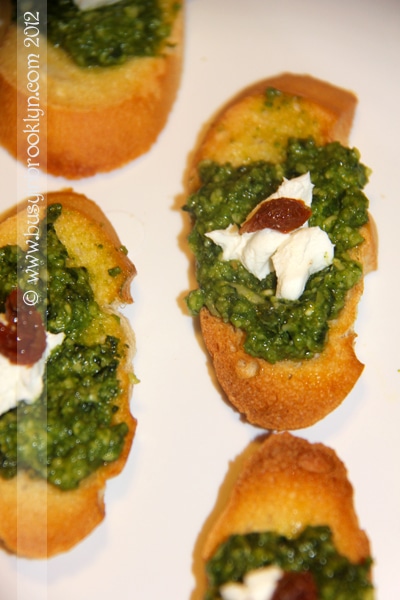 With a 3-days-of-cooking marathon ahead of us next week, I thought it best to keep it short and sweet today. It doesn't get much easier than this!
Crostini are small pieces of toasted french bread that are served with a topping as an appetizer. With pesto, goat cheese, and sundried tomato, these make the perfect starter to your dairy Shavuous meal.
In a pinch, you can even use store-bought pesto and melba toasts.
Pesto & Goat Cheese Crostini
1 french baguette
olive oil
pesto
goat cheese
sundried tomatoes, coarsely chopped
Method:
Cut the baguette on the bias about 1/4″ thick. Lightly brush with olive oil and bake at 350 degrees until crisp and lightly golden, about 10 minutes. Once the toasts have cooled, spread on a tablespoon of pesto, top with a dollop of goat cheese and garnish with sundried tomatoes.
1 year ago: mushroom quinoa