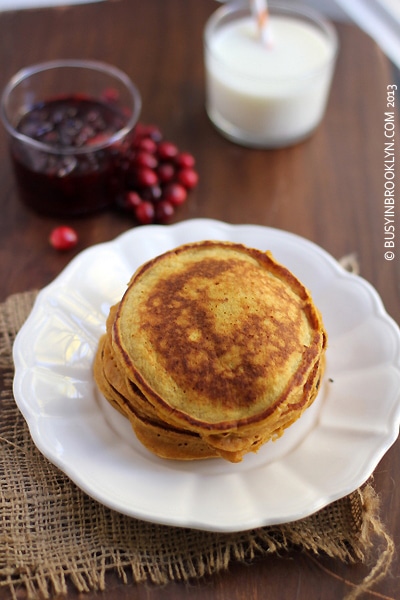 I bet you didn't think it could get any better than good old pumpkin pancakes. How about pumpkin ricotta pancakes with some cranberry maple syrup to top it off? Thanksgiving heaven, wouldn't you say? This is fair warning: you might want to get yourself some tissues. There's going to be some drool involved.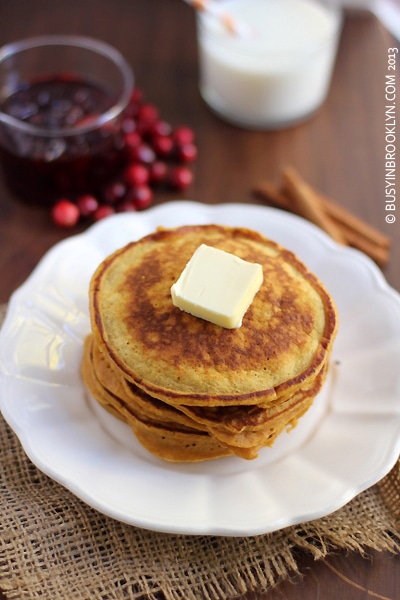 I love pancakes. Any flavor suits my fancy. Blueberry corn and Speculoos Spiced are favorites, but gimme some cheese and I call 'em latkes. These old cheese latkes with raspberry sauce were my idea of a deconstructed donut. This year, I decided to get into the Thanksgivukkah spirit with some pumpkin flavored pancakes with a generous dose of ricotta and autumn spices. Whip 'em up on Chanukah or Thanksgiving morning – better yet – lunch, or even dinner (I am not beyond eating pancakes for dinner)…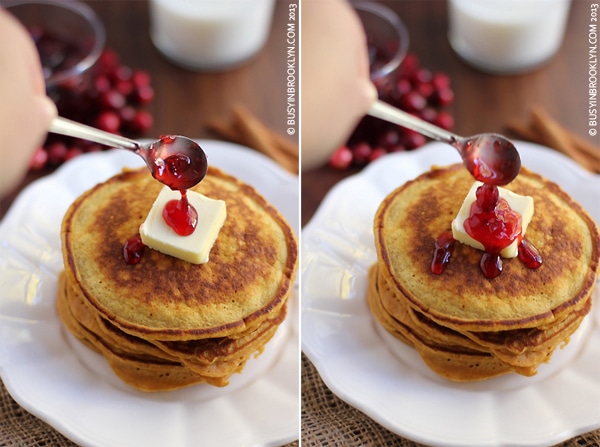 I'm gonna go all Pioneer-Woman on you and throw in some extra photos for your drooling pleasure. I don't know what was better, getting to eat these, or photographing them. They almost look too good to eat, don't they?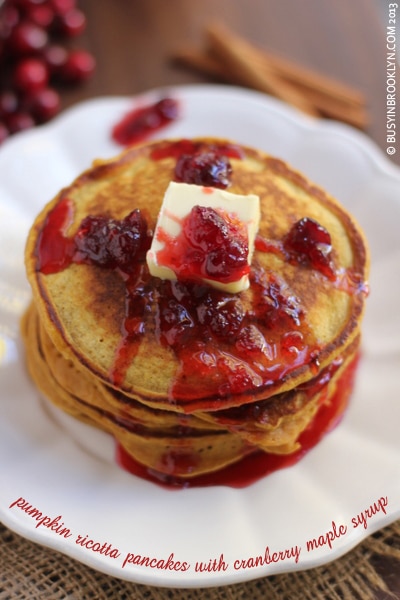 Go ahead, dig in. These babies won't last long…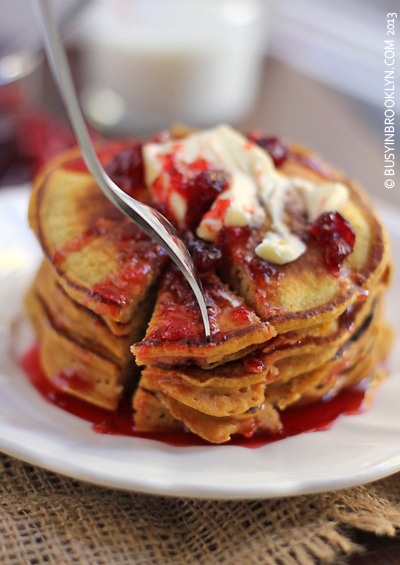 Now open up WIDE, there's a mouthful of flavor on that fork…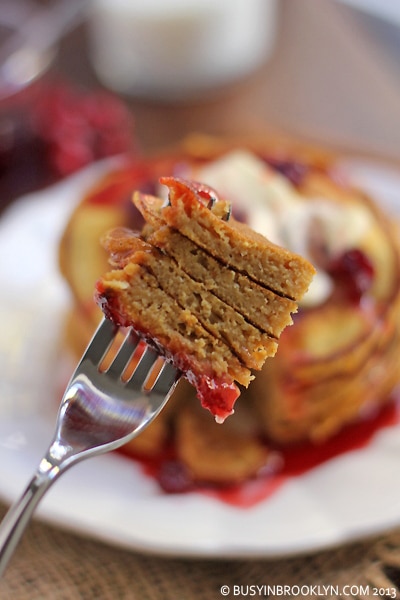 Be generous. Slather on that buttery goodness…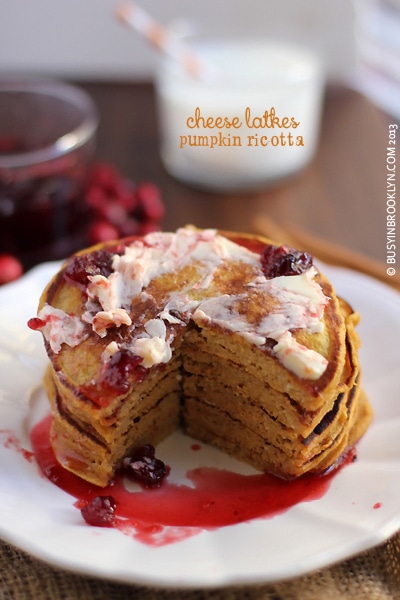 Pumpkin Ricotta Pancakes
3 eggs
1 cup milk
1/2 c brown sugar
8 oz. ricotta cheese
1 cup pumpkin puree (not pie filling)
1 tsp vanilla
1 1/2 cups flour
1 tsp baking powder
1/2 tsp salt
1/2 tsp cinnamon
1/4 tsp nutmeg
pinch of ginger
pinch of cloves
butter, oil or cooking spray, for frying
Method:
Add the eggs, milk, brown sugar, ricotta, pumpkin and vanilla to a bowl and mix to combine. In a separate bowl, whisk the flour, baking powder, salt and spices. Add the dry ingredients to the wet ingredients and mix until incorporated, but still slightly lumpy. Heat a skillet and grease with butter or oil. Add 1/4 cup of batter and fry until golden brown on both sides. Continue with remaining batter, adding additional butter or oil, as needed.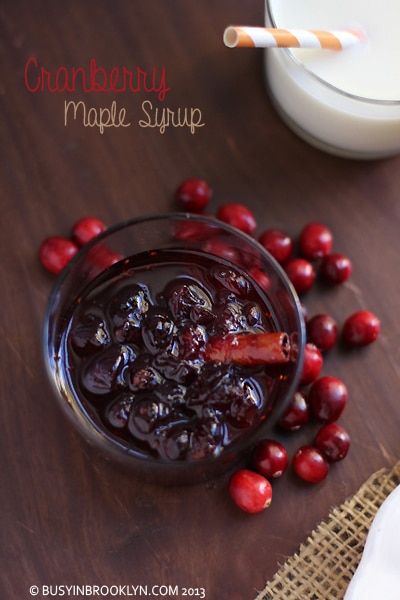 Nothing goes together quite like pumpkin and cranberries – two fall favorites that complement each other like yin and yang. There's also no better topping for pancakes than pure sweet maple syrup. Why not combine the  two to make cranberry maple syrup over pumpkinlicious pancakes – a perfect pairing for the autumn holidays!
Cranberry Maple Syrup
1 cup maple syrup
1 cup cranberries
1 cinnamon stick
juice of 1/2 lemon
1 tsp lemon zest
Method:
Add all ingredients to a pot and bring to a boil. Lower the heat and simmer, covered, until cranberries burst, about 10 minutes. Crush the cranberries with a fork or spatula and continue to simmer until thickened, 5-10 minutes.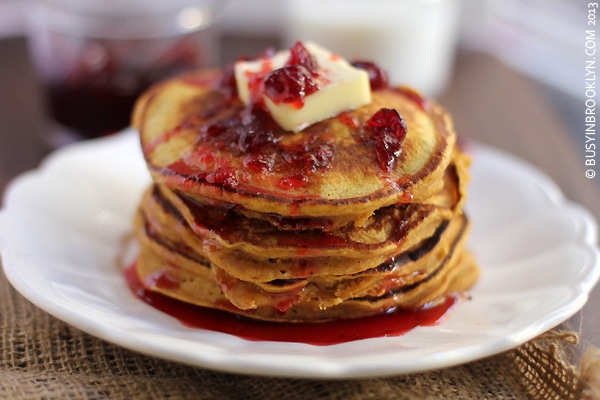 Related Posts:
cheese latkes with raspberry sauce
healthy baked pumpkin oatmeal
pumpkin banana bread