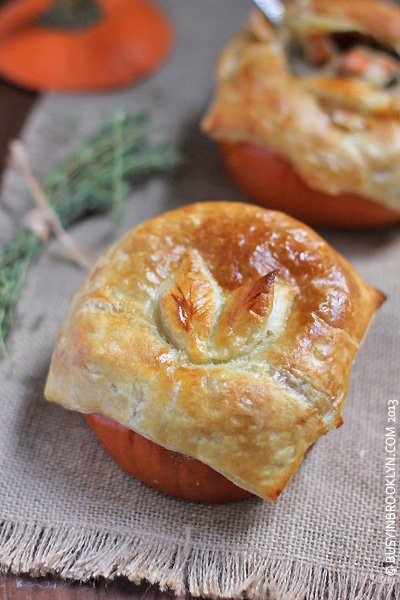 I was lying in bed one night thinking about how I could take advantage of the adorable little pumpkins that are so bountiful this season (yes, these are the sort of things food bloggers think about when they go to bed at night). I knew I could make my own pumpkin puree, or carve out a spooky design (although I don't celebrate Halloween), but I wanted MORE. Something fresh, and exciting, and oh yes – warm (have you seen the weather forecast lately?!).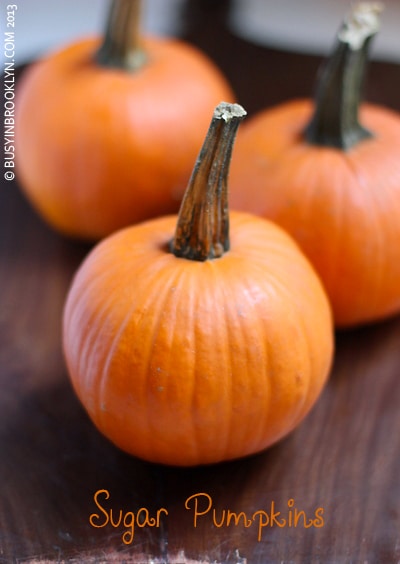 I thought about real comfort food – you know, something I'd want to eat around a fireplace (if I had one) on a cold November night. And it came down to – you guessed it! – chicken pot pie. At first I thought about reinventing the chicken pot pie and making a vegetarian version with pumpkin and autumn spices. That got me thinking about all the winter pumpkins soups that are cleverly served inside the pumpkin – when I realized – I could have my pumpkin and chicken pot pie and eat it too!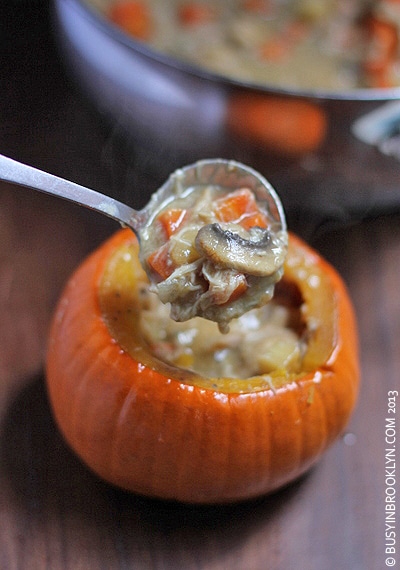 This recipe combines the flavor of fresh-roasted pumpkin with creamy parsnips, carrots and mushrooms. It's seasoned with fresh thyme and sage and topped off with flaky puff pastry for the perfect fall comfort food!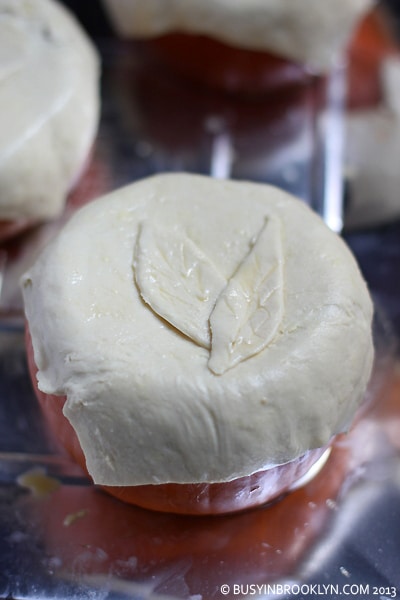 And would you look at the festive autumn design on these beauties? These pretty pumpkin packages (say that three times in a row!) are as good to look at as they are to eat. They'd make the perfect appetizer for your Thanksgiving meal!
Pumpkin Pot Pie
6 small sugar pumpkins
extra virgin olive oil
salt, pepper & allspice, to taste
1 medium onion, diced
2 tbsp olive oil
3 cloves garlic, minced
2 carrots, peeled and chopped
2 parsnips, peeled, cored, and chopped
1 container button mushrooms, sliced
1/4 cup flour
3 cups chicken stock
2 cups diced chicken (roasted, grilled, or leftover from your chicken soup)
2 tbsp fresh thyme
1 tbsp fresh sage (or 1 tsp dried)
s&p, to taste
1 pkg puff pastry, cut into squares (or 6 puff pastry squares, plus additional for decorating)
1 egg + 1 tbsp water, for eggwash
Preheat oven to 400 degrees. Cut the tops off the sugar pumpkins and remove the seeds. Brush the insides of the pumpkins with olive oil and sprinkle with salt, pepper and allspice. Bake, flesh side down, until tender, about 30 minutes*.
Saute the onion in olive oil until golden and add garlic. Saute until fragrant. Add the carrots, parsnips and mushrooms and continue to saute until tender. Sprinkle flour over the vegetables and continue to saute for 2 minutes. Add the chicken stock and simmer until thickened. Stir in the diced chicken, thyme, sage, salt and pepper.  Ladle the filling into the pumpkins and cover with a square of puff pastry. Cut leaves out of extra puff pastry and glue it to the squares with egg. Brush the remaining puff pastry with egg and bake until golden, about 20 minutes.
*Don't let the pumpkin get too soft or it will start to fall apart. You still want it to hold it's shape (keep in mind that it will also be cooking for an additional 20 minutes when it's covered in the puff pastry).
VARIATION: You may use turkey instead of chicken.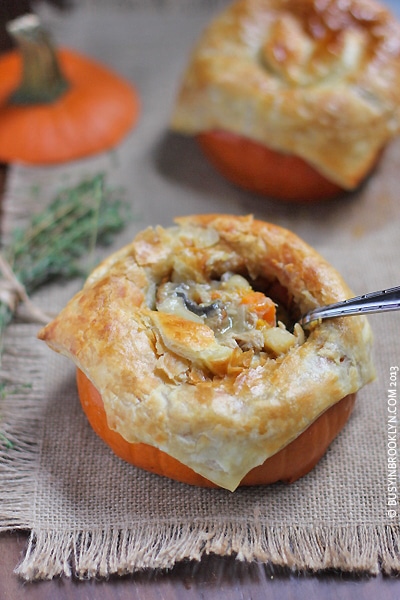 Related Recipes:
veal shepherd's pie with celery root mashed potatoes
leftover turkey pot pie
chicken pot pie Passover croquettes