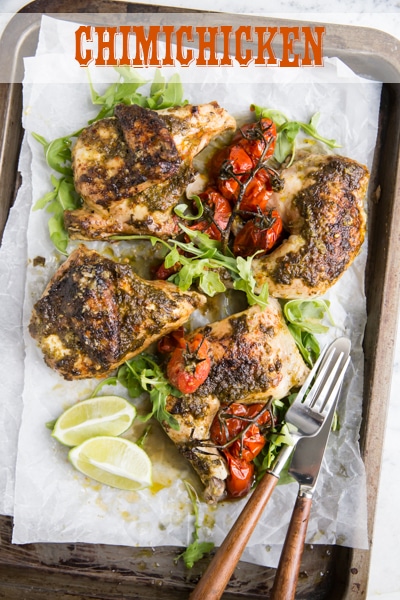 Chimichurri is my latest obsession. The herbaceous sauce originates from Argentina, where they serve it with grilled meat., but I've been putting it on everything and it is GOOD! I've always been a pesto person (my spinach pistachio pesto is LIFE!), but because we try to keep my house nut free, I prefer to have a green sauce on hand that doesn't make me worry. Of course pesto without nuts is not pesto (no matter that your local market labels it as such!), so I moved on to the next best thing.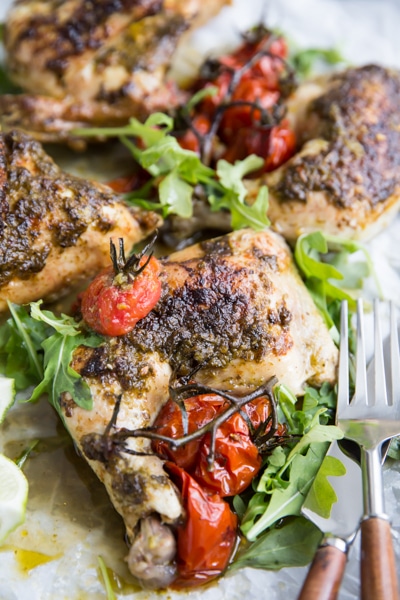 Now while chimichurri is delicious on it's own – a perfect dipping sauce for london broil or grilled chicken – I've been mixing it into mayo for a lipsmacking aioli that's delicious on burgers, or as a dressing for a fresh chicken salad – so so good!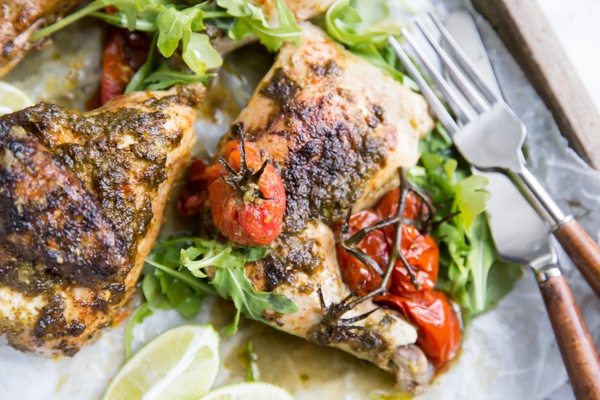 One thing I hadn't done was actually cooked with it (since it's traditionally served raw), but when I had a container left over at the end of the week, I decided to throw it over some chicken with some tomatoes and the results were absolutely delicious. This one is a winner!
ChimiChicken
1 chicken, quartered (skin-on)
2 bunches of cherry tomatoes on the vine
Chimichurri
1 cup cilantro, parsley, arugula or a mix
2 cloves garlic
1/2 tsp red pepper flakes
2 scallions
juice of 1 lime
1 tsp dried oregano
2 tbsp red wine vinegar
1/2 cup olive oil
salt and pepper, to taste
Preheat oven to 350 degrees.
Add all the chimichurri ingredients to a food processor or blender, blend until smooth, scraping down the sides as needed. Place the chicken and tomatoes into a baking dish and pour the chimichurri over it. Bake, covered, for 1 hour. Uncover, raise the oven temperature to 400 degrees and continue baking, basting every 10 minutes, until chicken starts to brown and crisp. Serve with rice, farro, quinoa, or mashed potatoes.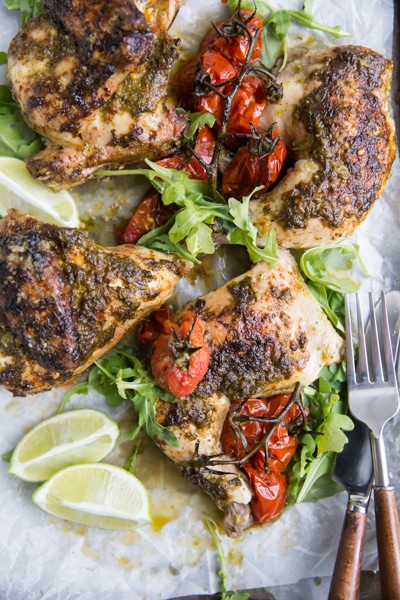 Related Recipes:
pulled pesto chicken burger with fire roasted tomato jam
grilled chicken fattoush with za'atar ranch
spice crusted chicken