I was recently lucky enough to receive a copy of the beautiful new cookbook, Food Files, benefiting Yeshiva of Flatbush. The book is a compilation of beautiful, healthy, seasonal and original recipes from home cooks in Flatbush, Brooklyn. As a food blogger, I'm honored to receive review copies of cookbooks all the time. Sometimes the books are nothing to write home about, and they end up in the growing "give away" pile in the basement. Other times, the books are so beautiful that they're worthy of your coffee table, and this, my friends, is one of them.
I was pleasantly surprised at the simple yet sophisticated style of this book, the stunning photos and the original recipes. All too often cookbooks are filled with recipes and adaptations of recipes that we've all seen before, but Food Files is filled with truly original dishes that capture the inventive cook.
Some of the recipes that caught my eye include homemade burrata, cauflower tabbouleh with raw falafel balls (yes!!), porcini mushroom latkes with truffle infused chive cream, farro leek soup, date hazelnut and feta salad, lemon poppy seed pancakes, green chili mac 'n cheese, spiked sweet potatoes (recipe below), Chilean sea bass kanafe, mushroom stuffed ribeyes, no bake chocolate hazelnut cheesecake, peanut butter honeycomb pie, and tartufo martinis.
With Thanksgiving just a week away, please enjoy sample recipes for Asian Glazed Turkey Breast and Spiked Sweet Potatoes from the book, below!
Food Files makes a great Chanukah gift and is available for purchase here, but I'm so excited to be giving away a copy of their cookbook as well!
GIVEAWAY DETAILS:
To enter the giveaway to win a copy of Food Files:
1. Leave a comment below letting me know your favorite cookbook.
2. For an extra entry, follow Busy In Brooklyn via Facebook, Twitter, Instagram or Pinterest. Just be sure to leave a note in the comment letting me know where you follow.
Giveaway is open to U.S. residents (for international entries, prize can only be shipped in the U.S.). Winner will be chosen at random at 10:00 AM EST on Thursday, November 23rd, 2017.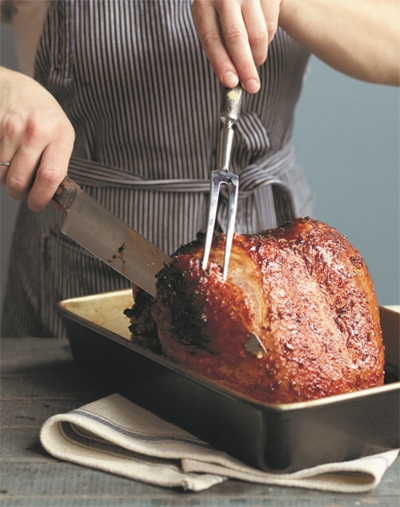 Asian Glazed Turkey Breast
Recipe by Julie Ebani, reprinted with permission from Flatbush Food Files
FOR THE MARINADE:
1 cup orange juice
1/4 cup soy sauce
1/4 cup mirin
1/2 cup sake or dry white wine
5 tablespoons honey
2 tablespoons Dijon mustard
6 cloves garlic, minced
1 (14- to 15-pound) turkey breast,
on the bone
1 1/2 teaspoons curry powder
2 teaspoons paprika
1 teaspoon garlic powder
Salt and pepper, to taste
8 to 10 sprigs thyme
1 tablespoon cornstarch, diluted
in 1/4 cup cold water
Preheat the oven to 350°F. Make the marinade: In a bowl, combine all the marinade ingredients. Mix well and set aside.
Place the turkey breast in a large roaster. Sprinkle the curry powder, paprika, garlic powder, salt, and pepper evenly over the turkey breast. Put the thyme sprigs inside the cavity of the turkey, between the breast and the bone. Spoon the marinade over the turkey and roast it, uncovered, for 2 hours, basting about every 15 minutes so that the flavors are well
absorbed. If you see that the skin is getting too dark, cover it lightly with foil. Remove the turkey from the oven and let it rest for 30 minutes before slicing.
To make the gravy, transfer the juices of the turkey to a small saucepan and bring to a boil. When the liquid is boiling, lower the heat and allow the liquid to simmer, uncovered, for 10 to 15 minutes, until it has reduced by half. Add the cornstarch mixture to the liquid and let it simmer until it thickens to a gravy-like consistency, about 2 minutes.
The turkey can be served whole and carved at the table, or it can be served already sliced, with the gravy drizzled on top. Reserve the rest of the gravy to be served on the side.
Spiked Sweet Potatoes
Recipe by Micki Horovits, reprinted with permission from Flatbush Food Files
1/3 cup orange juice
1/3 cup apple cider
1/3 cup whiskey
1/3 cup maple-flavored agave
Cinnamon, to taste
4 to 6 sweet potatoes, peeled
and cubed
Oil, to coat the baking pan
1/4 cup brown sugar, for topping
1 bag marshmallows
Preheat the oven to 375°F. In a bowl, mix the orange juice, apple cider, whiskey, agave, and cinnamon together. Add in the sweet potatoes and stir to coat.
Place the potatoes in a large, lightly oiled oven-to-table baking dish. Crumble the brown sugar on top. Bake for about 1 hour, until the sweet potatoes are glazed and soft.
When the sweet potatoes have come out of the oven, top them with marshmallows. Be generous; they should almost be packed in, and you shouldn't be able to see the sweet potatoes underneath.
Raise the oven temperature to broil. Broil for a few minutes, until the marshmallows are toasted and golden brown.