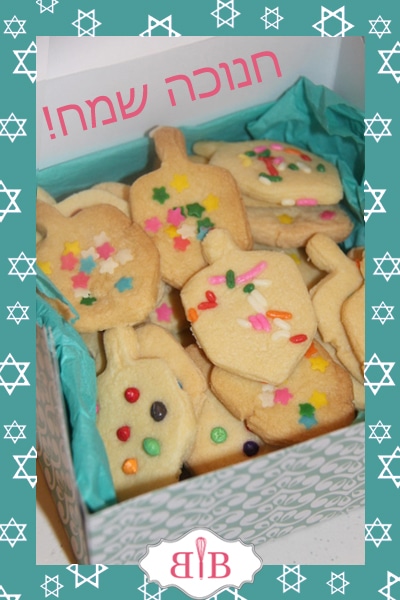 It has a become a tradition in my home to bake Chanukah cookies during the month of Kislev. My kids love to take turns adding the ingredients to the bowl, mixing it up, rolling out the dough, cutting out the shapes, and most of all – decorating the cookies! I have to be careful though, if I turn my head, they're bound to stuff a handful of sprinkles down their throat! We had a blast making these, and even more fun eating them. They are delightfully crisp, sweet and altogether perfect! Put some in a pretty box, tie with bakery twine and decorate with a draidel – it makes the perfect hostess gift for your next Chanukah party!
Mary's Sugar Cookies
Betty Crocker's Cookie Book
1 1/2 cups powdered sugar
1 cup butter or margarine, softened
1 tsp vanilla
1/2 tsp almond extract
1 egg
2 1/2 cups all purpose flour
1 tsp baking soda
1 tsp cream of tartar
Method:
Beat powdered sugar and butter until combined. Stir in vanilla, almond extract and egg. Add flour, baking soda and cream of tartar. Press dough together to form a ball. Refrigerate for 1-2 hours.
Heat oven to 375. Roll out pieces of the dough to about 1/8″ thick on a lightly floured surface. Cut out cookie shapes. Place on ungreased cookie sheet and decorate with sprinkles or sugar. Bake for8-10 minutes or until light brown.