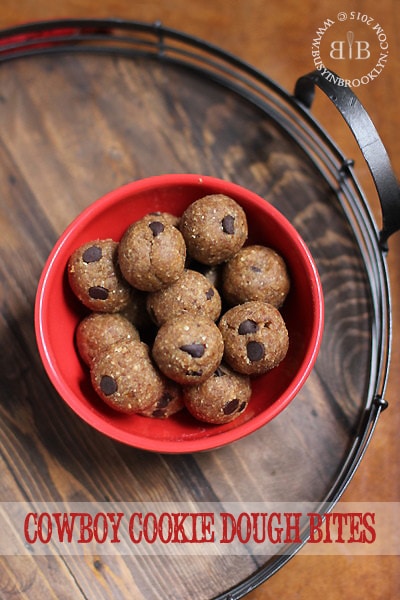 It's hard to believe that I've been blogging here at BUSYINBROOKLYN for the last five years. Yes, for almost five years (my blogoversary is in January) I have been consistently posting recipes and sharing my love and passion for food. It truly blows my mind.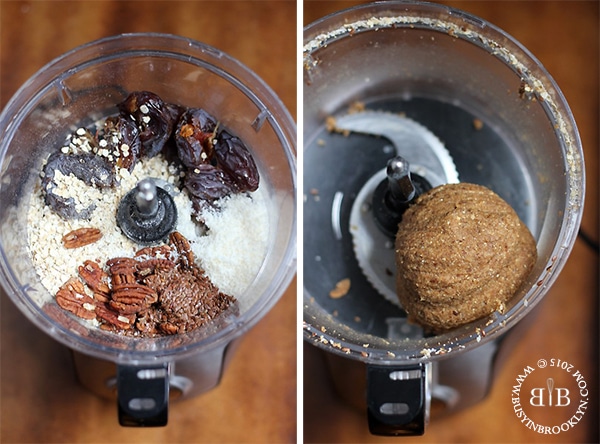 If you've been following me since the early days (and I know some of you loyal readers have), you might remember a popular cookie that was one of my very first posts, these cowboy cookies. Why these kitchen-sink-style cookies are called cowboy cookies is anyones guess, but they are popularly made with oats, pecans, coconut and chocolate chips. The chunky cookies are so fantastic, I decided to create a healthy, vegan version using medjool dates, one of my favorite things. The result? They look like cookie dough, the taste like cookie dough, and they're all natural. You gotta love that!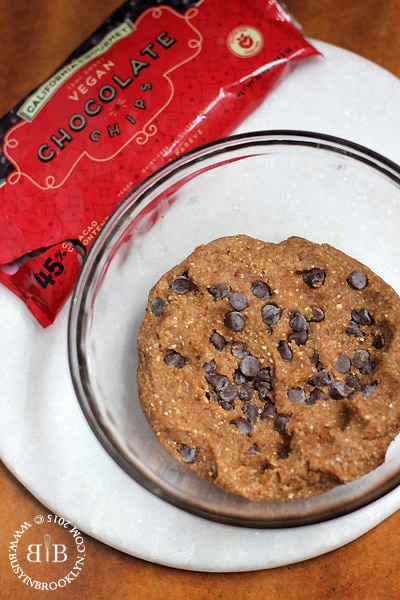 Now when you're making a raw truffle, you have to go for good quality ingredients because nothing is getting cooked. That's why I use my favorite brand of chocolate chips, California Gourmet. There's a reason their popular blue and red bags are now available in over 300 stores, most recently available in Illinois. The rich and chocolaty pieces really take these truffles up a notch!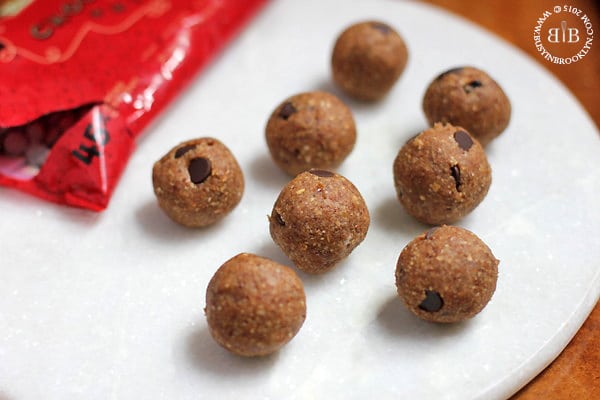 Ever since my family has been introduced to a slew of food allergies, I've been trying to find ways for all my kids to be able to enjoy treats like cookies, without using any eggs. My eldest daughter loves cookie dough (she always picks out that flavor in the Ice Cream store) and my youngest is positively obsessed with chocolate chips. A cookie dough truffle was definitely the way to go, but I never imagined that something so wholesome would taste SO GOOD, and so much like cookie dough. My next challenge? Making an egg-free birthday cake. Anyone have any suggestions?
With the big FIVE YEAR blogoversary coming up, I'm also taking suggestions on what improvements you'd like to see on the BIB blog, and new recipes and ideas that you'd like me to post in the coming months. Share your ideas, comments and suggestions with me below!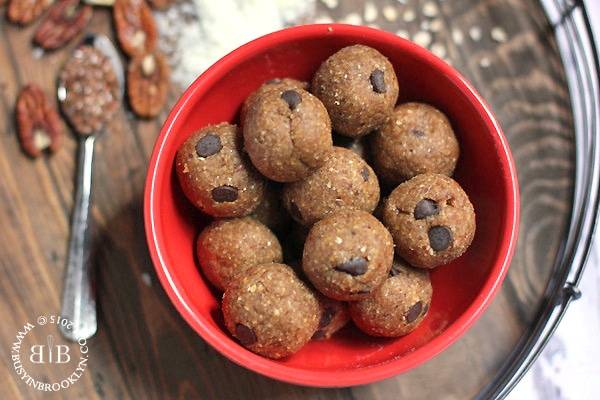 Cowboy Cookie Dough Bites
12 medjool dates
1 cup oats (I used quick oats but rolled oats may be used as well)
1/2 cup pecans
1/3 cup shredded coconut (unsweetened)
1 tbsp flax seeds
1 1/2 tsp vanilla
pinch of kosher salt
scant 1/4 c California Gourmet chocolate chips
Method:
Add all the ingredients, besides for the chocolate chips, to a food processor and process until the mixture comes together and starts to pull away from the sides of the bowl (this may take a minute or two). Add in the chocolate chips and knead it into the "dough" by hand. With damp hands, roll about 2 tablespoons of dough into balls. Makes approximately 15 cookie dough bites.
NOTE: I used large, fresh and moist medjool dates for this recipe, If you're dates are not very moist, you can soak them in hot water for a few minutes. If the mixture seems too dry, you can add more dates. If it seems very sticky (a little sticky is normal), you can add a bit more oats or nuts.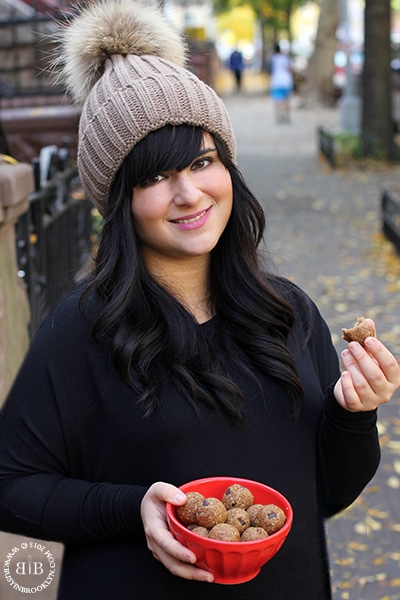 I want to offer a huge congratulations to California Gourmet for winning the NEW PRODUCT award (in the baking category) from Kosherfest this year! You truly deserve the honor!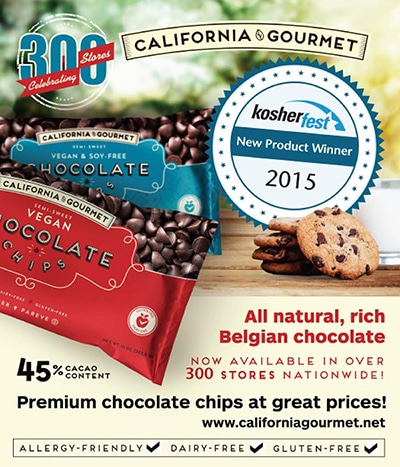 This post is sponsored by California Gourmet Chocolate Chips. Follow on Facebook, Twitter, and Instagram.   View the list of over 300 stores that carry the brand here).
Related Recipes:
cowboy cookies
grape nut coconut crunch cookies
oatmeal breakfast cookies (oil-based!)
gingerbread date truffles