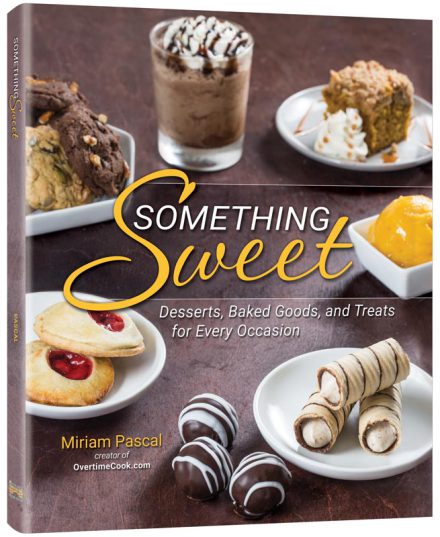 I can't remember the last time I was this excited about a cookbook. OK maybe I do. It was Ottolenghi's Plenty More. But other than Ottolenghi books, I don't usually count the days until a cookbook comes out. It's different when that cookbook is written by a friend and fellow kosher blogger, and when it's jam-packed with mouthwatering desserts. Only desserts. 
The talented Miriam Pascal of OvertimeCook has been giving me (and all her readers!) sneak peeks into her cookbook for months now. As a foodie friend and fellow food photographer, I got a behind-the-scenes look at Miriam's amazing photography, and I couldn't wait to see it in print. Miriam and I started our blogs around the same time, back in 2011. We both had little experience with photography, but as our blogs grew, our photography improved and so did our traffic. As a food blogger, Miriam takes the cake (literally) for the most amazing desserts that she posts on her blog, as well as in her food column for Ami Magazine. I'm not much of a baker, but when I actually feel like shlepping out my kitchenaid, I turn to Miriam for delicious, no-fail recipes every time. I'm so proud of her achievement, that I even filled in for her, guest posting on her blog while she was busy putting the finishing touches on this book.
Leave it to Miriam, I just knew there would be no stone left unturned in her cookbook. She has literally covered all the bases, from a baking guide, to ingredient substitutions, kitchen equipment, baking tips and a holiday guide. I love the range of desserts she covers, including cookies and bars, cakes and cupcakes, muffins and pastries, pies and tarts, desserts and party treats, candy and chocolate, drinks and frozen treats and finally, frosting and toppings. That last one seriously has me drooling. I am a frosting addict.
Now not only did Miriam cover pretty much every dessert you can think of, she also listened closely to her reader's requests, and developed recipes like no-margarine chocolate chip cookies, no-margarine sugar cookies, healthy muffins, egg-free chocolate mousse and even a coconut oil pie crust (I truly appreciate this one!). The best part about the recipes in Something Sweet is that they are truly accessible. Nothing is over-the-top fancy and all the recipes use basic ingredients that we can all find in our pantry.
Many of my followers know that I'm not a big baker, so I truly appreciate the clearly written recipes, thoughtful variations and plan ahead options. I don't think there's a single recipe in Something Sweet that overwhelms me, and that says a lot! Some of the recipes I've got my eye on include the bourbon pecan snowball cookies, gingerbread biscotti, oatmeal cookie wedges, honey sour cream pound cake and cinnamon cheese buns.
It doesn't get more perfect than gorgeous photos, great recipes and an all-around well-written book. Congrats to Miriam on this tremendous achievement!
I'm excited to be giving away a copy of SOMETHING SWEET just in time for the holidays! To enter:
Comment on this post and share your favorite "something sweet" (it can be food or dessert).
Giveaway is open to U.S. residents (for international entries, prize can only be shipped in the U.S.). Winner will be chosen at random at 10:00 AM EST on Monday, September 21st, 2015.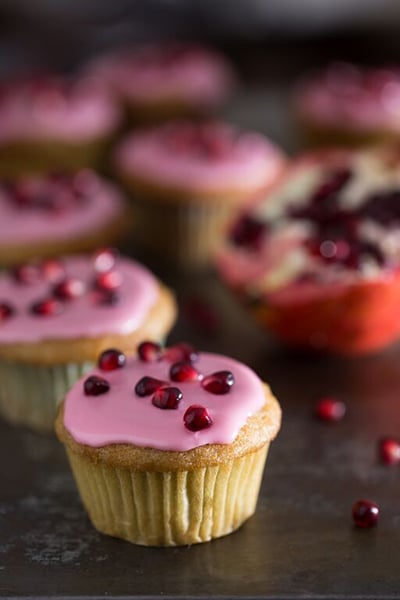 Pomegranate Cupcake
from Something Sweet by Miriam Pascal
Reproduced with permission from the copyright holders, ArtScroll/Mesorah Publications
http://artscroll.com/Products/SSWH.html
Pareve | Yield 1 dozen
½ cup oil
¾ cup sugar
1 teaspoon vanilla extract
½ teaspoon salt
½ teaspoon baking soda
1 teaspoon baking powder
2 eggs
1½ cups flour
½ cup pomegranate juice
POMEGRANATE GLAZE
1½ cups powdered sugar
2-3 Tablespoons pomegranate juice, divided
Pomegranate seeds, for garnish, optional
1. Preheat oven to 350°F. Line a standard (12-cup) cupcake pan with paper liners; set aside.
2. In the bowl of an electric mixer, on medium speed, beat together oil and sugar until smooth and creamy.
3. Add vanilla, salt, baking soda, baking powder, and eggs. Beat until combined.
4. Alternately add half the flour and half the pomegranate juice, beating after each addition until incorporated.
5. Spoon batter into prepared pan, filling each cup about three-quarters full.
6. Bake for 16-18 minutes, until the tops are set. Remove from oven; cool completely before glazing.
7. Prepare the glaze: In a small bowl, combine powdered sugar with 2 tablespoons pomegranate juice; mix until smooth. Gradually add an additional 1-3 teaspoons juice if needed to form a thick but spreadable glaze.
8. Dip the tops of the cooled cupcakes into the glaze, allowing excess to drip back into the bowl. Garnish with pomegranate seeds, if desired.
Variation: The flavors of pomegranate and chocolate go really well together, so you can frost these with Chocolate Fudge Frosting (page 188).
Plan Ahead: These cupcakes freeze well in an airtight container. For best results, freeze them without the glaze and add it just before serving, but you can glaze them before freezing if necessary. Be sure to let the glaze set before you cover the cupcakes.
Purchase Something Sweet on Amazon