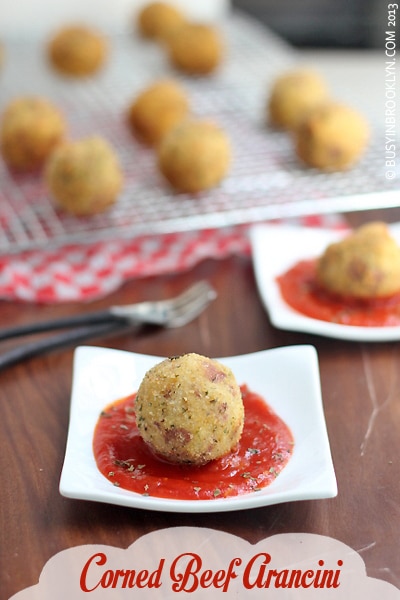 I love the challenge of turning leftovers into something new. Especially after a long holiday, when the last thing you want to do is eat the same food you've been eating for a week. I open my fridge, take out all the leftovers and spread them out on the counter. Then, like a Chopped-Champion-Wannabe, I play around with my ingredients to make something new, fresh and exciting.
In the past, I whipped up a lightened up turkey pot pie with my leftover turkey roast. When I was challenged to come up with a dish for my leftover corned beef and some delicious risotto that was too good to throw away, I knew just what to make. Arancini made the perfect light dinner, with a side of leftover vegetable soup.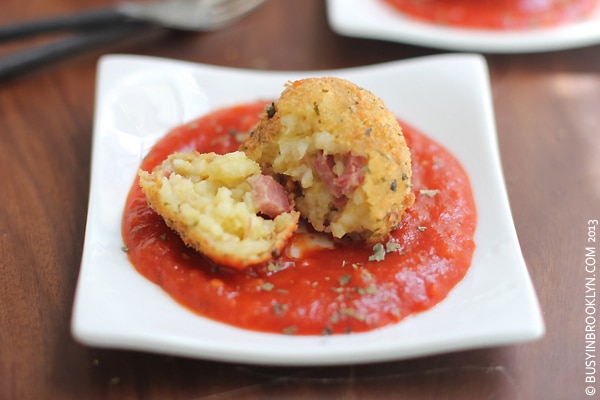 If you're not familiar with arancini, it's a traditional Italian dish of fried rice balls made with leftover risotto. While risotto is usually made with parmesan, salty corned beef makes the perfect substitute in this meat version. If you don't keep kosher (as I do), feel free to add a bite of gooey mozzarella in the center.
If you've got other leftovers from the holiday and your family is turning their noses at the idea of eating it – think outside the box. Turn your leftover chicken into chicken pot pie or your leftover mashed potatoes and brisket into shepherd's pie. Your extra matbucha can become some breakfast shakshuka or your leftover salmon can turn into the perfect pasta dish. If you need inspiration – I'm up for the challenge! Just message me on Facebook and I'll give you some ideas!
Corned Beef Arancini
1 1/2 cups leftover risotto (recipe follows)
1 cup leftover corned beef, diced small
1 egg, lightly whisked
1 cup Italian style bread crumbs
canola oil, for frying
Method:
Gently combine the leftover risotto and corn beef and form into balls. Dip in egg and bread crumbs.
Pour enough oil in a heavy large saucepan to reach the depth of 3 inches. Heat the oil over medium heat to 350 degrees. Deep fry the risotto balls in hot oil until golden brown. Remove with a slotted spoon and transfer to paper towels to drain.
Serve hot with marinara sauce spiked with a touch of mustard.
VARIATION: If you don't have corned beef, you may use leftover pastrami.
Dairy-Free Saffron Risotto:
3 cups chicken stock
1 bay leaf (optional)
generous pinch of saffron
1 1/2 tbsp margarine (I prefer Smart Balance)
1 1/2 tbsp olive oil
1 medium onion, finely chopped
1 cup arborio rice
1/4 cup dry white wine
salt and pepper, to taste
Bring the chicken stock to a simmer along with the bay leaf. Remove 1/2 cup of the stock and pour over the saffron threads. Set aside.
Heat the olive oil and margarine in a skillet and add the onions. Cook until translucent, but not browned. Add rice and cook, stirring continuously, until well-coated, but not browned. Add the wine and continue to stir until completely absorbed. Season with salt and pepper.
Begin adding one ladle full of stock at a time (about 1/2 cup), stirring continuously until all the stock is absorbed. Do not add more stock until the previous addition is completely absorbed. Add the saffron-infused stock towards the end (about 15 minutes after adding the wine), and continue to add stock until the rice is tender with a little bite to it (al dente), about 25 minutes total.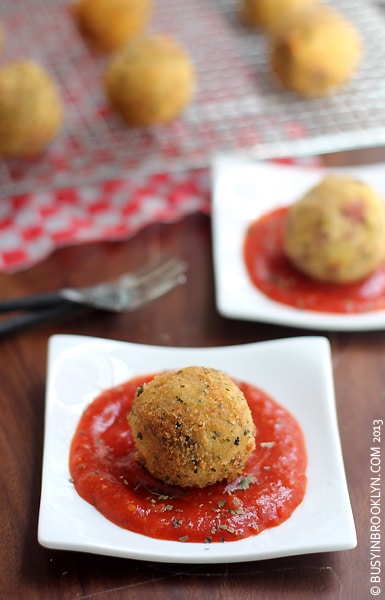 Other leftover ideas:
leftover cake: quick & easy individual trifles
leftover rice: pineapple fried rice
leftover challah: perfect pareve french toast
leftover chicken: curry chicken salad or Asian chicken salad or pulled chicken sammies
leftover salmon: salmon cakes or salmon pasta salad