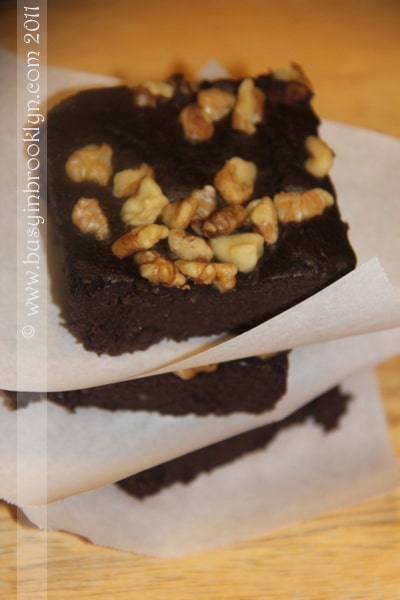 Now before you gag, I want you to take a look at the picture above. Do those look like black beans to you? I didn't think so. I had my reservations too, but they were quickly squashed after one bite of these. I'm not gonna say they were the best brownies I ever ate. Nor will I suggest that they have the same fudgy consistency as real brownies. But they are pretty good for a flourless cake made of beans. Give them a try. I promise, you won't regret it.
Black Bean Brownies
1 15 oz. can black beans, drained and rinsed well
3 large eggs
1/3 cup melted butter or canola oil
1/4 cup Hershey's special dark cocoa powder
3/4 cup sugar or splenda
1 tbsp coffee dissolved in 1/4 cup hot water
1 teaspoon vanilla extract
1/2 teaspoon salt
1/3 cup chopped walnuts
1/3 cup chocolate chips, optional
Method:
Preheat oven to 350 degrees. Blend all ingredients (besides for walnuts and chocolate chips) in a food processor or blender until completely smooth. Mix in chocolate chips, if desired. Pour into a greased 8×8 baking dish and sprinkle with walnuts. Bake for 25 minutes.
Once cooled, cut brownies into squares. Because these brownies are made of beans, they mold very quickly. Therefore, eat immediately or refrigerate/freeze individual portions.
TIP: If you like your brownies less dense, and more cake-like, add 1 tsp baking powder.