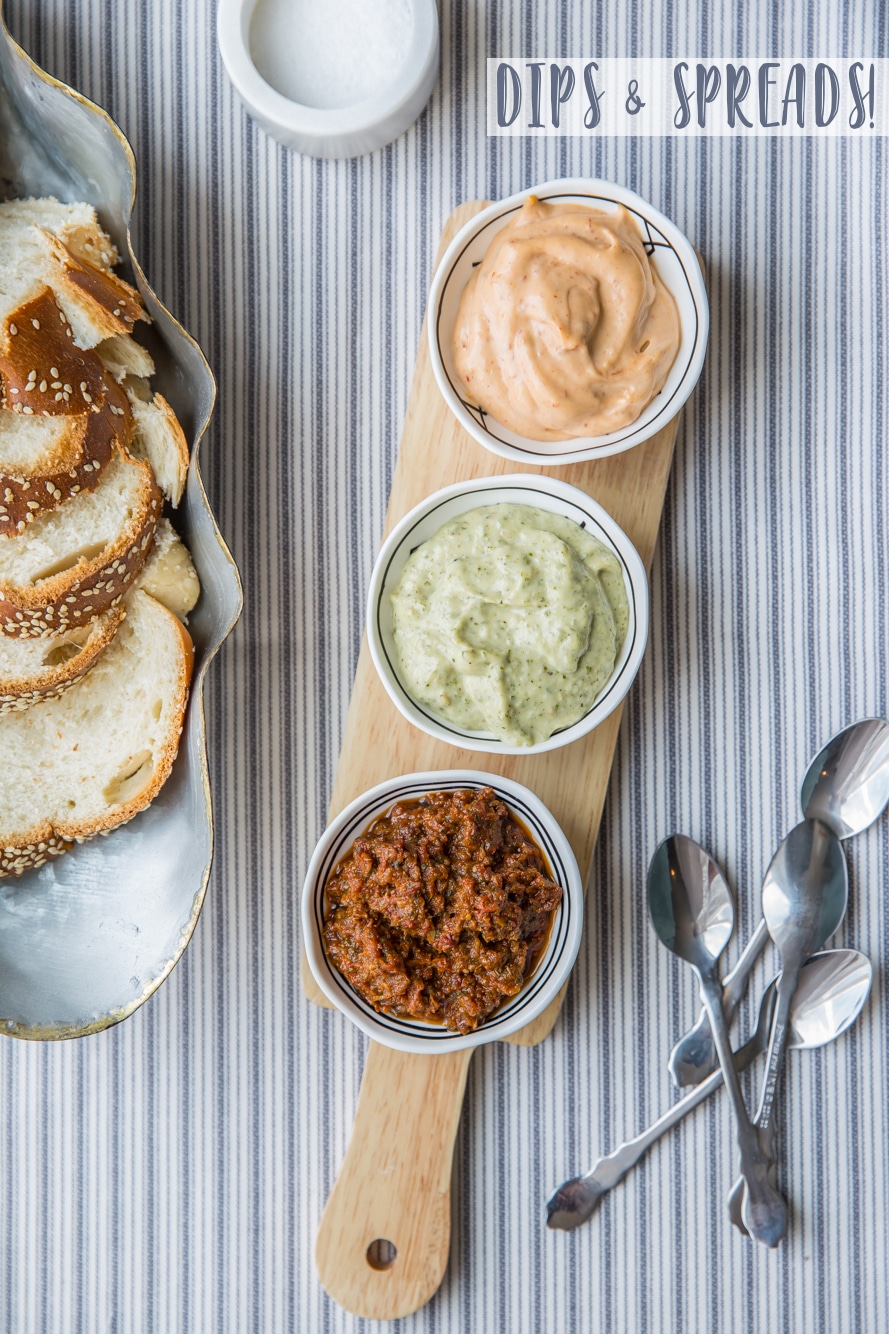 Walk into any kosher supermarket and you're likely to find a display case of wall to wall dips. What is it about Jews and dips and when did this cultural shift happen?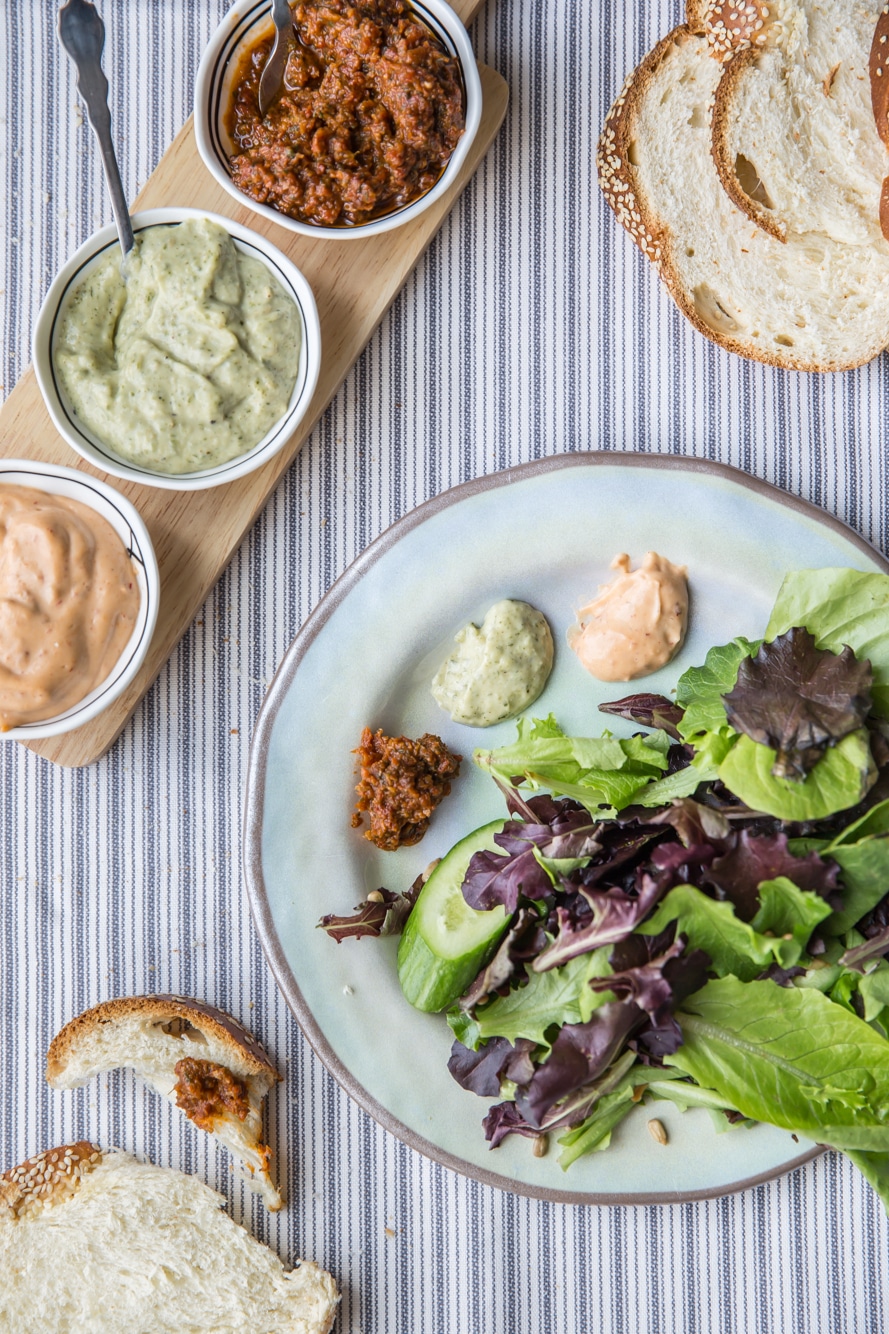 In Sephardic culture, SALATIM have adorned their Shabbos tables for generations. Unlike most mayo-based dips that you find in Ashkenazi cuisine, salatim are usually cooked down for hours (think matbucha!) and are exclusively savory.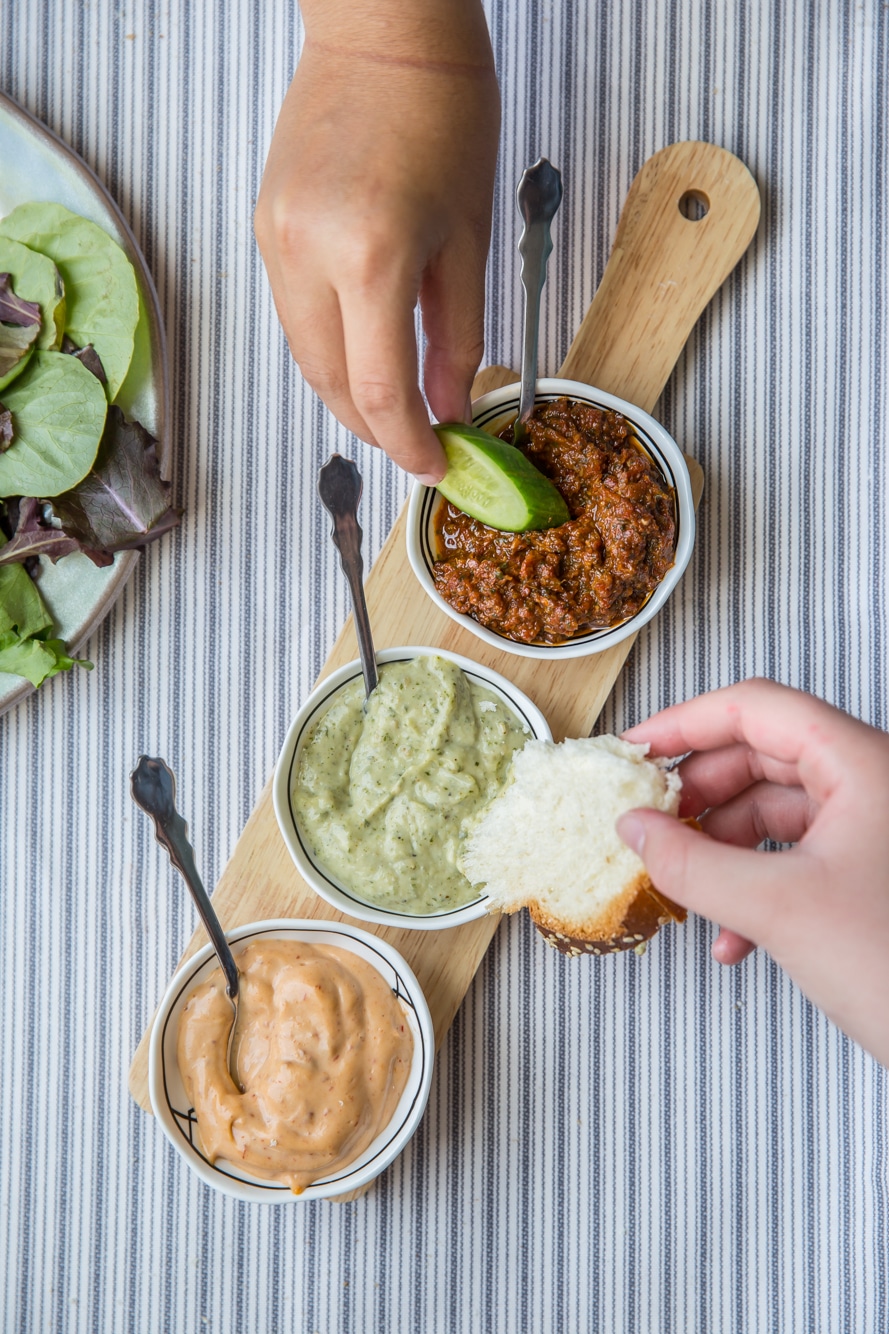 Growing up in an Ashkenazi home, dips were not really a THING. And come to think of it, neither was a smorgasbord of salads. Life was a lot simpler back then, and if we had some pickled cucumber salad, chrein (horseradish with beets) and tahini (my dad is Israeli after all) we were happy campers. Perhaps it's our foodie culture or this generation's need for abundance that has our Shabbos feasts outdoing the most lavish Thanksgiving spreads. Luckily, I like to play around in the kitchen, so spending my Fridays whipping up multiple dishes isn't the worst thing. But for those who find cooking overwhelming, Shabbos prep can be a chore, and believe me I get it. That's where store-bought dips come in handy, and the good news is, you don't really have to buy them.
I've never been that big on prepping dips, probably because they are just a vehicle for eating more challah. We always have hummus and tahini around, and I'll make (or buy!) olive dip on occasion, but dips for me are an "extra", a cherry on the top if I'm feeling extra fancy or I want to go all out for special guests.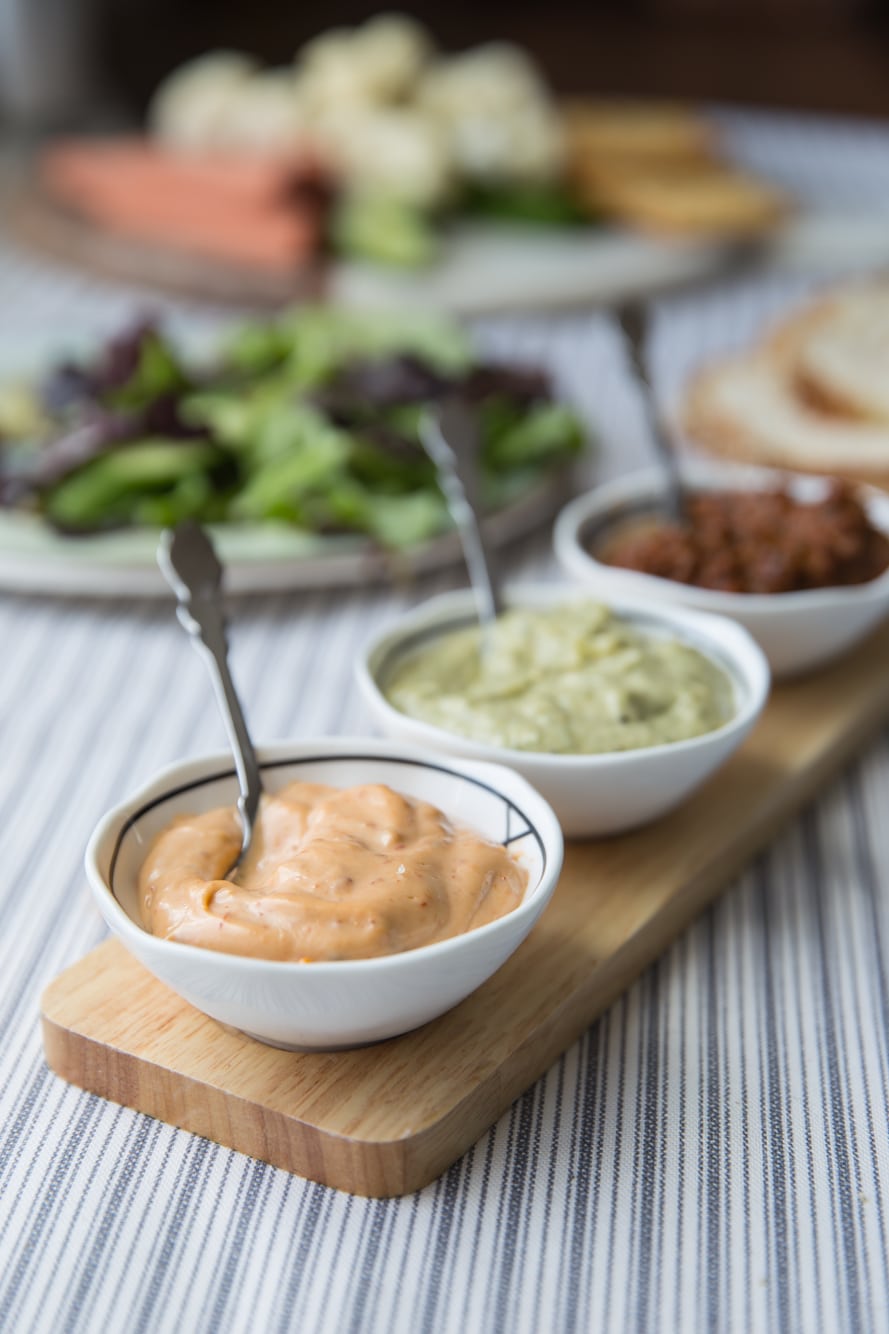 If I have tomatoes on hand that are too soft for salad, I'll usually cook down my tomato jalepeno dip (recipe in my book) and we absolutely love garlic confit smeared over challah (recipe also in my book), but in general, I prefer NO-COOK dips that I can just throw into the food processor and be done with it! One of my favorite kitchen hacks for making dips it to cover the bowl of my food processor with plastic wrap before putting the cover on, so the oil or mayo doesn't splatter all over the top of the machine when I blend, and I can make one dip after another with minimal clean up.
The best part about making homemade dips in the food processor is that amounts don't really matter. You can throw most things from a jar into your machine with a big dollop of mayo (lemon juice keeps it tasting fresh, and salt is always a given) and you're good to go. Here are some good combos!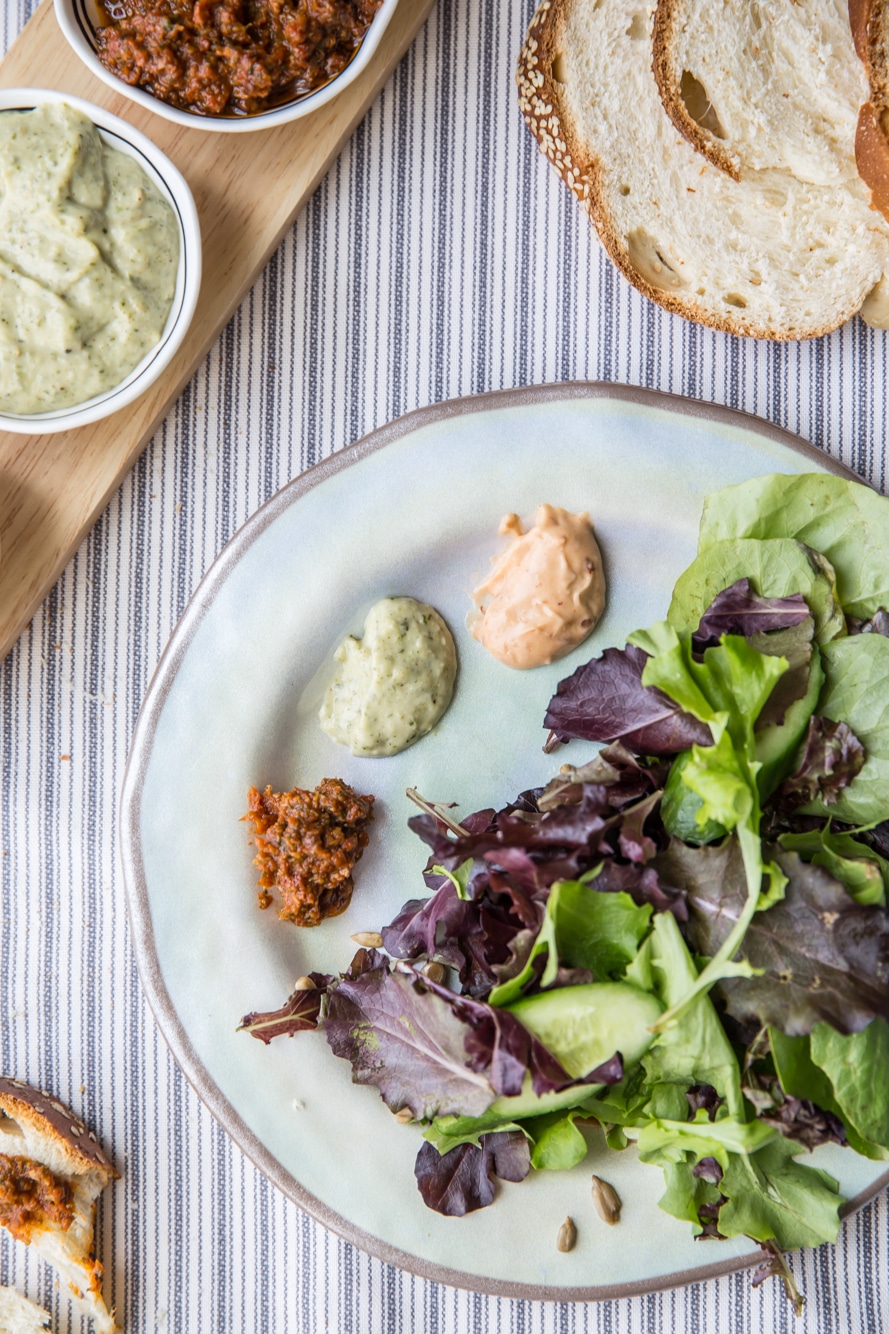 Related Recipes: