If you've been following my blog for a while, you probably realized that somewhere along the way I went from posting 2-3 times a week, to just once a week. I love blogging, I really do, but there is a lot of time and effort that goes into each and every post and quite simply – I just don't have the time. Recently though, I've become a lot more active on the BIB facebook page. Thanks to my new iphone, I now have a decent camera on my phone so I've been snapping away and posting pics of the food I'm making (or just eating!). The fans showed such an interest in the recipes that I decided to start posting some quick and easy recipes with a simple iphone picture and call it BIB Fast Food. While you won't have the benefit of step by step photography, I will try to post easy recipes that don't require it (hence the fast food concept!). I hope you all enjoy this new feature. So without further ado, lets get started!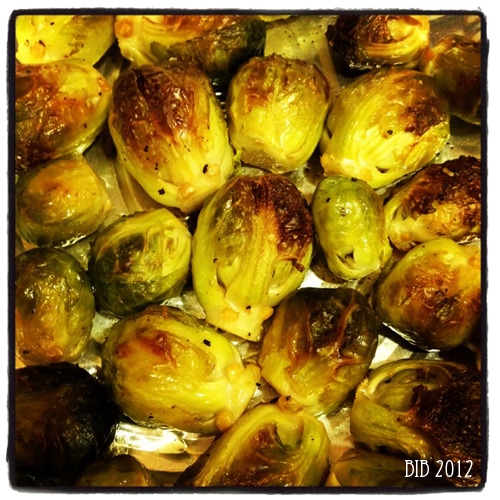 Roasted Brussel Sprouts
brussel sprouts
extra virgin olive oil
kosher salt
freshly ground black pepper
Method:
Preheat the oven to 400 degrees. Drizzle the brussel sprouts with some olive oil and season with salt and pepper. Using your hands (I wear gloves), mix the sprouts so that everything is coated evenly with oil. Pour onto a baking sheet and bake for approximately 25-35 minutes, mixing a few times in between. Sprouts are done when they are crispy and browned around the edges.
1 year ago: vegetable calzones