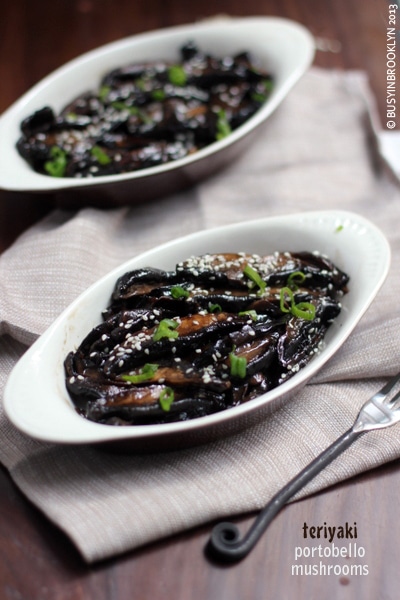 I'm a big mushroom fan. I love all types of the fungus, well, except for the poisonous variety that's growing in my backyard. The funny thing is, my husband never really got to appreciate them growing up because his mother is severely allergic. I found this out soon after my marriage, when we gathered for sheva brachot dinner. They were serving some kind of mushroom knish, which may or may not have been disguised as meat. My mother in law took one bite and her throat swelled up like a balloon. I don't remember much after that, but I DO remember that every time I tried to make dinner with any kind of 'shroom, my new husband gave me this are-you-really-going-to-serve-me-fungus-for-dinner look. But instead of putting one of my favorite veggies on the back burner, I taught him to love them. This is one of the ways.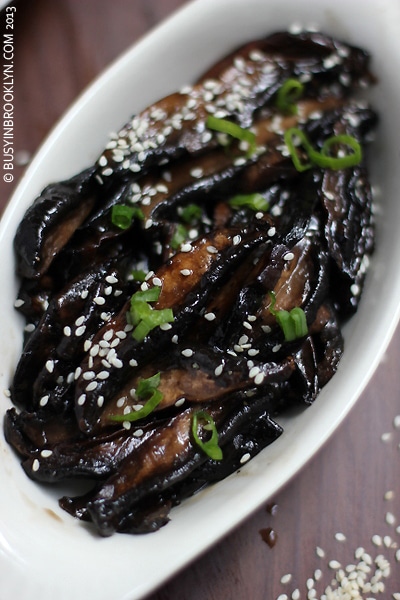 Making these delicious teriyaki portobello mushrooms, is such a joke, you won't believe your eyes, or your taste buds, when you eat them. Such a simple preparation and they taste fabulous. I always turn to this "recipe" when I need a quick side dish for Shabbat dinner. The platter always gets polished off to the last drop.
Teriyaki Porobello Mushrooms
6 medium portobello mushrooms
2-3 tbsp extra virgin olive oil
2-3 tbsp teriyaki sauce (I use La Choy brand)
kosher salt, to taste
freshly ground pepper, to taste
toasted sesame seeds, for garnish
chopped scallions or chives, for garnish
Method:
Preheat oven to 400 degrees. Gently clean the portobello mushrooms with a damp paper towel and trim the stem, if needed. Cut into slices. Place all the portobello slices onto a baking sheet and drizzle with olive oil. Using your hands, stir the mushrooms immediately, so that they are well coated (if you don't stir right away, the olive oil soaks right into the mushrooms). Drizzle the teriyaki sauce over the slices and mix with your hands to coat. Season with salt and pepper and bake for 20-25 minutes, stirring occasionally, until mushrooms are tender and caramelized. Garnish with sesame seeds and scallions or chives.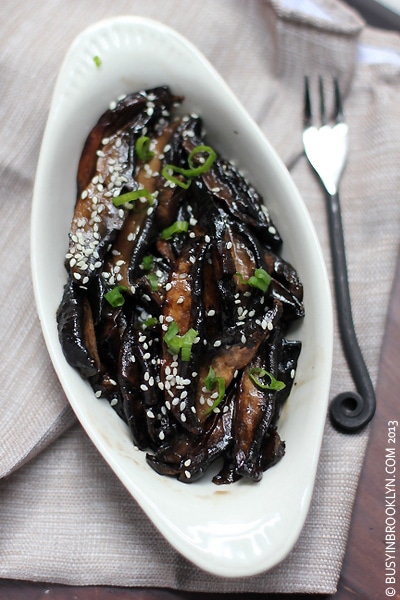 Other Mushroom Recipes:
crockpot mushroom barley stoup
spinach stuffed mushrooms
portobello burgers with sundried tomato aioli
portobello pizza