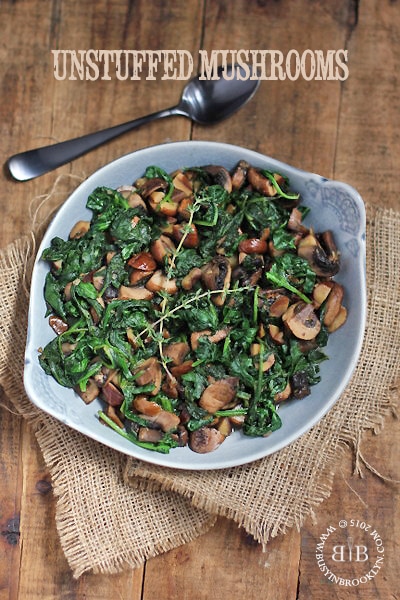 Thanksgiving is coming up and all I can think about is stuffing. Particularly cornbread stuffing. It's my absolute favorite! Make that chorizo cornbread stuffing and Ill take two portions please :)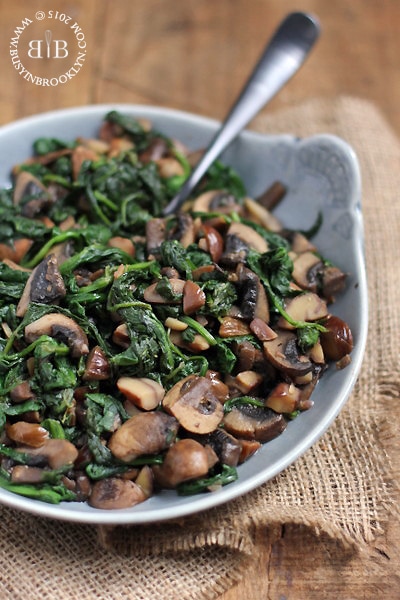 Believe it or not, I did not grow up celebrating Thanksgiving. My mom used to make us turkey sandwiches, just for kicks. And sometimes she'd make some Thanksgiving dishes for Shabbat the week of Thanksgiving. I always wanted to experience the whole turkey-gravy-stuffing-pumpkin pie-cranberry sauce-green bean casserole smorgasbord, but I'm kind of too lazy to make it all! Lucky for me, my friend Melinda from kitchen-tested is doing the whole shebang, and I kind of invited myself over! Melinda is an amazing cook and I cannot wait to see what she has up her chef"s sleeve. Make sure to follow me on Instagram, because I will definitely be posting pics from that sure-to-be-epic meal!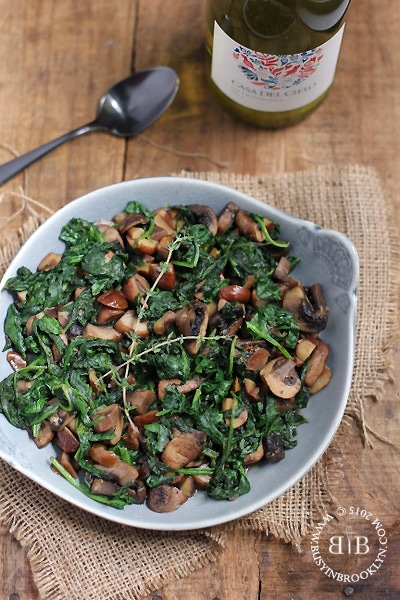 Speaking of lazy, this unstuffed mushroom recipe can also be called lazy stuffed mushrooms, because that is, in fact, what it is. I was digging through my fridge for a side dish the other week, and I found all the ingredients I would need to make stuffed mushrooms. Except I was too lazy to make stuffed mushrooms, so I made unstuffed ones! I added some roasted chestnuts and Chardonnay for a truly festive dish, perfect for your Thanksgiving meal!
Unstuffed Mushrooms
10oz. baby bella mushrooms
1 tbsp olive oil
salt and pepper, to taste
4 sprigs thyme
2 cloves garlic, minced
3.5 oz. roasted chestnuts, roughly chopped
1/4 cup Casa Del Cielo Chardonnay
5 oz. baby spinach
Method:
Heat the olive oil in a large skillet and add the mushrooms and thyme. Season, to taste, with salt and pepper. Saute the mushrooms over medium-high heat until the mushrooms are caramelized and the liquid has evaporated, about 6-8 minutes. Add the garlic and chestnuts and saute until fragrant. Add the chardonnay and cook until most of the liquid is absorbed. Remove the sprigs of thyme and add the baby spinach, cooking until just wilted. Season with salt and pepper and serve.
NOTE: this recipe calls for roasted chestnuts that are sold in a bag, not canned water chestnuts. You can also roast your own chestnuts, here's how.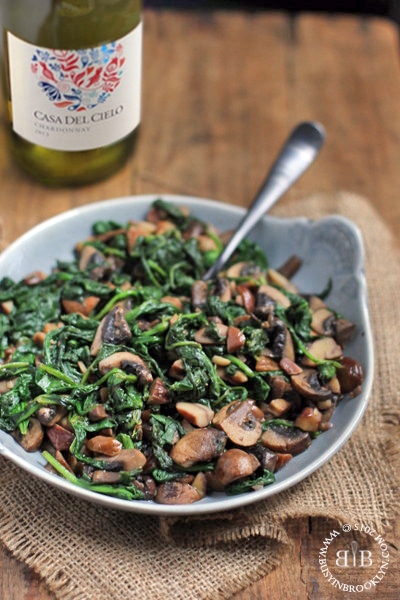 This post is sponsored by kosherwine.com. All opinions are my own. 
Related Recipes:
teriyaki mushrooms
spinach stuffed mushrooms
spaghetti squash with spinach, mushrooms and white wine
Tuscan white beans with spinach and white wine