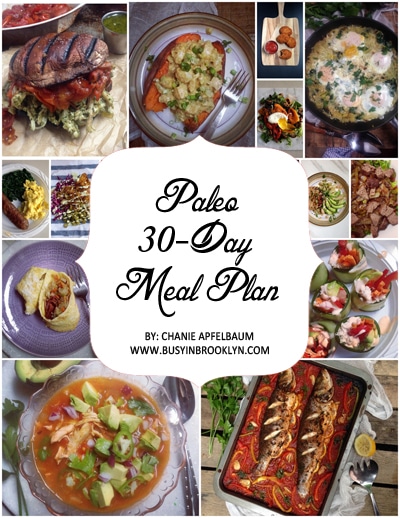 I can't believe this day is finally here! Somebody pinch me! I've been working on my Paleo meal plan every free minute for the past 2 months. My family has been having elaborate 3 course Whole30 dinners for the past few weeks, and I couldn't be more excited to finally introduce my 30 day meal plan!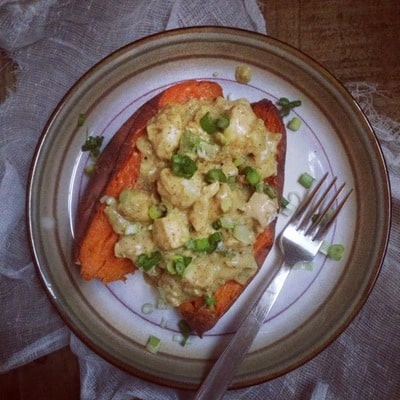 Almond curry stuffed sweet potatoes, dinner, Day 18
If you haven't been following my Whole30 diet journey on Facebook and Instagram, read this blog post for a quick summary of how I've been changing my life with the Paleo diet. I could have never imagined how energetic, healthy and happy I would feel eating a sugar-free, dairy-free, soy-free, legume-free and grain-free diet.
Cabbage and sausage egg roll, breakfast, Day 19
One thing my Whole30 was not – boring! I truly believe that the best way to diet is to eat well. Eating flavorful, satisfying meals curbs cravings and doesn't make you feel deprived! I believe in this so strongly that I decided to chronicle all of my Paleo recipes in a meal plan and make it available for anyone interested in taking control of their eating habits and living a healthier life.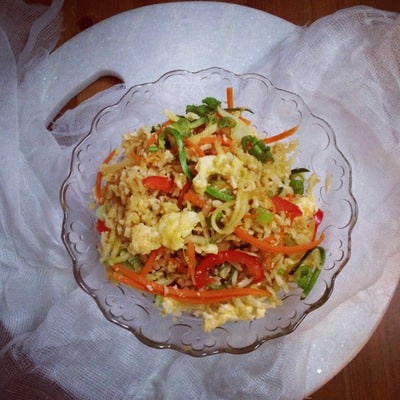 Cauliflower fried rice, lunch, Day 23
My 30 Day Meal Plan includes 50 pages of more than 100 recipes for breakfast, lunch and dinner. Recipes like my Smoky Braised Chicken & Collards, Pad Thai, Sweet Potato Chili, Cucumber Sushi Rolls, and Nut-Crusted Shnitzel will make you feel like you're eating anything but "diet" food! I've also included basic building block recipes like 5-minute ketchup, homemade mayonnaise, zoodles (zucchini noodles) and cauliflower rice that you'll be using again and again.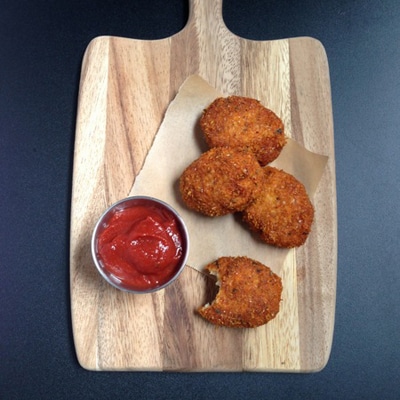 Chicken nuggets with 5-minute ketchup, dinner, Day 29
The menu also includes a section of holiday and weekend recipes, for those wishing to entertain guests. Bonus appetizer, soup and dessert recipes like tropical guacamole, asparagus with mustard vinaigrette, spaghetti squash soup and strawberries with coconut whipped cream will help you round out your meal.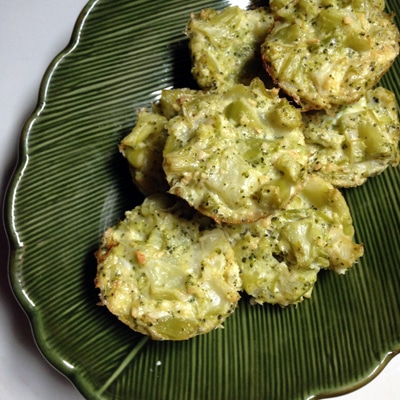 Broccoli quiche, breakfast, Day 7
As if that's not enough, I've also included a handy calendar that you can print out and post on your fridge. It lists the breakfast, lunch and dinner for each day. A Table of Contents will help you find your daily menu easily.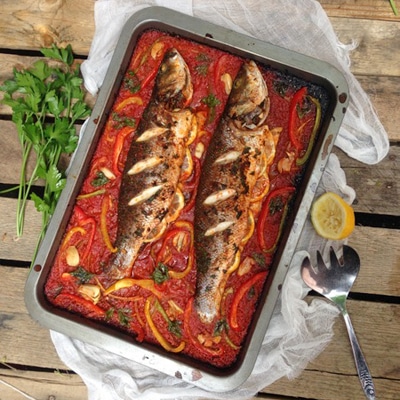 Moroccan fish, lunch, Day 13
Also included in the Paleo ebook are pantry and fridge staples, helpful tools, resources and tips to help guide you through the 30-Day meal plan.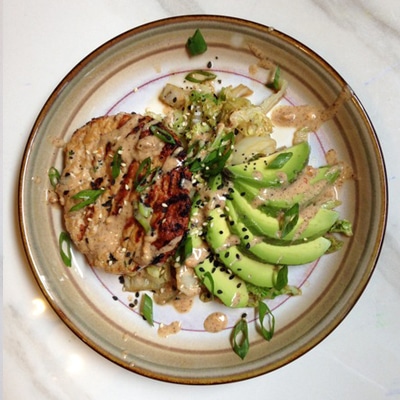 Asian turkey burger with sauteed cabbage, avocado and Thai almond butter sauce, dinner, Day30
One of the things I tried to incorporate into the meal plan was utilizing leftovers. Nobody wants to sit in the kitchen all day, so meal planning is essential! On several days, I have you set aside some leftovers which are repurposed in another way the next day. Less waste and less work, who doesn't love that?!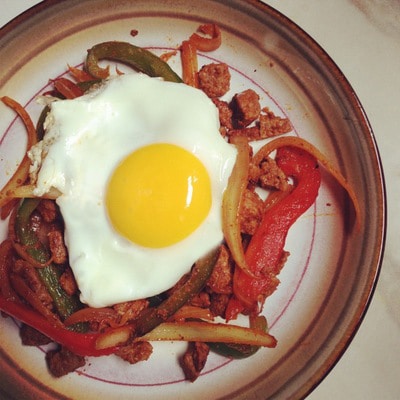 Fajitas with homemade spice mix over cauliflower rice with fried egg, dinner, Day 4
One of the other great features of the Paleo cookbook is that I created the meal plan so that each day's menu is featured on it's own page. This way, you can print out the page on it's own, hang it on your fridge and not have to run to your computer to follow the recipes.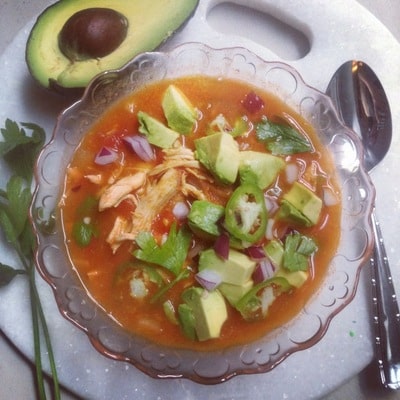 Chicken tortilla-less soup, dinner, Day 23
Now that I've whet your appetite with these amazing dishes, I know what you're thinking…."How do I get my hands on this ebook?!" Well, that's the easy part!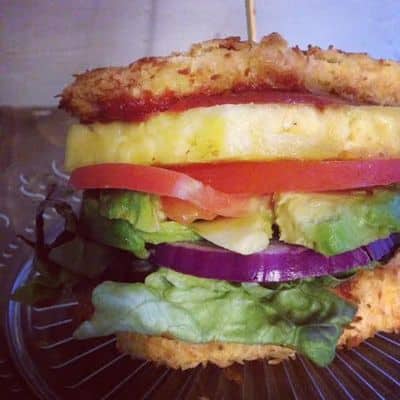 Inside-out coconut chicken burger , dinner, Day 26
To purchase the ebook, simply click on the "pay now" button below to pay for it via paypal. When I receive your payment, I will email you the ebook. You can print it out, staple it, glue it together – whatever you wish. You just can't share it :) I spent hours upon hours of hard work preparing this book for sale. I ask that you do not reproduce it in any form (email, photocopy, or sharing the recipes on your own blog). If you love the ebook as much as I do, plug away! Show your love via social media with hashtag #paleoebook, and don't forget to tag @busyinbrooklyn!
Apple crisp "cereal", breakfast, Day 12
Order your Paleo 30-Day Meal Plan today! You'll receive: -50 pages of over 100 recipes -Pantry and Fridge/Freezer Staples -Building Block Recipes -Holiday or Weekend Meal Ideas -30-Day Meal Plan -30 Day Calendar -Dieting Tips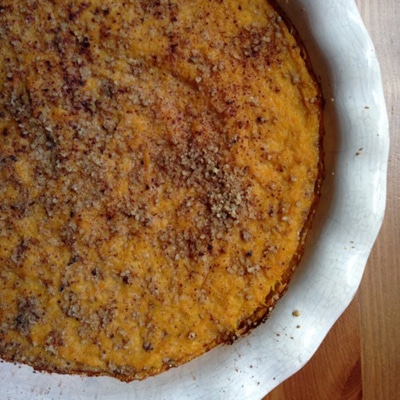 Butternut squash pie, lunch, Day 6
For more of what's in the ebook, and for a chance to win  a copy, visit this post! For FAQ's, check this out!
I would love to hear about the recipes you are making and enjoying! Please post a comment and share! And of course, if you have any questions at all about the ebook, please don't hesitate to contact me at busyinbrooklyn@gmail.com!