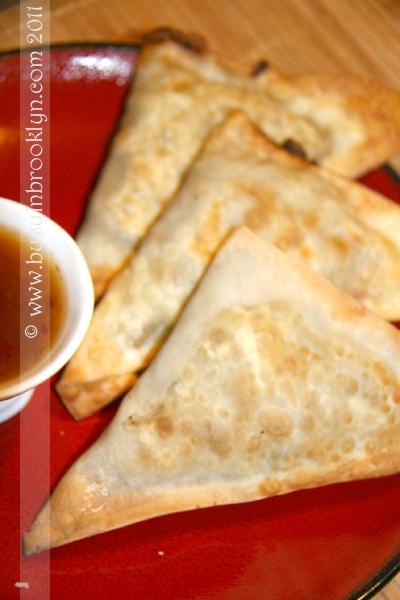 I had never really heard of empanadas until I married my husband. My Argentinian mother-in-law loves to cook up a storm whenever we come to visit and these meat-filled pockets are often on the menu. She whips up a batch in no time and makes it look so easy! For my husbands birthday this year, I cooked him a surprise dinner that included all of his favorite family recipes including empanadas, milanesas and mechshie. It was my first try at them, but with my mother-in-laws help, everything turned out super delicious.
I made empanadas again last week on the spare of the moment, having some defrosted ground beef sitting in the fridge. Whereas my mother-in-law throws together a batch of dough in no time, I am one to avoid any recipe that calls for home-made dough. Instead, I decided to make use of the eggroll wrappers in my freezer. I had no idea if this would work, especially since I had no intention of frying them, but I decided to give it a try. And work, it did. The wontons turned out perfectly crispy without being greasy and the filling, although not traditional, was perfectly delicious. If you don't mind frying, go ahead and make these super golden and crispy in some hot oil!
I call these "wonton empanadas" because they are a cross between traditional empanadas (filled with ground beef, olives, and cumin) and beef eggrolls (filled with meat, cabbage, carrots, mushrooms etc.). You can call them Asian empanadas or Spanish eggrolls, either way, these meat-filled samosas are sure to please!
Wonton Beef Empanadas
1 medium onion, diced small
2 cloves garlic, minced
1 container mushrooms, stems removed and thinly sliced
3/4 c shredded carrots
1/2 c sliced green olives
1 lb ground beef
1/2 tsp cumin
1/2 tsp chili powder
1/2 tsp paprika
salt and pepper, to taste
good quality dry red wine
wonton wrappers
szechuan sauce, for dipping
Method:
Saute onion and garlic till translucent, add mushrooms and carrots. Continue to saute until softened and golden. Add olives and spices and mix until fragrant. In a separate pan, saute the meat until crumbly and no longer pink. Drain the meat of the fat and add to vegetable mixture. Add a splash of red wine (about 1/8th of a cup) and cook for a few minutes.
Lay a wonton wrapper on a clean cutting board and cut on the diagonal so that you have 2 triangular wraps. Cover the remaining wrappers with a damp towel while you work so that they don't dry out. Place a teaspoon of filling on each wrapper and fold in half to close. Wet the sides of the wrapper with some water and press down to seal edges (if this doesn't work for you, you can try eggs, or make a "glue" with 1/2 tsp cornstarch dissolved in 1/2 cup water). Place on a greased cookie sheet. Spray wontons generously with cooking spray and and bake at 400 for about 8-10 minutes on each side, until golden.