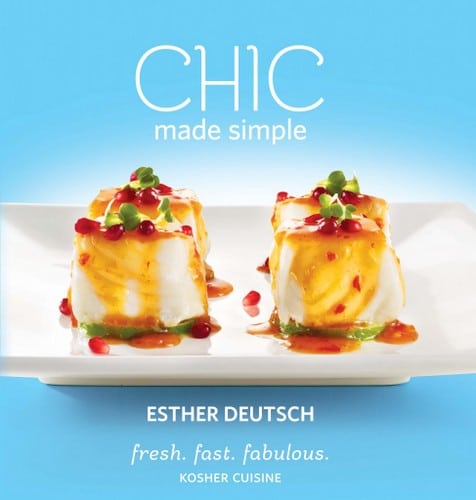 When I first received the Chic Made Simple cookbook, I was wowed. It's filled with beautiful pictures, impeccable food styling, and lots of delicious recipes that are truly, made simple. Esther Deutsch's new cookbook promises fresh, fast and fabulous kosher cuisine, and it delivers. With appetizers & sides, soups, salads, poultry, meat, fish, dairy and desserts, the cookbook lacks for nothing. Chef's are fond of saying "We eat with our eyes first", and no one knows that better than Esther. Her talent for plating and food styling are on full display page after page. As a wannabe food stylist (at least for my blog) this book has taught me a lot.
While styling is important, the food also has to speak for itself. The recipes in Chic are simple enough for the novice cook, yet sophisticated enough for the more experienced chef. Some of my favorite dishes include quinoa patties, pulled meat wontons, roasted chestnut pumpkin soup, sundried tomato basil capons, creole veal burgers, 60-second cajun salmon, fruit tartare, and many more.
All that being said, I do have a few small qualms about this book. As the food editor of Ami magazine, many, of the recipes appeared in the magazine at some point (46 of the recipes in the book have never been published). While it mostly reads like a cookbook, there is some confusion where the pictures don't entirely relate to the recipe, and some magazine spreads that were stuck in the book, disrupting the flow. The pictures, having been photographed by a few photographers, don't offer the same style, and some are so highly manipulated, they don't look realistic. As a graphic designer, I find this very frustrating, but to the untrained eye, most people will not be disturbed by it.
Bottom line: Chic Made Simple does in fact offer chic recipes that are fairly easy. Some recipes use highly processed ingredients, but most include ingredients that you'd find in your pantry. While many will not be able to plate their dishes as impeccably as pictured, the recipes sure seem to taste as delicious as they look.
To enter the giveaway, leave a comment telling me about a simple recipe that you serve in a chic way! And if you don't already follow me on facebook, like the BIB page here. Winner will be chosen at random at 11:00 PM Wednesday, December 5th.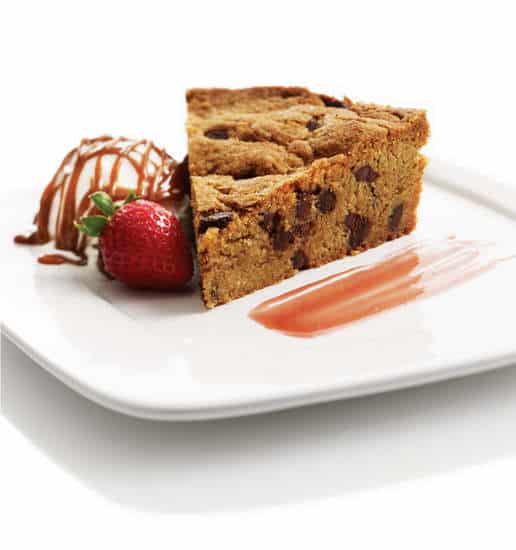 Warm Deep-Dish Giant Chocolate Chip Cookie Torte
excerpted from CHIC Made Simple: Fresh. Fast. Fabulous. Kosher Cooking By Esther Deutsch, Feldheim Publishers
Ingredients
2 cups oil
1 cup sugar
2 cups brown sugar
1 Tbsp. pure vanilla extract
4 eggs
4 cups all-purpose fl our
4 tsp. baking powder
1 tsp. salt
1 pkg. (10 oz.) chocolate chips
Store-bought vanilla ice cream
Directions
1. Preheat the oven to 350° F. In the bowl of a mixer, beat the oil, sugar, brown sugar, vanilla, eggs, flour, baking powder, and salt on medium speed until well combined, about 2–3 minutes. Add the chocolate chips and combine.
2. Pour the batter into two 9-inch round baking pans and bake, uncovered, for 55–60 minutes. Serve the torte warm with a scoop of vanilla ice cream on the side.
3. To reheat, warm the torte, tightly covered, in a preheated 200° F oven for no longer than 1 hour. Serves 16.
Note: This recipe yields two 9-inch round cakes. You can serve the second one as a breakfast cake.
1 year ago: black bean brownies
Post a Comment