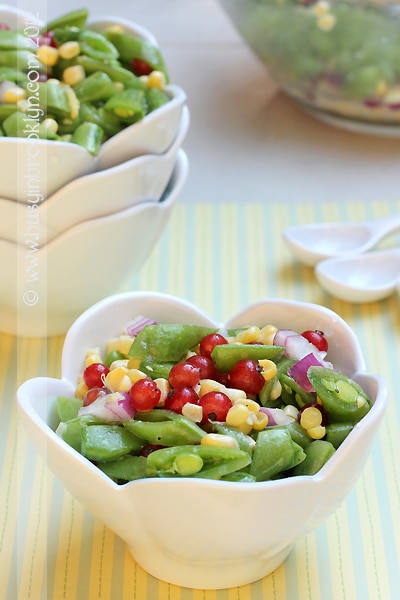 Sometimes, you don't have to think up a recipe, it just writes itself. When I came home from Kelder's Farm with these delicious farm fresh ingredients, I knew I had to eat them exactly how I picked them – raw. No red currant jelly or snap pea stir fry. Just a simple recipe to bring out the freshness of the ingredients.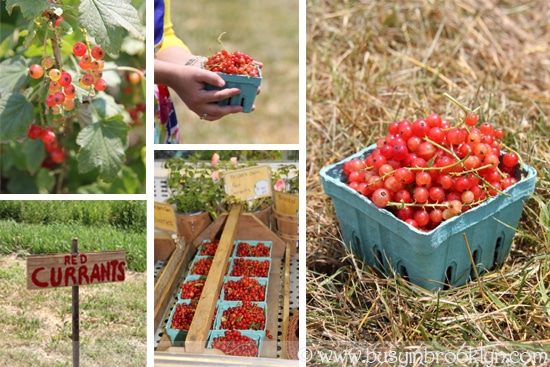 With no cooking involved, this salad comes together in no time. Because the produce is farm fresh and in season, it's naturally sweet, so you don't need much to bring out the flavors. I seasoned it simply with oil, lemon, salt and pepper and the results were light and refreshing. The tart currants are the perfect balance to the sweet corn and the raw peas add a brightness to the salad. With it's beautiful colors and crispy sweet taste, this salad makes the perfect addition to any summer meal!
Snap Pea, Corn & Red Currant Salad
16 oz. sugar snap peas
1 cup fresh corn
1/2 cup red currants*
1 small red onion, diced
1 1/2 tbsp olive oil
juice of 1/2 lemon
salt, to taste
freshly ground black pepper, to taste
Method:
Trim the ends of the snap peas and cut them on the diagonal. Add the snap peas, corn, currants, and onion to a bowl. Season with olive oil, lemon juice, salt and pepper.
Variation: If you don't have red currants available, you may substitute with raspberries or pomegranate seeds.
1 year ago: sushi salad II