What a whirlwind the last couple of weeks have been! I don't think I've ever gone this long without blogging in the 7 years that I've been doing it but I've truly been living up to my name, Busier than Ever in Brooklyn! After having a cookbook "baby", I'd like to say I was on maternity leave, but the truth is, I've been traveling between books signings and demos throughout the Tristate area, plus a small stop in Florida before the Chag. Of course we also celebrated the grand book release party at Bison & Bourbon here in Brooklyn just last week, and it's truly been a dream come true! I've leave the party deets for a separate post, but I really wanted to get back into things here on the blog, where it all got started.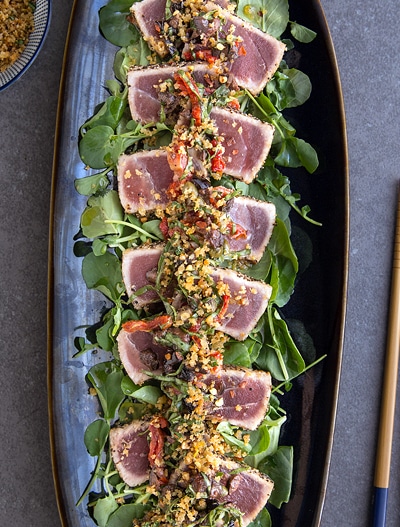 I love it here on Busy In Brooklyn, a constant reminder of my humble beginnings. I need only to scroll back to 2011 to remember how it all began – I was barely even an amateur cook, my photos were beyond embarrassing, and with each passing year that young wife who knew so little about food and photography, blossomed into a confident cook, recipe developer, food photographer, and now, cookbook author. It's so surreal to me, and as I stood up at the book release party, I said the first thing that came to mind, and what I truly felt – I'm really just a mother, who decided to become a blogger, who decided to write a cookbook. The whole Instagram-fueled pseudo-celebrity status is still so foreign to me – I really just want to live my life and share my passion for modernizing and reinventing kosher food without all the fanfare. Social media has truly changed everything, hasn't it? It truly is a blessing to be able to reach so many people and watch as traditional Jewish and kosher food evolves over time.
One of the best messages I got from a follower last week was about how she sent her husband to the supermarket in Monsey to buy anchovies for the Kale Caesar Salad in the book. Her husband asked the manager where he could find anchovies and he said, "Come join the other 15 husbands who came in asking for the same thing! Why are people suddenly so interested in anchovies?". So her husband showed the manager a photo of my book! Now of course there's nothing Millennial about anchovies in Caesar salad, although it's not something you normally find on a traditional kosher holiday table. When I was growing up, we made Caesar salad with mayo, garlic powder, distilled white vinegar and sugar. Most kosher cookbooks include a variation of that, with a few forward-thinking recipe writers including Worcestershire sauce or even anchovies. With Millennial Kosher, I really wanted people to embrace these foreign ingredients instead of turning the page or looking for a substitute. Somewhere deep inside I was worried that people weren't ready, but that message made me realize that Millennial Kosher is exactly what kosher cooks wanted and needed in today's day and age.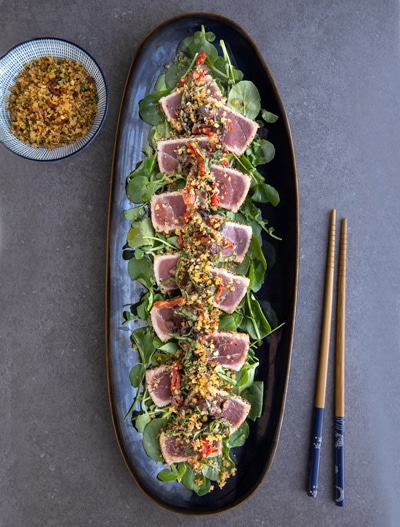 Speaking of anchovies, this modern and sophisticated take on a salad nicoise didn't quite make it to the book, but after the anchovy episode, I figured it was a good time to post it on the blog! The tuna in this recipe is lightly seared, topped with a sundried tomato and olive tapenade and finished with umami-rich anchovy panko crumbs that would go amazingly well over pasta! Here's to hoping that some of you are ready to explore anchovies, and salad nicoise, in a new light!
How has Millennial Kosher helped you look at kosher food in a new way? I'd love to hear from you in the comments below!
Tuna Nicoise
Pareve Yield: 2 servings
I used to avoid eating raw fish, as I was afraid it would be too fishy, but the truth is, fresh sushi-grade tuna doesn't have much flavor at all; it's like a blank canvas. This recipe is inspired by the classic French salad, Tuna Nicoise. The tapenade really packs a punch of flavor and don't be thrown off by the panko crumbs! The anchovies in them melt and virtually disintegrate into the oil with zero fishiness, just some serious umami flavor. Use the leftovers over spaghetti carbonara for richness and crunch!
2 sushi-grade tuna steaks (about 1 lb.)
kosher salt, to taste
freshly ground pepper, to taste
1 Tbsp grapeseed or other neutral oil
Tapenade
2 Tbsp chopped nicoise or Kalamata olives
2 tsp capers
1 Tbsp chopped sundried tomatoes
½ tsp Dijon mustard
2 tsp red wine vinegar
3 Tbsp extra virgin olive oil
2 Tbsp chopped basil
2 tsp fresh-squeezed lemon juice
1 cup arugula OR greens of your choice, for plating
Umami Panko Crumbs (see below)
1. Season tuna generously with salt and pepper. Heat a skillet over high heat; add oil. Add tuna; sear for a few seconds on each side, just enough to form a crust, but not to cook the fish through. Then, for medium-rare, cook for 1 minute per side. Slice the fish thinly against the grain.
2. Prepare the tapenade: Combine olives, capers, mustard, vinegar, oil, basil, and lemon juice in a small bowl; whisk to combine.
3. Spread greens on a serving dish; top with slightly overlapping tuna slices. Drizzle lightly with dressing; finish with panko crumbs.
NOTE: To make even rectangular or square slices, first cut your tuna steak into strips and sear each one individually.
Umami Panko Crumbs
3 Tbsp olive oil
3 anchovy filets
3 cloves garlic, minced
½ cup panko crumbs
½ tsp lemon zest
1 Tbsp chopped parsley
pinch red pepper flakes
kosher salt, to taste
1. Heat olive oil in a frying pan set over medium heat. Add anchovies; cook until they dissolve. Add garlic; cook until fragrant.
2. Add panko crumbs; sauté until crisped and golden, about 5 minutes. Remove from heat. Add lemon zest, parsley, red pepper flakes, and salt; stir to combine.
NOTE: You can use this tapenade and crumbs over any white flaky fish.
Related Recipes:
tuna with pineapple guacamole and herbed lime crema
pan seared tuna steak (2011 amateur days! lol)
salad nicoise (another 2011 beauty!)