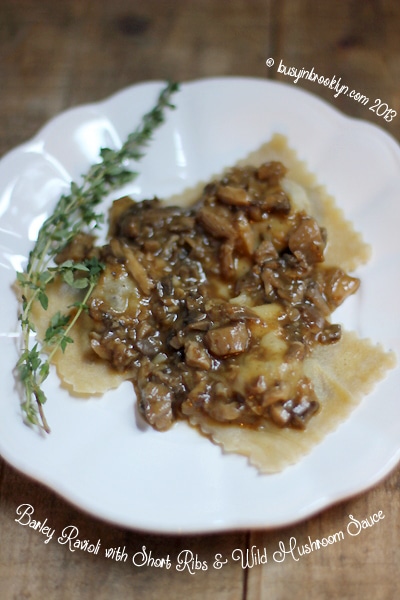 If you frequent my blog, you've probably noticed that while I love gourmet food, I tend to lean towards quick and easy recipes that I can disguise as fancy. I'm all about the 1-2-3 – as long as it tastes good. But sometimes, just sometimes, I want to take the time to make something from scratch that rivals any dish at a 5-star restaurant. If you have your technique down, and you put love into your food, the results can be beyond extraordinary.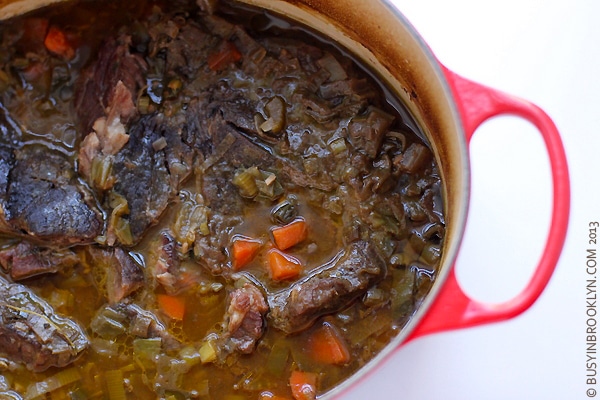 The story of this recipe goes back about a year, when I learned to make pasta from scratch at the Center for Kosher Culinary Arts. I could not believe how incredibly easy it was. We made the pasta dough before I could even blink, and rolling it through the pasta machine was so much fun. Filling our homemade ravioli with duck confit and bathing it in demiglace sauce made me realize just how luxurious pasta can be. I went home that night dreaming up all sorts of amazing pasta creations, none of which actually happened. Until now.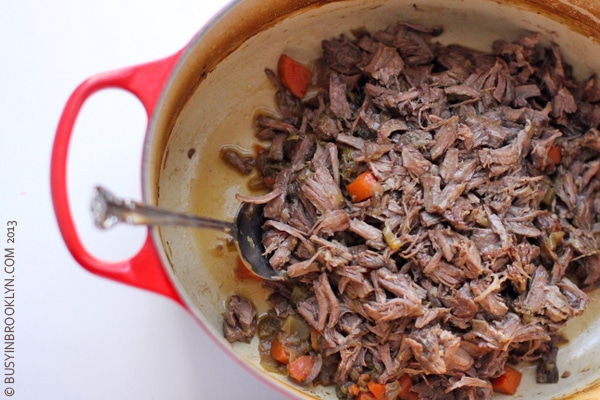 If you don't know this about me already, I've got a thing for mashup recipes. I just love to deconstruct traditional recipes and break them down into playful ideas. So when I learned to make pasta from scratch, it was only natural for me to take it the next level and dream up something crazy. I had this idea to deconstruct mushroom barley soup into a ravioli. I'd make barley ravioli, fill it with flanken and smother it in a velvetty wild mushroom sauce.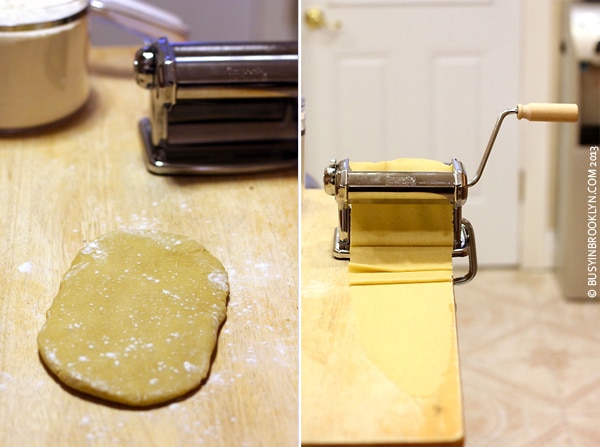 It was all a dream, until one day, a couple of weeks ago, my friend Melinda and I decided to plan a day of cooking together in my kitchen. Melinda is an adventurous cook who's not afraid to try anything. She blogs about her kitchen experiments on kitchen-tested where she shares many of her fabulous recipes.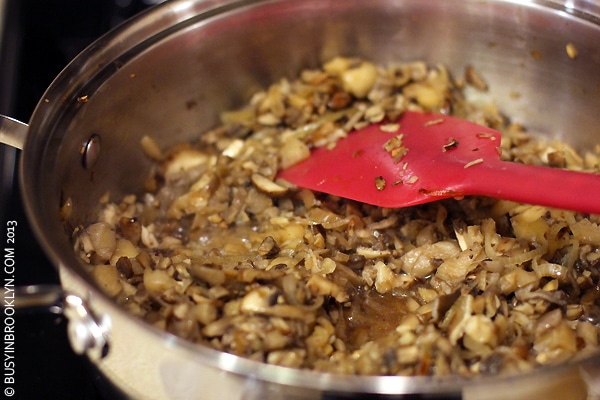 We were brainstorming about cooking ideas and I came back to the deconstructed mushroom barley ravioli that I had wanted to make for so long. Since Melinda is a big dessert person, we decided to do ravioli 2 ways. I would tackle the savory part of the meal while Melinda would do a dessert ravioli. Melinda is obsessed with s'mores so I wasn't surprised when she came up with the idea to make a fried graham-cracker-crusted chocolate ravioli stuffed with chocolate and marshmallows.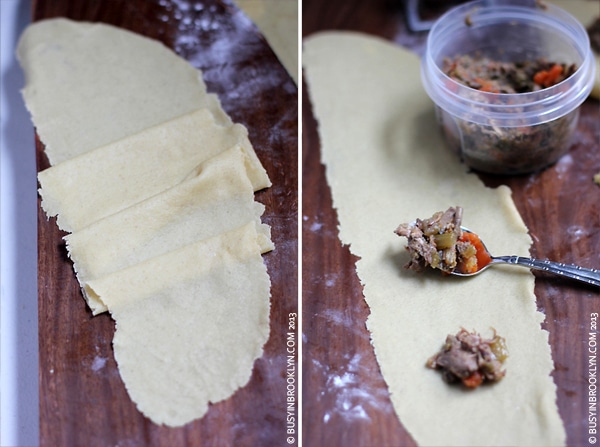 Being the dedicated foodies/bloggers that we are, we decided that it would be fun to blog about our cooking experience and share the recipes while linking to each other's posts. And so here we are.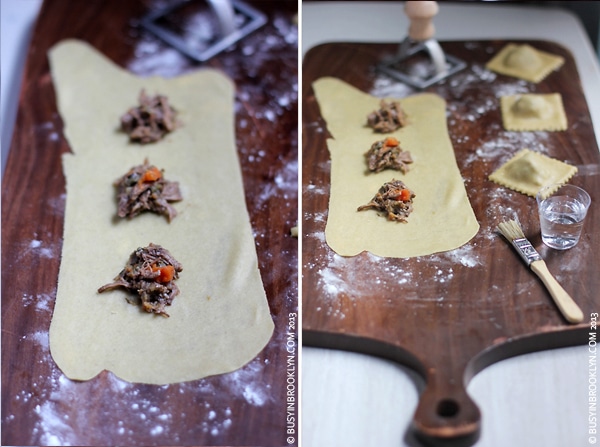 One of the best parts of making this dish was getting to use my Le Creuset dutch oven for the first time! I had wanted the pricey pot since forever, I just couldn't bring myself to splurge on it. Luckily, I won a $500 gift card to Williams Sonoma after winning 2nd place in The Mushroom Channel's Swap It or Top It Contest for my portobello mushroom burger with sundried tomato aioli. As soon as my gift card came in the mail, I knew just what I would spend my winnings on! A dutch oven was #1 on my list, followed by a good quality electric knife sharpener.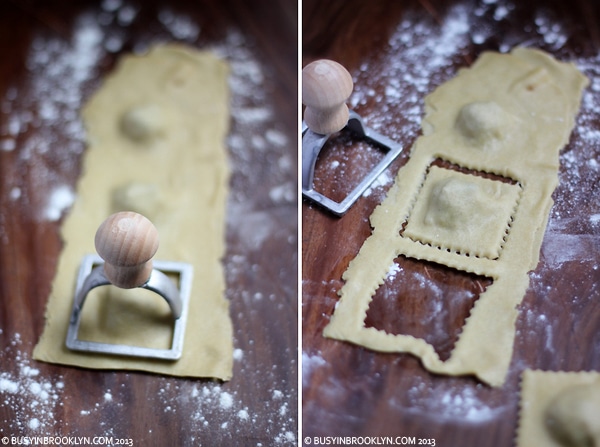 The night before Melinda was to come, I sharpened up my knives with my new machine and went to work braising short ribs in my new dutch oven. I prepared the pasta dough in my food processor, following a recipe from Lidia Bastianich, the queen of Italian cooking. I couldn't believe how easy it was to make the pasta dough! It came together in no time – exactly as Lidia had said.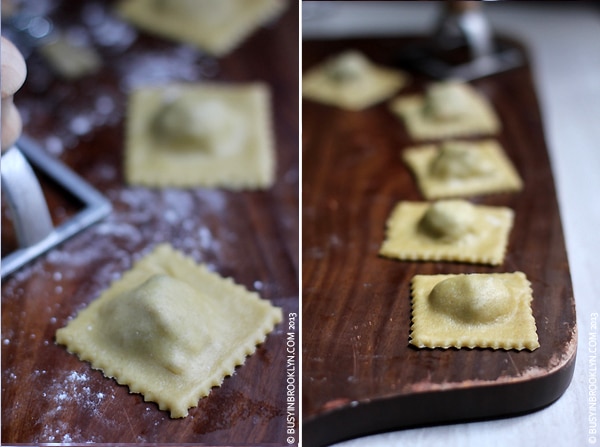 Cooking day was finally here and we were beside ourselves with excitement. Melinda settled in to my kitchen and checked out my photography "studio" (aka the corner in my kid's playroom). We started off our day with some s'mores coffee (an Archer Farms limited edition that I was saving for my s'mores-loving friend!) and got right down to ravioli-making. With my dough and meat already prepped, we rolled out the pasta dough and filled it with short ribs. While Melinda helped with the pasta, I got to work on the incredible wild mushroom sauce. It was so rich and flavorful, we could barely hold out while we photographed it. After sharing some shots with our fans on Instagram, we finally sat down to savor the fruits of our labor. The fresh barley pasta, paired with the shredded beef and velvetty mushroom sauce was truly reminiscent of mushroom barley soup. All in all: success!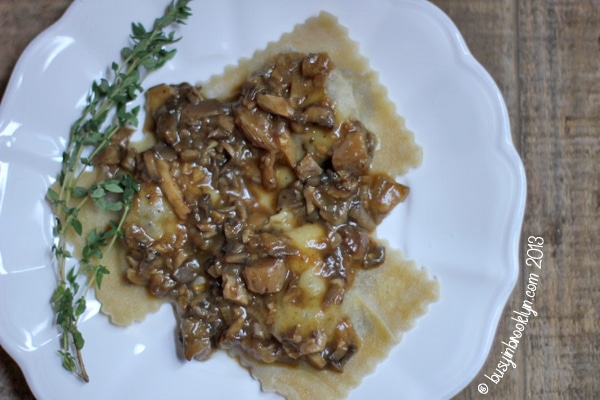 Barley Ravioli with Short Ribs and Wild Mushroom Sauce
2 lbs. boneless flanken (short ribs)
1 tsp olive oil
s&p, to taste
1 leek, chopped
2 cloves garlic, minced
1 carrot, peeled and diced
2 celery stalks, diced
1 cup dry red wine (I used merlot)
6 sprigs thyme, divided
4 cups beef or chicken broth
2 large shallots, peeled and sliced
3 cloves garlic, minced
6 cups chopped assorted mushrooms (I used oyster, shitake and baby bella)
1 tbsp flour
Heat a dutch oven and drizzle with olive oil. Season flanken with salt & pepper and sear on both sides. Remove from the pot. Add leek, garlic, carrot and celery and saute (add more oil if needed) for several minutes. Deglaze the pan with wine. Return the meat to the pot and add 4 sprigs of thyme, broth, salt and pepper. Bring the mixture to a boil and place in the oven for 3 hours at 300 degrees.
When the flanken is ready, remove the meat from the pot and break it apart into shreds. Place a fine mesh sieve over a small pot or bowl and strain the cooking liquid through the sieve. Once the vegetables have been separated from the cooking liquid, remove the sprigs of thyme from the vegetables and mix the vegetables with the shredded flanken. If the mixture is dry, add up to 1/4 cup of the cooking liquid.
Take the remaining cooking liquid that you strained through the sieve and place it in the freezer (for about 20 minutes) so that the fat has a chance to congeal. Remove the fat and set the sauce aside.
In a saute pan, saute the shallots and garlic until fragrant. Add mushrooms and cook over high heat so that the liquid evaporates and the mushrooms caramelize. Add the flour and saute until golden. Add the reserved cooking liquid, 2 sprigs of thyme, salt and pepper and cook until thickened. If the mixture is too thick, thin it out with a bit of beef broth. If it is too thin, continue to cook until reduced and thickened.
Barley Ravioli
recipe from Lidia Bastianich
1⅓ cups all-purpose flour
⅔ cup barley flour
2 large eggs
¼ cup extra-virgin olive oil
3 tablespoons water
In a bowl, combine the eggs, oil and water and whisk to combine. Put both flours in a food processor fitted with a steel blade, and blend for a few seconds to aerate. While the food processor is running, pour the egg mixture through the feed tube. Process for about 30 seconds, until a dough forms and gathers on the blade. If the dough does not gather on the blade or process easily, it is too wet or dry. Feel the dough, then work in more flour or ice water, in small amounts, using the processor or kneading by hand. Turn the dough out on a lightly floured surface, and knead by hand for a minute, until it's smooth, soft, and stretch.
Wrap the dough in plastic wrap and let stand for at least 30 minutes or overnight.
Divide the pasta dough into four parts and cover so that it doesn't dry out. Working one at a time, roll the dough through a pasta machine into about 1/16″ thickness. Place rounded teaspoonfuls of flanken filling 1″ apart over half the sheet of pasta. Brush around the filling with water to moisten and fold the sheet over, pressing down to seal. Cut into squares with a ravioli press, pastry wheel or knife. Repeat with remaining dough and filling.
Bring a pot of salted water to a boil. Add ravioli and cook for about 2 minutes, until ravioli float to the top and are tender. Remove with a spider or slotted spoon and serve immediately with mushroom sauce.
NOTE: Since only a teaspoonful of filling is used in the ravioli, I had quite a bit of leftover shredded meat. It is so flavorful and delicious, I'm sure you won't complain, but if you'd like, you can reduce the amount of flanken to 1 lb. so you don't have much leftovers.
VARIATION: While I love the idea of making barley pasta dough with this recipe, you may use wonton wrappers, if you do not wish to make pasta dough from scratch.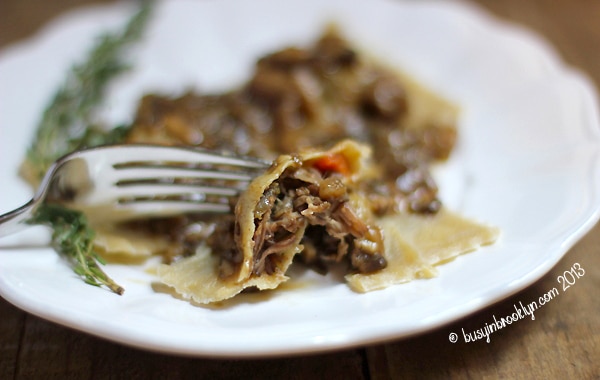 Now that you've "sampled" my barley ravioli with wild mushroom sauce, it's time for some dessert! Head on over to kitchen-tested for a step-by-step guide to making Melinda's fried smore's chocolate ravioli!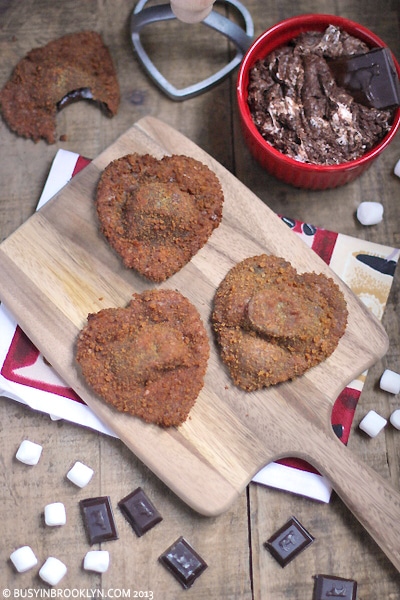 Here are some outtakes from our lunch together! I hope you had fun reading about our ravioli adventure!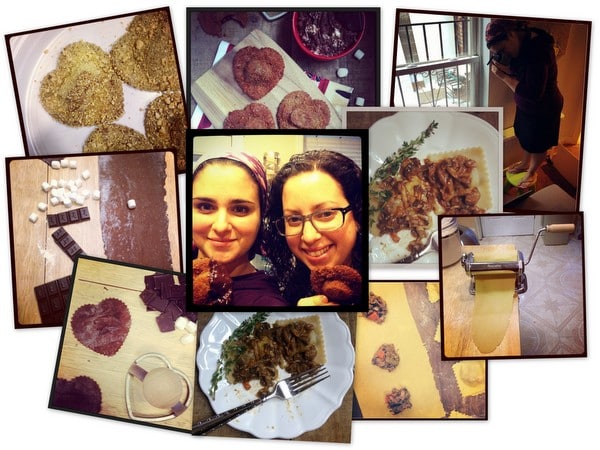 Related recipes:
crockpot mushroom barley stoup
blended wild mushroom barley soup