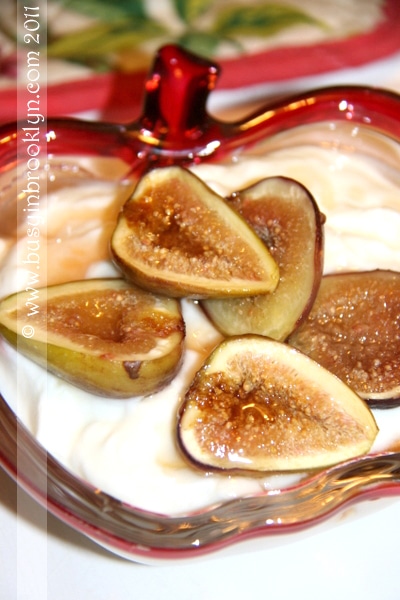 Fig season is in full swing, but you don't have to save them for the shehechiyanu tray on your Rosh Hashana table. While dried figs are available year-round, there is nothing like the taste and texture of fresh figs – sweet, chewy, with crunchy seeds in the center. Figs are rich in fiber and potassium and range in color and taste. Popular varieties include black mission and calimyrna. My local produce market had brown turkey figs, a mildly sweet variety, on hand and I knew just how I wanted to make them!
Roasting fruit concentrates its flavors for a richer, sweeter taste. A drizzle of honey and a pinch of sea salt, takes it over the top for a mouthful of sweet summer goodness in each bite.
Figs pair really well with tangy fresh cheese or yogurt. You can stuff them with goat cheese, spoon them over yogurt or farmers cheese, or top off an ice cream scoop with their chewy goodness.
Honey Roasted Figs
Fresh figs
Honey
Sea salt
Method:
Preheat oven to 400 degrees. Gently wash figs and pat dry. Remove stem and cut in half lengthwise. Place in a pan, flesh side up, and drizzle generously with honey. Sprinkle lightly with sea salt and roast for 15-20 minutes, until edges start to brown.