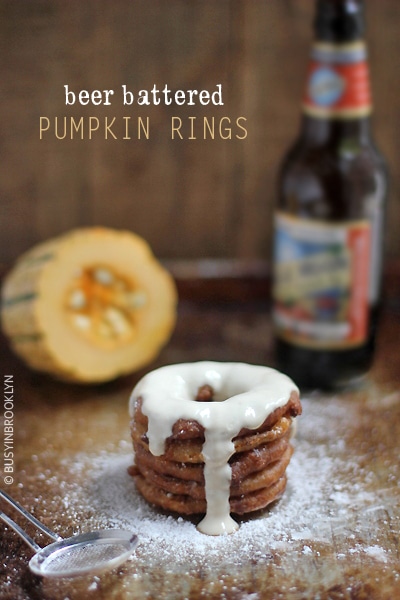 I seem to create trends for myself when it comes to the holidays. Of course every Chanukah there's a latke, and every Purim, a hamantasch. But it's more than that. Every Succot, I post a different type of mechshie (a Syrian stuffed vegetable dish), every Purim, I do something else with salami. And it seems, every Chanukah, I post something with gourds (different varieties of pumpkin).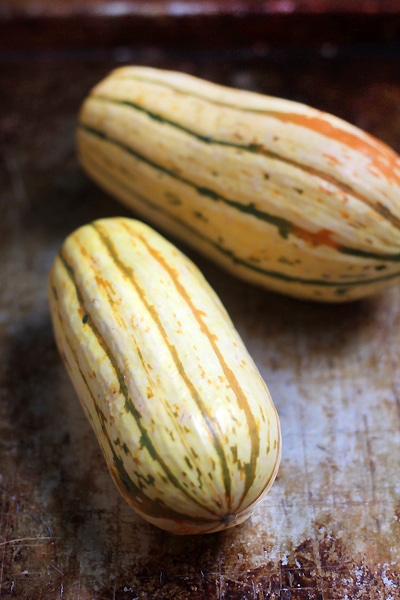 It wasn't really on purpose, and I didn't even realize it until I made these! First there was my amazing zucchini parmesan chips, then my Thanksgivukkah pumpkin ricotta cheese latkes with cranberry syrup (you MUST make these for Chanukah morning, they're insanely good!), and finally my gluten free butternut squash latkes with ginger applesauce and curried sour cream.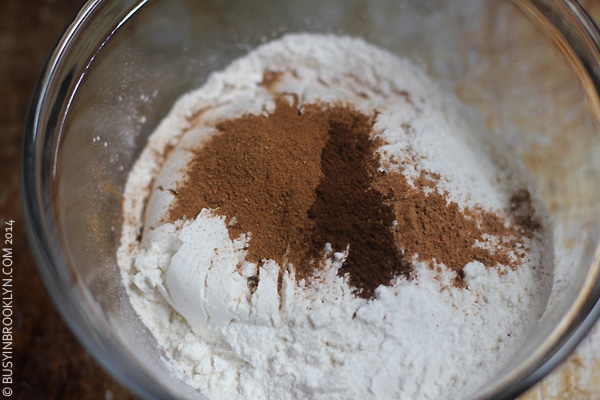 This year, I'm continuing the trend using delicata squash – a small mild-flavored squash with an edible peel (you gotta love the no-peeling!). To make the most of my fried pumpkin idea, I decided to coat the squash in pumpkin beer batter. If you've never tried a pumpkin ale, it's got a hint of pumpkin flavor from vine ripened pumpkin and harvest spices. It's definitely up there with one of my favorite drinks, as well as one of my favorite batter ingredients!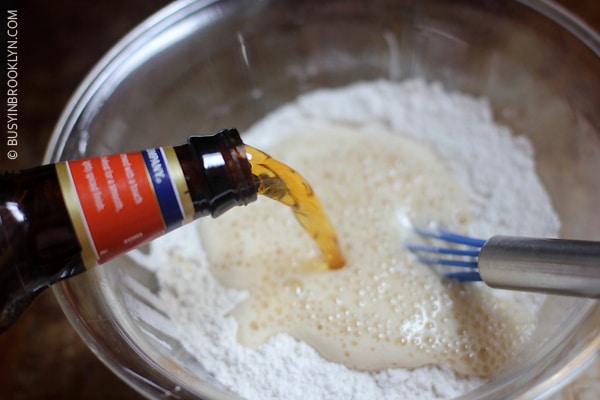 What beer does for tempura batter is truly amazing. You can google it, of course, but  basically the foam, alcohol and carbon dioxide in the beer cause a chemical reaction when it hits the hot oil. It results in an incredibly crisp and light batter. And who doesn't love a light and crispy coating?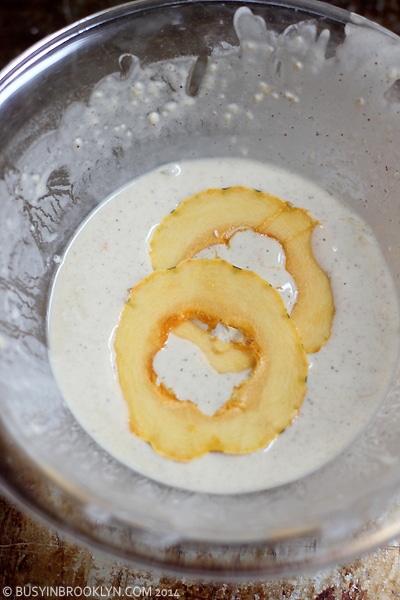 It's Chanukah after all, so exploring the best type of batter for deep frying is exactly the sort of research we should be doing! Fried latkes and donuts are all good, but there's nothing like a deep fried oreo, some tempura-fried veggies or sweet and delicious apple fritter rings.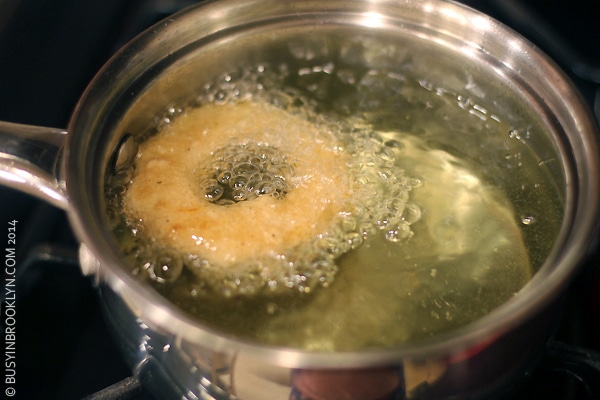 Traditionally, beer batter is used more in savory dishes, but I love to shake things up, so I added a little sugar and some more pumpkin spices, to really bring out the pumpkin flavor. What you get is an ultra-crunchy light coating that pair perfectly with what's inside….delicata squash.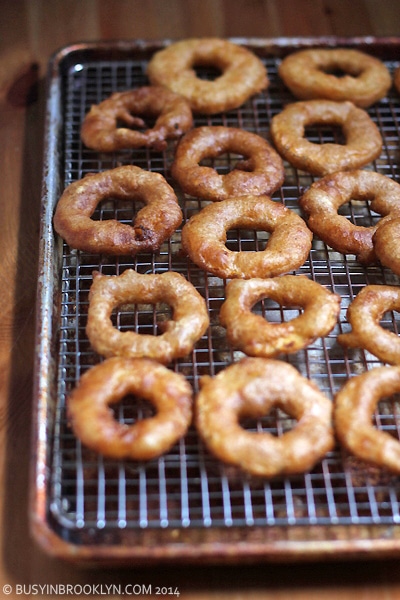 The only thing better than the pumpkin beer batter is what I put on top! Some cinnamon-scented powdered sugar! And to really take it to the next level, I created a maple GREEK yogurt dipping sauce – as an ode to the Chanukah miracle!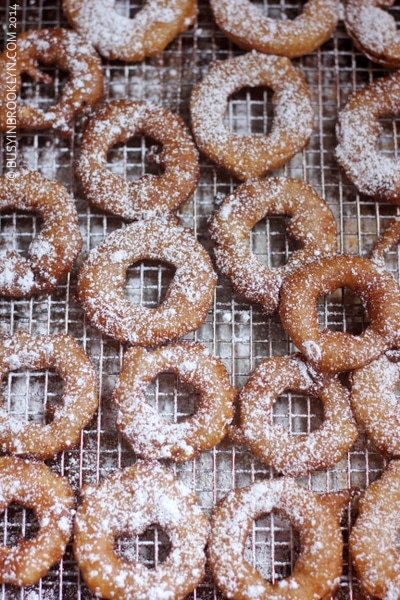 Now when you look at these beer battered pumpkin rings – what do you see? Come on, you all know you're thinking of it…DONUTS! I love that these look just like the traditional fried Chanukah dessert, yet they're something else entirely! How fun is that?!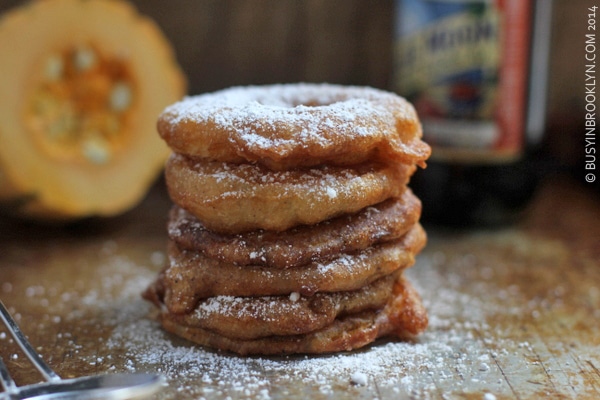 And when you top 'em off with the thick Greek yogurt sauce, it looks just like frosting. And believe me when I tell you – this sauce is probably the best frosting you'll ever taste! It's even good for you – so how's that for deguiltifying the whole beer-battered deep fried rings thing. They've even got squash inside, so you're technically just eating veggies with greek yogurt, right? ;)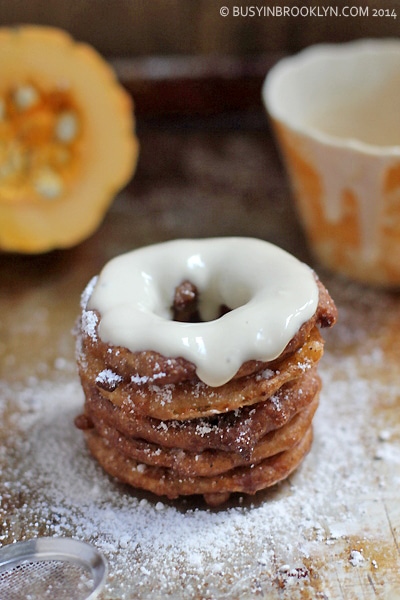 To get the recipe for my Beer Battered Pumpkin Rings with Greek Yogurt Dipping Sauce, head on over to my guest post on THE NOSHER!


Other Fried Chanukah Recipes:
zucchini parmesan chips
confetti latkes with harissa sour cream
gluten free butternut squash latkes
corned beef arancini
french fried chicken nuggets
spinach falafel burgers