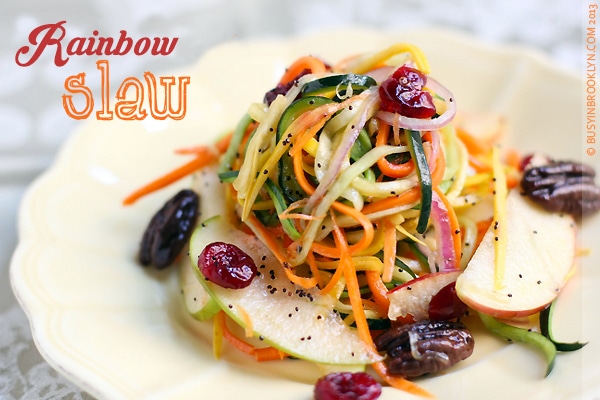 I wish I could take credit for this awesome salad combo, but the truth is, I ate a variation of it at Glatt Ala Carte restaurant in Brooklyn last year. The very following Shabbat, I recreated it at home, and I've been making it ever since. There's just something about the colorful julienned vegetables paired with sweet and tart apples, chewy craisins and crunchy honey glazed pecans that just screams spring. It's light, refreshing, not overly sweet, and incredibly satisfying.

One of the things that I love most about this recipe is the julienned vegetables. There's just something about the texture that makes it more palatable. And I get to use my favorite tool of all time – the julienne peeler. It makes preparing homemade slaw so quick and easy, you'll never have to pull out your hand grater again! My favorite julienne peeler is made by OXO. If you don't have one, you can buy it here.
I used to wonder if my whole julienne obsession was just me, so I did a little experiment. I made my waldorf salad 2 weeks in a row, using the exact same ingredients. One week, I diced the apples into cubes, the way it's classically done. The next week, I julienned them into thin strips for a more refined presentation. The results were crystal clear. The julienned salad got rave reviews and was finished down to the last drop. The chunkier cubed salad was eaten, but with not much ado, and I had leftovers.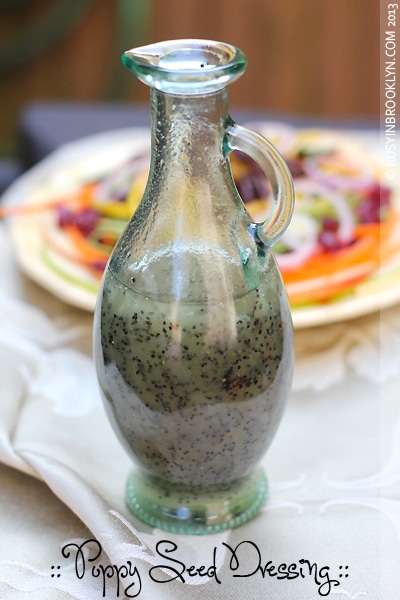 Rounding out the salad is this delicious poppy seed dressing. The honey helps to thicken it so that it emulsifies into a creamy dressing. Make sure to whisk vigorously (or shake in a container) right before serving, to keep the emulsion from breaking.
Sweet & Crunchy Slaw
1 carrot, peeled and julienned
1 zucchini, julienned (do not peel)
1 yellow squash, julienned (do not peel)
1/2 red onion, sliced thinly into 1/2 rings
1/2 granny smith apple, cored, quartered and sliced thinly
1/2 fuji or honeycrisp apple, cored, quartered, and sliced thinly
1/4 cup craisins
1/4 cup honey glazed pecans
Poppy Seed Dressing
1/2 cup extra light olive oil
1/4 cup white wine vinegar
3 tbsp honey
1 tbsp poppy seeds
salt and pepper, to taste
Method:
In a bowl, combine the dressing ingredients and whisk vigorously until emulsified. In a separate bowl, combine the carrots, zucchini, squash, and onion. Pour the dressing over the vegetables and toss to coat. Gently fold in the apples, and garnish with craisins and pecans.
NOTE: To get an easy and consistent julienne, I prefer to use a julienne peeler, as pictured above. It works just like a standard peeler, except it cuts what you're peeling into thin strips. To julienne with the peeler, just peel around the vegetable a few times, until you start to reach the center. Discard or save the remainder for vegetable soup. If you do not have a julienne peeler, you may julienne your veggies by hand. Simply cut off the top and bottom of the vegetable. Then, square off the sides so that you have a 4-sided rectangle. Slice thinly into vertical slices. Stack the slices on top of each other and cut into strips.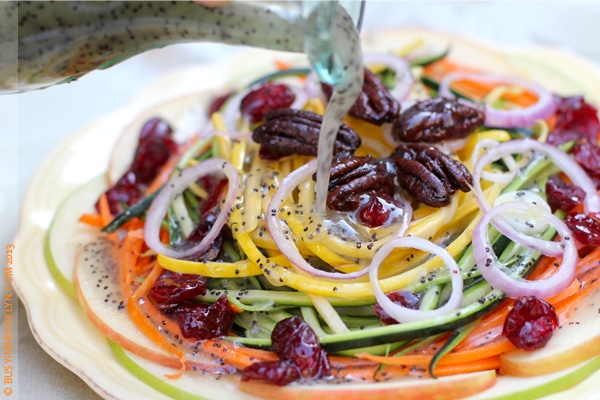 1 year ago: pineapple chicken & BBQ jalepeno pizza
2 years ago: 1-2-3 decadent molten chocolate chip cakes