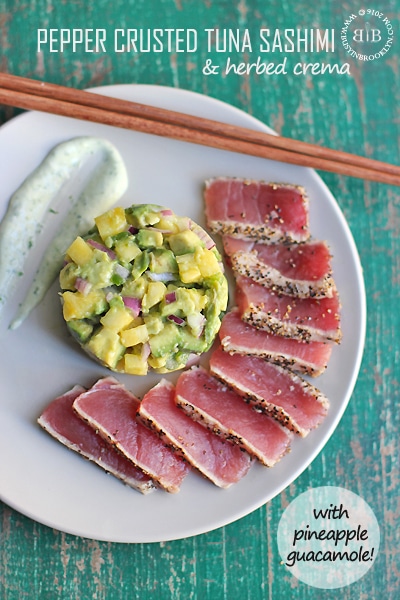 I used to hate raw fish. It make me all squeamish. Raw meat too. I mean why would you want to eat raw food, possibly swimming with parasites, if you could eat it cooked, am I right? I was fine with a runny egg or two. Or three. But not the real proteins. Put a fancy plate of beef tartare with a raw egg in the center in front of me and I was out the door.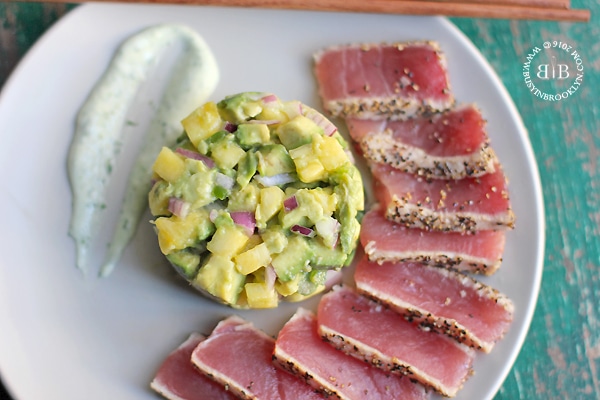 But then sometime about a year or two ago, I decided I was done being afraid of food and I wanted to try everything. I'm still not a fan of beef tartare but I've come to love raw sushi. It's so much fun to be able to order off the entire sushi menu now, and not just the cooked rolls! You'll be surprised just how easy it is to prepare pepper-crusted tuna sashimi at home. Just make sure you get the freshest, best quality tuna out there for this dish.
Pepper Crusted Tuna 
2 sushi-grade fresh tuna steaks
coarsely ground black pepper
kosher salt
1 tsp olive oil
1/2 tsp sesame oil
Coat the tuna steaks evenly on all sides with a generous amount of freshly-ground black pepper and a pinch of kosher salt. In a frying pan, heat the olive and sesame oil over high heat. Sear the tuna steak for a few seconds on each side, just enough to form a crust, but not to cook the fish through.
For a medium-rare steak, cook for 1 minute per side.
NOTE: to make even rectangular or square slices, first cut your tuna steak into strips and sear each one individually. Slice thinly against the grain.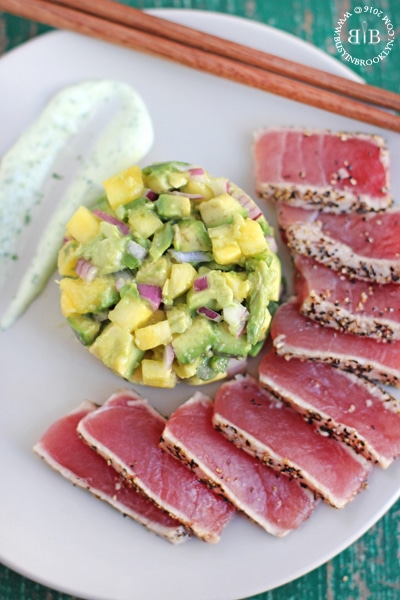 Pineapple Guacamole
2 avocados
1 clove garlic, minced
1 small or ½ large jalapeno, seeds and veins removed, minced
½ small red onion, diced small
⅓ cup finely diced fresh pineapple
juice of 1 lime
1 tbsp olive oil
kosher salt, to taste
cilantro, optional
Peel and dice 1 avocado. Add to a bowl and mash. Peel and dice the second avocado and add it to the bowl without mashing. Add remaining ingredients and gently mix to combine. Adjust seasoning, as necessary.
Herbed Crema

1 cup sour cream
handful of fresh parsley or cilantro, or a mix
1 clove garlic
1 tsp fresh squeezed lime juice
kosher salt, to taste
Add all ingredients to a food processor and blend until smooth.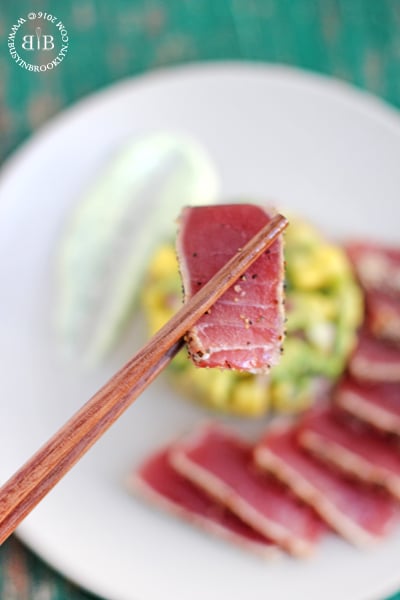 Related Recipes:
pan seared tuna steak
persimmon guacamole
jalapeno crema