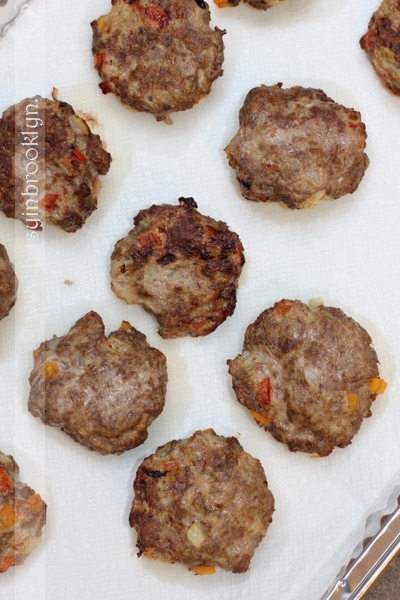 Unless you're the type of person who has all their Pesach food cooked in advance, most people are pretty sick of cooking by the time Chol Hamoed comes around. Quick and easy dinners are a must!  This simple recipe is a nice change from the standard chicken & potato fare, and works for lunch or dinner. The burgers can be broiled, grilled or pan-fried, and seasoned according to your Pesach pantry. If you use ketchup or spices, feel free to add some. In my case, I need to peel the peppers, but the sweetness it adds to the burgers makes the effort worthwhile.
Sweet Pepper Burgers
2 lbs ground beef
1 cup mixed colored peppers, diced
1 small onion, diced (about 1/2 cup)
2 eggs
salt and pepper, to taste
Method:
Add all ingredients to a bowl and mix gently to combine. Scoop out palm-sized portions of meat and shape into patties. Place on a baking sheet lined with foil and broil on high for approximately 7 minutes on the first side and 5 minutes on the opposite side. Drain on paper towels. Alternatively, you may cook the burgers on the grill.
TIP: Always mix the beef gently and pack the burgers lightly as squeezing the meat results in tough, rubbery burgers.
NOTE: I like to switch to a clean cookie sheet when I turn the burgers over so that they don't cook in the fat that was released from the first round of broiling.
1 year ago: mock chopped liver