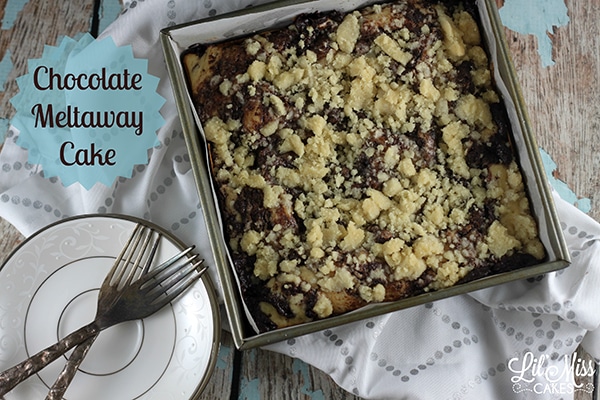 You know those insane 3-tier cakes that you see at fancy birthday parties or weddings (like these)? Well Melissa of Lil' Miss Cakes is one of the bakers that makes those beautiful creations and I'm super stoked to have her guest post on my blog today! This whole guest blogging thing is so exciting for me because I get to introduce you to some of my all time favorite blogger friends and Melissa is one of them. I love how she posts accessible recipes for us non-professionals (like these stained glass cookies or these pumpkin chai hamantaschen). She's really bringing it today with her twist on a yeasted babka or kokosh cake. I love me some babka, but the only time I ever make it is when I have leftover challah dough (and I don't bake challah very often). Enter Melissa's babka hack and you can be making a no-yeast chocolate meltaway anytime. I can't wait to try it!
Welcome Melissa!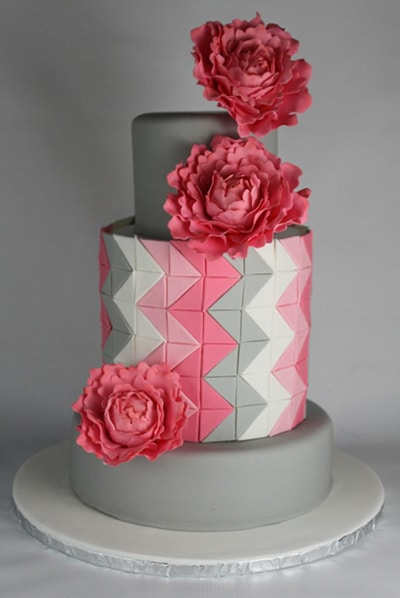 one of Melissa's beautiful cakes
Hey hey! I'm Melissa of Lil' Miss Cakes. Over on my site I kind of do it all. I share my creative cakes, share delicious and dairy-free dessert recipes, and I also design and sell custom cookie cutters. I love Chanie and her blog, she is super talented. Her food photography is stunning and her recipes are spot on, I can always find the perfect family friendly recipe to whip up for dinner. I'm so happy that the blogging world has brought us together and I'm so excited to share a recipe here with you! Thank you so much, Chanie for allowing me to guest post and congrats on your daughter, she is gorgeous! Sit back, relax, and enjoy her!
Since we all don't always have lots of time to bake, I like to come up with impressive desserts that don't take all day in the kitchen. I had been craving a chocolate babka/kokosh cake for a long time, but making a yeast dough is too time consuming, and doesn't always turn out well. I needed a cake that I can mix up and bake quickly, as soon as the mood strikes. It had to be fudgy and super chocolatey, with easy to find ingredients. This cake does it all! It looks really impressive, but whips up in no time. There are a few dishes to wash, but you won't be waiting for dough to rise all day long. There is no rolling out dough, twisting, shaping, second rising. None of that. Just mix, add to the pan, and bake. The cake is moist and tender, the chocolate is oozes everywhere, and the crumbs give the perfect amount of crunch. The best part of it all, this recipe is pareve, but I bet you won't be able to tell!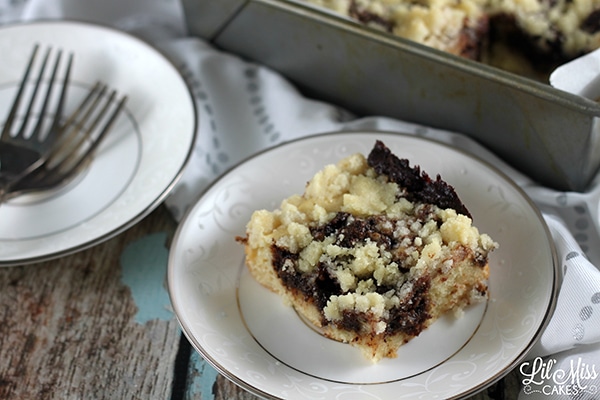 Chocolate Meltaway Cake
Cake:
1 1/2 cups flour
1/2 cup sugar
1 1/2 tsp. baking powder
1/4 tsp. salt
2 eggs
1/2 cup dairy free sour cream or unsweetened applesauce
1/4 cup soy milk
1/4 cup oil
1 tsp. vanilla extract
Chocolate Topping:
3/4 cup sugar
1/3 cup cocoa powder
1 tsp. vanilla extract
1/4 cup margarine, melted or oil
Crumb Topping:
1/3 cup flour
1/4 cup sugar
1 tsp. vanilla sugar
2 Tbs. oil
Preheat oven to 350 degrees F. Line an 8×8 inch square or round cake pan with parchment paper.
In the bowl of an electric stand mixer fitted with the paddle attachment, add the flour, sugar, baking powder, and salt. Mix on low to combine. Then add the eggs, sour cream, soy milk, oil, and vanilla. Mix to combine. Spread the batter evenly in the prepared pan.
Mix up the chocolate topping. In a small bowl, stir together the sugar, cocoa powder, vanilla, and margarine. Dollop the chocolate all over the cake batter and then using a knife or a spatula, to swirl/spread the chocolate and cake together.
Mix up the crumb topping. In a small bowl mix the flour, sugar, vanilla sugar, and oil. Stir until large crumbs form. Sprinkle the crumbs all over the top of the cake. Bake for 30-40 minutes until the cake is set and the edges are slightly brown.
Related Recipes: