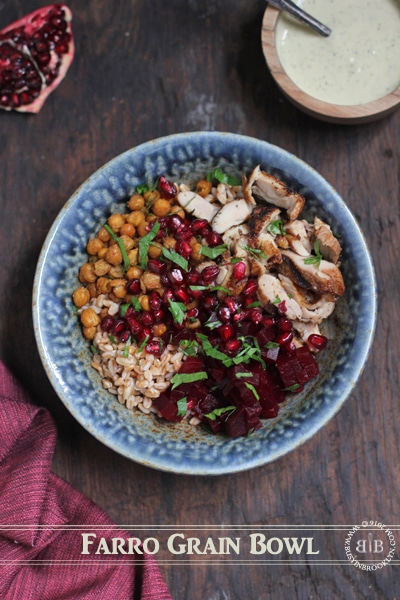 Life with five kids has thrown me for a loop. They always say #3 is hard, maybe #4 too. But #5? I'm ex.hau.sted. Baby girl is still 3 months old, so I know we're still in that needy (ie. nursing every 3 hours) stage, but man, it's tough! I still won't give up blogging though, because after five years of creating and sharing, it's become so much a part of me. You guys, are part of the family.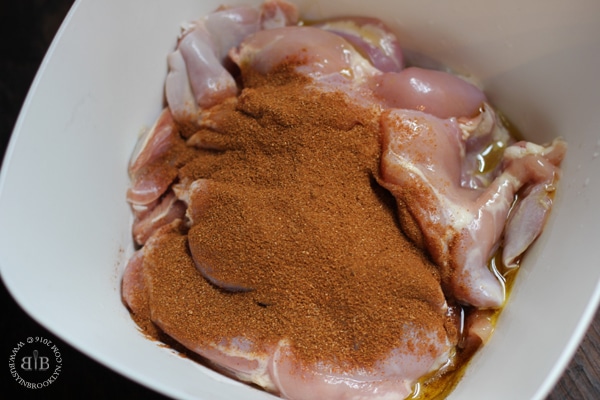 Thank G-d for some stored posts that never made it to blog like this farro grain bowl. I don't know why it's been sitting in my archived photos for so long because dang is it beautiful. And oh so tasty! I'm all about grain bowls right now. Ok I'm all about any food really (breastfeeding!!), but there's something about being able to throw in a little of this and a little of that to create something so satisfying.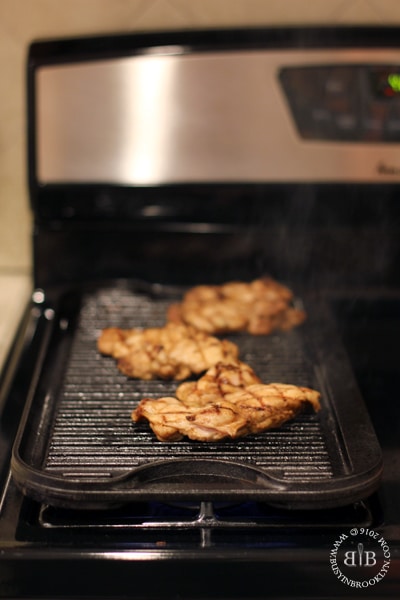 I'm a huge fan of grain bowls because there are endless options, and it's basically just an excuse to throw a bunch of leftovers into a big dish and call it fancy! I've started to make them for lunch a lot, using whatever leftovers I have in the fridge. I can usually find some quinoa (I like to cook it up in the beginning of the week so I can add it to salads, yogurt and mains) or leftover rice and I pretty much always have some cooked chicken on hand. There's also plenty of veggies to choose from, plus some hard boiled eggs, cheese, and roasted beets. So basically I've got my grain bowls made, I have to just make 'em!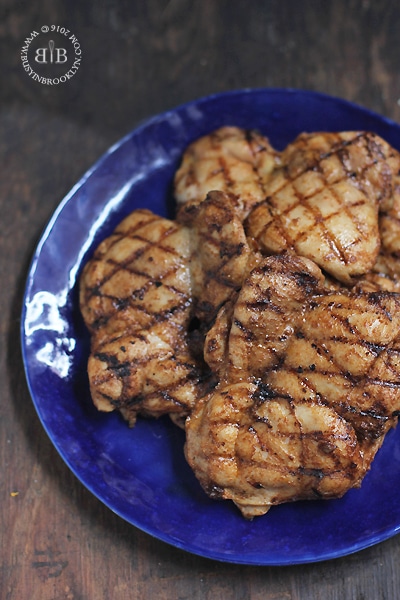 So, how do you build a grain bowl? Well, you can try and stick to a specific cuisine (like this Middle Eastern inspired bowl) or you can keep things simple. Just follow this basic outline:
How to Build a Grain Bowl:
Grains (rice, farro, quinoa, couscous, barley, wheat berries, millet)
Raw or Cooked Veggies (carrots, mushrooms, cucumbers, beets, peppers, zucchini)
Raw or Sauteed Greens (spinach, arugula, kale, radicchio, cabbage)
Protein (tofu, edamame, chickpeas, surimi, chicken, poached egg, cheese)
Dressing (pesto, miso, tahini, salsa, peanut sauce, soy sauce)
Garnish (seaweed, avocado, nuts, pickled veggies, scallions, fresh herbs)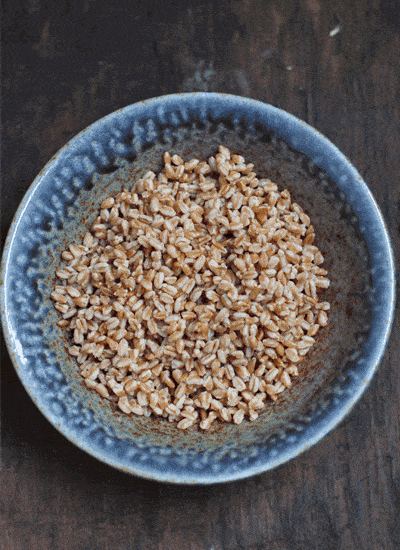 I probably would have added some sauteed beet greens to this bowl, if I had had them, but the flavors were amazing and went together really well. The chewy farro, sweet beets, smoky chicken, crispy chickpeas and crunchy pomegranate seeds really complemented each other – both in texture and flavor. Of course the tahini didn't hurt either, and the pomegranate molasses just put it over the top.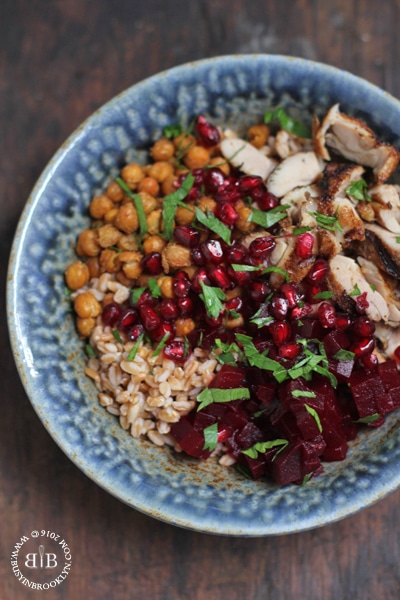 Thinking about making your own grain bowl? Here are some other fun combinations!
// cauliflower rice + fajita spiced peppers + black beans + avocado + salsa dressing + fresh lime
// quinoa + roasted squash + sauteed kale + feta + pumpkin seeds + almond butter dressing
// couscous + roasted eggplant + tomato + red cabbage + hard boiled egg + harissa dressing
// sushi rice + carrots + cucumber + sushi grade tuna + edamame + fried egg + sriracha + soy sauce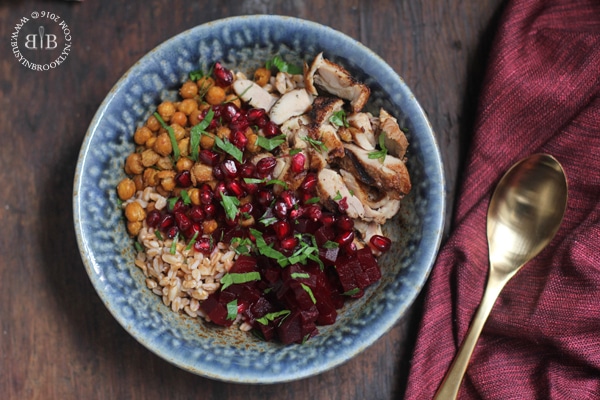 Have you ever made a grain bowl, or seen one you like? Share the combo with me in the comments below! I love to get inspired with new combinations!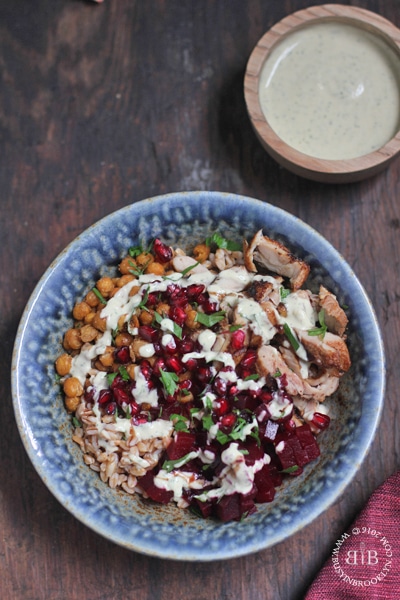 Farro Grain Bowls
1 cup farro
spice-grilled chicken (recipe follows)
2 medium purple beets
1 cup pomegranate seeds
1 can chickpeas, rinsed and drained
1 1/2 tsp cumin
1 tbsp olive oil
kosher salt, to taste
fresh parsley, for garnish
tahini (recipe follows)
pomegranate molasses
Method:
To make the farro, rinse well and place in a saucepan with enough water to cover the grains. Bring to a boil, reduce to a simmer and cook for 30 minutes. Drain.
While the farro is cooking, wrap each beet individually in foil (do not peel) and roast at 400 degrees until fork-tender, about 45 minutes. Remove from the oven and allow the beets to cool (do not remove the foil). Once cooled, unwrap the beets and use your hands to remove the peel, it will slide off. Cut the beets into small pieces.
While the beets are cooking, toss the chickpeas with cumin, olive oil and salt and roast it in the oven alongside the beets, shaking the pan every 15 minutes or so. Roast until crispy, about 45 minutes.
To serve, divide the farro between four bowls. Slice grilled chicken and add to each bowl. Add beets, pomegranate seeds and chickpeas among the bowls and drizzle each bowl with tahini and pomegranate molasses. Garnish with fresh chopped parsley.
Spice Grilled Chicken
4 dark meat chicken cutlets (pargiot)
1 tbsp olive oil
1 tbsp Jerusalem grill or shawarma spice (store-bought or make your own)
kosher salt, to taste (if spice mix does not have salt added)
Place the chicken in a Ziploc bag with olive oil and spices and mix until well-coated. Marinate for 30 minutes (or overnight). Grill for about 6-8 minutes per side, until cooked through. Alternatively, broil the chicken under high heat for 6-8 minutes per side, depending on thickness.
Tahini
1/2 cup tahini paste (stir thoroughly before using, as oil and solids tend to separate)
1/2 cup water
1-2 tbsp fresh parsley, chopped
1 clove garlic, minced
juice of 1/2 lemon
1/8 tsp cumin
kosher salt, to taste
In a bowl, mix the tahini, water, parsley, garlic, lemon juice, cumin and salt. Whisk until emulsified.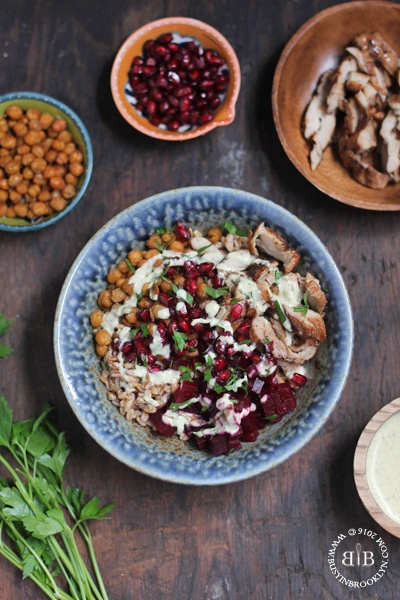 Related Recipes:
chicken shawarma
grilled chicken shawarma salad
za'atar roasted chickpeas