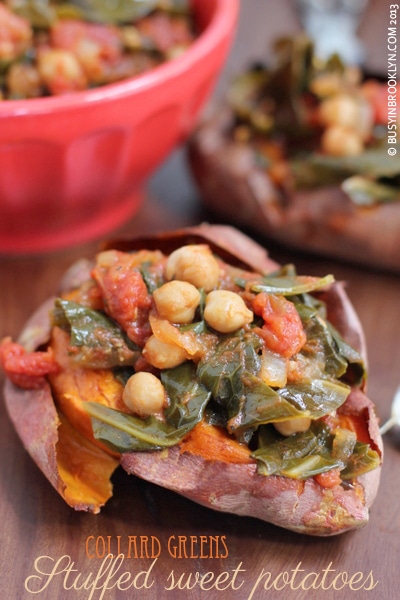 When I used to think of greens, I would imagine spinach, kale, and maybe some swiss chard, but collard greens were never really on my radar. I had never cooked with them, and all I knew about the large leafy vegetable was that Southern cooks like Paula Deen and The Neely's like to eat them.
After recently graduating from the professional culinary training program at the CKCA, I made a promise to myself to be more open and willing to try new things and cook with ingredients I've never used before. So when I saw some bright green bunches of fresh collard greens at ShopRite the other week, I couldn't help but take up the challenge.
I had absolutely nothing in mind – all I knew was this: Southern cooks like to stew the greens with smoky ham hocks or bacon. I wanted to keep the dish light, healthy and vegan, so I decided to do a play on the smoky factor and add some cumin and smoked paprika. Chickpeas and diced tomatoes help round out the dish, and stuffing it into roasted sweet potatoes just takes it over the top!
Since collard greens are a sturdy, tougher leaf, they benefit from cooking for long periods of time. You can prepare this dish in your crockpot for a set-it-and-forget-it weeknight meal, or serve it up as hamin, instead of a heavy cholent, on Shabbat.
I'm really proud of my first attempt at cooking with collard greens. I hope you enjoy this recipe as much as I did.
Side note: I apologize for the lack of step-by-step photos. This recipe just sort of happened as I went along and I wasn't planning on blogging about it. It was just so good that I knew I had to share!
Roasted Sweet Potatoes with Braised Collard Greens
1 bunch collard greens, washed well to remove dirt
1 onion, thinly sliced in half rings
2 cloves garlic, minced
1-2 tbsp olive oil
2 tsp cumin
1 tbsp smoked paprika
1 28 0z. can diced tomatoes
1 can chickpeas, rinsed and drained
1-2 cups vegetable stock
salt and pepper, to taste
8 organic sweet potatoes
Method:
Remove the stems from the collard greens and roughly chop. Set aside. Heat oil in a skillet and saute onions until translucent. Add garlic and continue to saute until fragrant. Add cumin and paprika and saute until onions are well-coated and fragrant. Add collard greens and stir to incorporate with the onions. Add tomatoes, chickpeas and 1 cup vegetable stock. Season with salt and pepper. Bring the mixture to a boil, reduce the heat and simmer for 2-3 hours, adding additional stock, if needed.
For the sweet potatoes, preheat the oven to 400 degrees. Scrub potatoes and pat dry. Place on a baking sheet and roast until soft and syrupy, about 1 hour.
Cut a slit through the center of the sweet potatoes and stuff with braised collard greens. Serve hot.