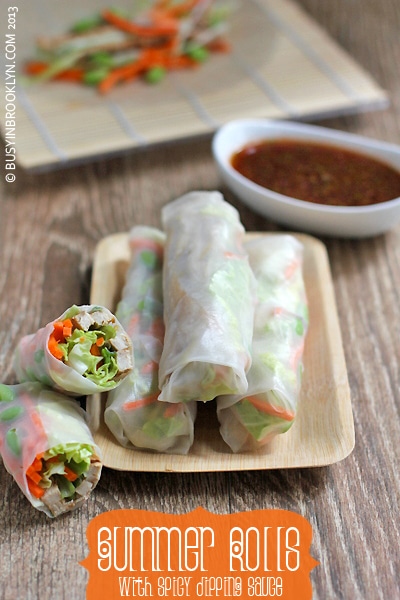 I couldn't imagine  going through summer without posting the ultimate light and healthy dish – summer rolls. To be honest, I have no idea why they are called "summer" rolls. I think it's because they are lighter than their wonton cousins, but I could be wrong.
Unlike classic eggrolls, which are usually fried and heavy, summer rolls are made with rice paper rounds and don't require any cooking. If you've never worked with rice paper before. don't be intimidated, it's really super easy.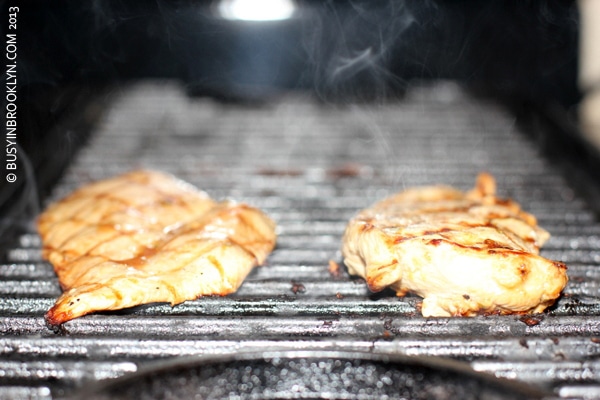 The great thing about summer rolls is that they can be filled with anything – fruit, veggies, or your protein of choice. Fish and tofu work wonderfully in these rice paper roll-ups, but grilled chicken and veggies are my faves. I once watched Giada de Laurentiis make a fruity version on the Food Network. She filled the rounds with pad Thai noodles, strawberries, mango and almonds and prepared a honey-mint dipping sauce to go on the side. She served them after a yoga lesson as the perfect post-workout treat.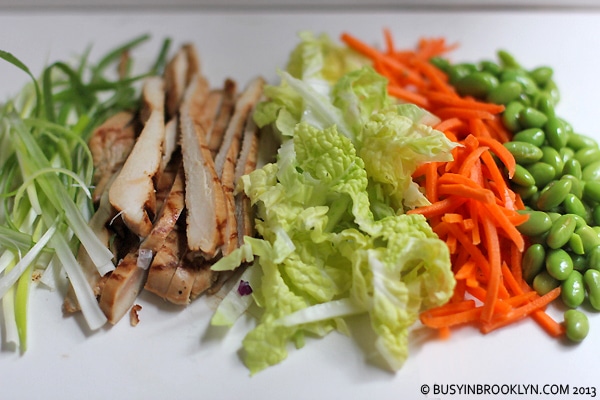 For me, making a dish like this doesn't really require a recipe. I look into my fridge and put together whatever scraps I can find. In this case, I had leftover marinated chicken breasts, so I threw them on my grill pan for a quick sear. I found some nappa cabbage, shredded carrots, scallions and edamame, and put them all together for a fabulous combo. Feel free to do the same (grab whatever you can find in your fridge) or follow my recipe below.
Oh, and the dipping sauce? Let me just say this — it's awesome.
Rice Paper Rolls
6 rice paper wrappers
2 pieces grilled chicken, sliced
1/4 head nappa cabbage, thinly sliced
1 carrot, shredded
1 cup edamame
2 scallions, ends trimmed, thinly sliced lengthwise
Method:
Prepare all your fillings on a tray, so they are ready to go once your rice paper has softened. Fill a shallow bowl with warm water and slide the rice paper wrappers inside for 10-15 seconds, until soft and pliable. Remove gently from the water and place on a cutting board. Place filling in the center of the wrapper, and roll the bottom portion of the rice paper around the filling. Fold the sides over, and continue rolling to form rolls. Cut summer rolls in half and serve with dipping sauce
Dipping Sauce
2 tbsp rice vinegar
1 tbsp honey
Zest of 1/2 lime
Juice of 1 lime
1 clove garlic, finely minced
1 tbsp soy sauce
1 tsp sriracha
salt, to taste
Method:
Add all ingredients to a bowl and whisk to combine. Serve with summer rolls.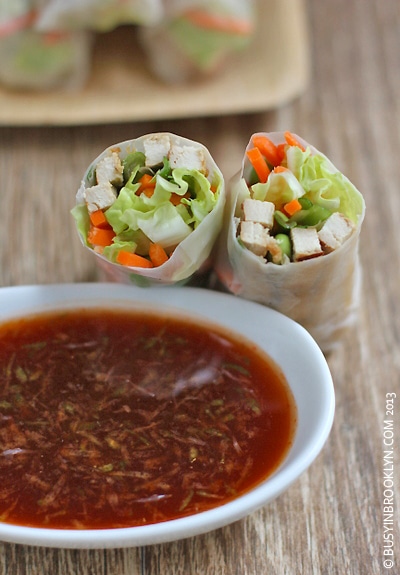 1 year ago: roasted beet salsa
2 years ago: gefilte fish patties in tomato sauce