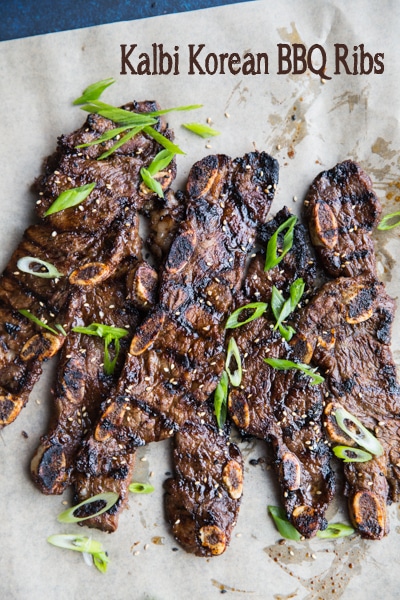 Before we get started on this summer-must-have recipe, I have a small favor to ask of y'all! Saveur is hosting their yearly blog awards and it would mean so much to me if you would nominate me for "best food culture blog". It's super easy to do and takes less than 2 minutes – you can nominate busyinbrooklyn as many times as you'd like until tomorrow evening. Thank you so much for your continued love and support!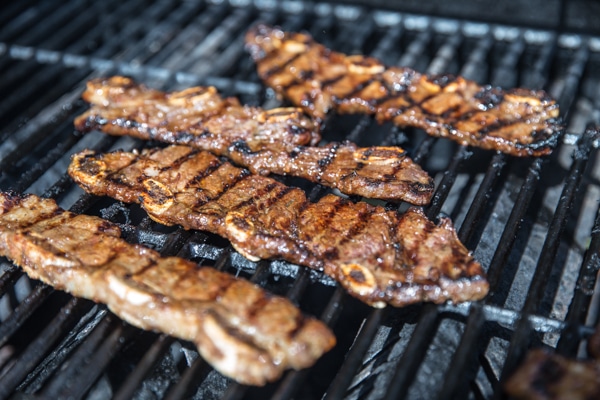 I don't grill – meat – enough. Maybe it's because my husband is vegetarian. Or because kosher cuts are so darn expensive, and my kids don't really care either way. I'm the only one who's really going to appreciate it, so I can't justify the splurge that often. Of course burgers, hot dogs, pargiot and veggies make a regular appearance on the grill, but steak – not so much.
I'm far from a vegetarian but I'm also not that enthusiastic about animal protein. It feels so heavy and hard to digest, so we're down to having it just once a week (OK twice if you count those days when I just want to crash and feed my kids hot dogs – the no nitrate, reduced fat, better for you version because even though I'm tired, I'm not about to feed my kids complete and total junk!). Don't tell my husband but I have to admit that I feel better when I don't eat that much meat, but it's summer, and the grill is calling for some sizzling steak!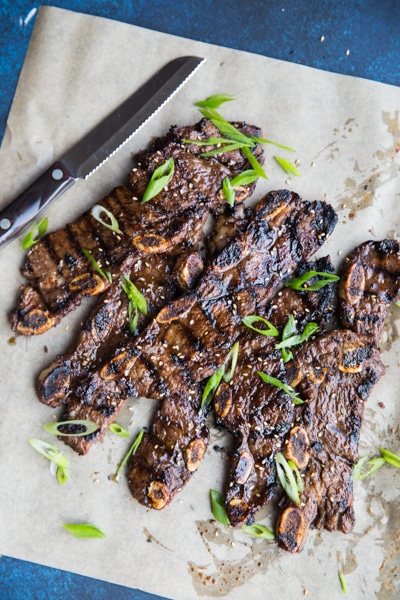 I used to get this dish at Sushi Mestuyan in Queens – a kosher Japanese steak house that was, when it first opened, a pretty good restaurant. It was around for years, opened up a few other branches, and gradually declined into obscurity. I don't think it's around anymore, but I dream about their Metsuyan Kalbi, because it had the most tender pieces of grilled meat in a rich Korean BBQ sauce that I can practically still taste. They served it in a cast iron skillet with a side of coconut rice and it was enough to make a vegetarian want to splurge. I forgot about that dish until I made these ribs, and the sweet and spicy umami-rich marinade just brought me back to their dining room with the giant fish tank along the wall. When food can transport you like that – you know you've got yourself a winning recipe! Also when your anti-animal-protein husband breaks his diet for a piece (or two, or three) you can bet you've nailed it.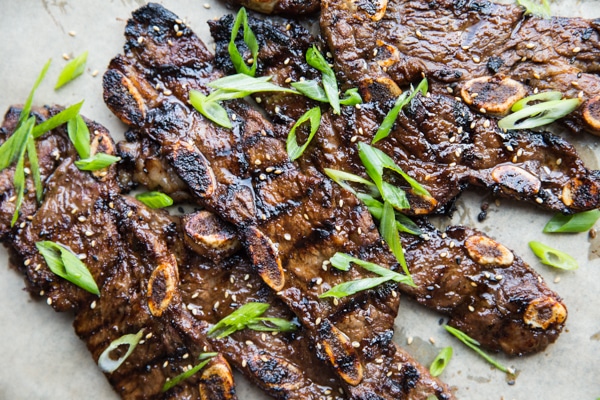 What makes the marinade truly shine is my (not so new) favorite kosher ingredient – gochujang! Tzipporah Rothkopf, a Korean convert to Judaism decided to bring some of her native condiments to the kosher market and I thank G-d every day that she decided to become Jewish! Her kosher-certified brand, KOKO Kosher Korean features authentic Korean condiments like gochujang (fermented red chili paste), gochugaru (chili powder),  kimchi (fermented cabbage), doenjang (fermented soybean paste aka miso), and ganjang (fermented soy sauce). What makes these products so unique is that the fermentation process deepens the flavors, creating umami-rich savory notes that are so complex and delicious. I can't get enough of her gochujang – it's sticky, sweet, salty and spicy all at once – I can eat it with a spoon!
Kalbi Korean BBQ Ribs
2 lbs Korean ribs aka Miami ribs
3 cloves garlic, minced
1" knob ginger, grated
3 tbsp soy sauce
2 tsp sesame oil
1/4 c brown sugar
1/3 c fresh squeezed orange juice
Juice of 1 lime
Zest of 1/2 lime
1 heaping tbsp gochujang
scallions and sesame seeds, optional, for garnish
Method:
In a bowl, combine all the ingredients besides for the ribs. Place the ribs in a Ziploc bag and add the marinade. Marinate for a few hours, or overnight. Remove from the marinade and grill for 3-5 minutes per side.
Garnish with scallions and sesame seeds, if desired.
NOTE: Miami ribs, also known as Korean short ribs or Kalbi are thin strips of steak that are cut from the flanken ribs. The thin slices make it ideal for grilling.
VARIATION: I use this kosher gochujang, but if you cannot get it, you can use sriracha (to taste) instead.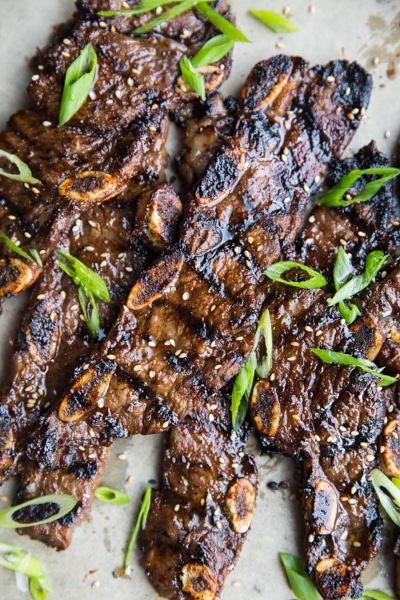 Related Recipes:
Asian grilled marinated chicken
mongolian beef
grilled radicchio with black sesame dressing